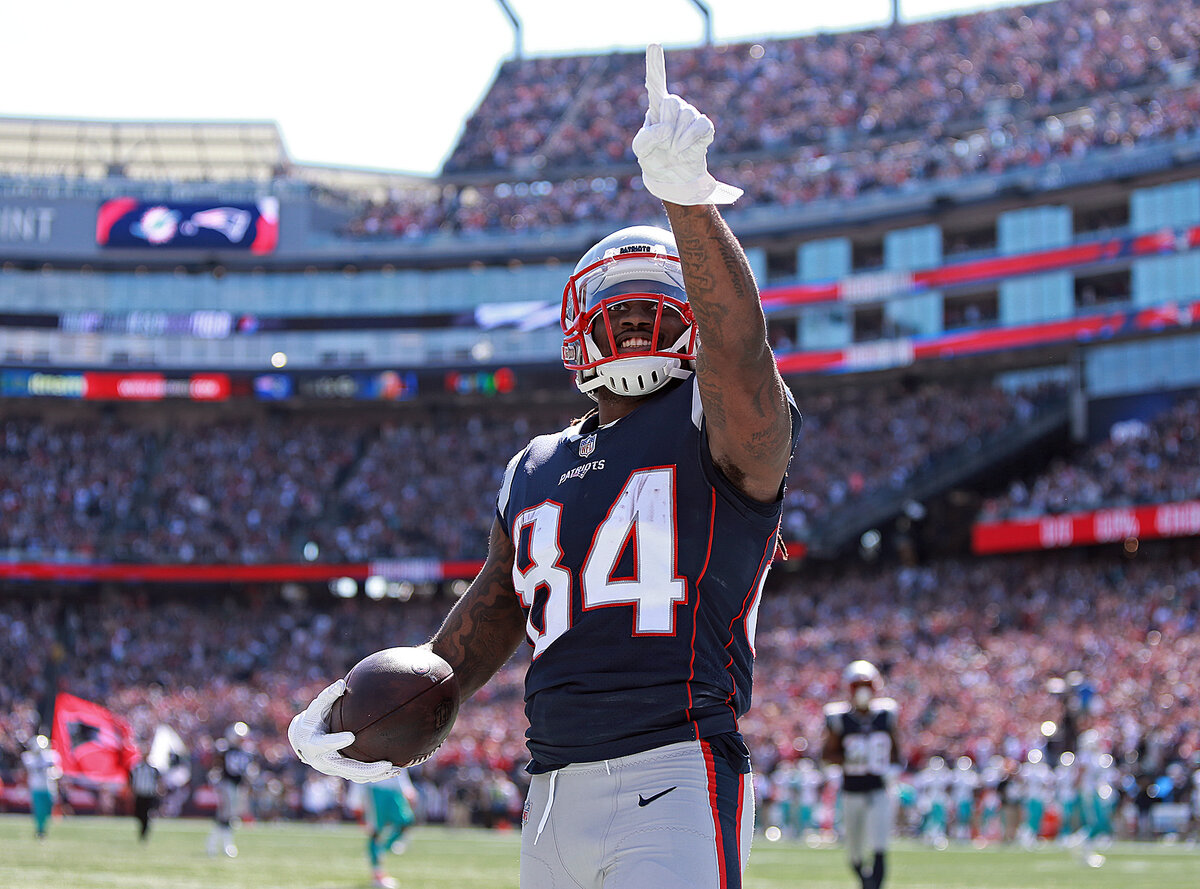 Cordarrelle Patterson Profanely Dismissed His Super Bowl Ring With the Patriots
Star returner Cordarrelle Patterson spent the 2018 season with the New England Patriots. Patterson has interesting perspective about his time there.
Chicago Bears receiver Cordarrelle Patterson has saved himself from bust territory.
Patterson will never finish with the receiving numbers of a Jerry Rice or Terrell Owens, but that's fine. The veteran speedster's most prominent contributions have come on special teams as a newer version of Devin Hester.
Patterson has been lucky enough to make a good deal of money, and he also won a Super Bowl with the New England Patriots. It didn't take Patterson long to dismiss the ring he won in New England, though.
Cordarrelle Patterson is a legendary kick returner
The 29th overall pick in the 2013 NFL draft, Cordarrelle Patterson has had an interesting career.
Through Week 10 of the 2020 season, Patterson had 214 career receptions for 2,079 yards and 10 touchdowns. Typically, a first-round receiver with numbers like that through his eighth campaign would be considered a bust.
However, Patterson has eight career touchdowns on kickoff returns, which is tied for the most in NFL history. His electric play on kickoffs has allowed Patterson to make three Pro Bowls and earn first-team All-Pro honors three times so far.
Patterson also ran for 903 yards and seven touchdowns on 6.3 yards per carry in his first 121 games. Through his first 10 games this season, Patterson hauled in 19 catches for 124 yards and ran for 118 yards on 41 carries.
Patterson spent the 2018 season in New England
Cordarrelle Patterson spent the 2018 season with the New England Patriots and played quite well in his brief time there.
Patterson recorded 21 catches for 247 yards and three touchdowns in 15 games for the Patriots. He also ran for 228 yards and a touchdown on 5.4 yards per carry.
Patterson showed off his trademark speed when he returned a kickoff 102 yards for a touchdown on Oct. 21, 2018, against the Bears.
The veteran wideout contributed four catches for 32 yards in three playoff games. Patterson also picked up 10 rushing yards on three carries, and averaged 28 yards per kickoff return.
New England defeated the Los Angeles Rams in Super Bowl 53.
Patterson didn't care much about his Super Bowl ring
Not many players get to win a Super Bowl ring, especially when the New England Patriots have won six titles since the 2001 season began.
Cordarrelle Patterson will retire with at least one ring, something he can always celebrate. Or, one would think it's something that he'd celebrate.
According to NBC Sports Boston, Patterson explained how it felt being a Super Bowl champion during an interview with Redline Media.
"Honestly, that Super Bowl don't mean s— to me, because I'm in a new role right now."
That is certainly an interesting take on being a Super Bowl champion. Players have cried on the field or during the parades to celebrate winning an NFL championship.
Patterson didn't want to focus too much on the past, and that is a noble way to go about being a champion in the NFL. At 29 years old, Patterson still has plenty of time to win a second ring, and perhaps publicly appreciate that one a bit more.
Like Sportscasting on Facebook. Follow us on Twitter @sportscasting19.