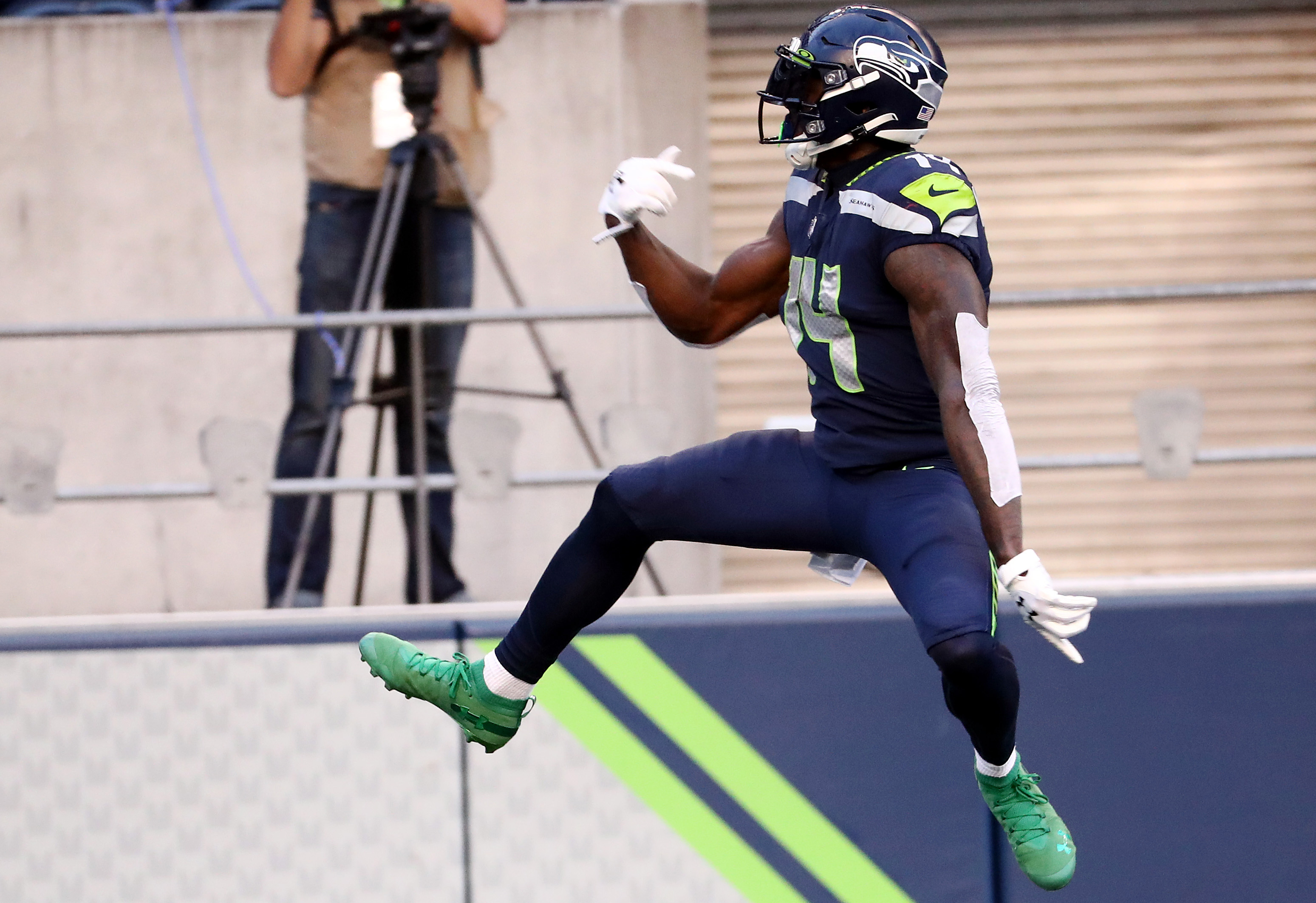 D.K. Metcalf's Path to the NFL Began at Age 5
Seattle Seahawks wide receiver D.K. Metcalf's path to the National Football League began when he was 5 years old.
It pays off to have a father who played in the NFL. It also pays off to have a work ethic like D.K. Metcalf. Metcalf, the Seattle Seahawks second-year wide receiver, grew up in an NFL environment with his father having played seven years in the NFL. He also was working out at a very young age, doing unheard-of things with weights when he was 5 years old.
D.K. Metcalf's football career
D.K. Metcalf played his college football at Mississippi. The 6-foot-4, 229-pound wide receiver was drafted by the Seattle Seahawks with the last pick in the second round of the 2019 NFL draft. Metcalf saw eight other wide receivers selected before him.
The freakishly athletic Metcalf started 15 of the 16 games he played during his rookie season. He caught 58 passes for 900 yards and seven touchdowns and played a major role in guiding the Seahawks to the postseason. He averaged 15.5 yards per catch.
Metcalf has drawn high praise from quarterback Russell Wilson. "I think D.K.'s work ethic, I think D.K.'s professionalism, his focus, all the way from the Zoom meetings to us preparing one-on-one together, all the way to just who he is as a person, high character, just obviously to his talent as well, and it all comes together as one," Wilson said, according to ESPN.
Metcalf has followed his father's footsteps
Terrence Metcalf, D.K.'s father, played seven years with the Chicago Bears. Both Metcalfs played collegiately at Mississippi. The elder Metcalf was selected by the Chicago Bears in the third round of the 2002 NFL draft. He was the 93rd player taken in the draft.
During his playing days, Terrence Metcalf was a 6-foot-4, 310-pound offensive lineman. He spent all seven of his years with the team that drafted him. The elder Metcalf mentored D.K. into becoming the football player he is today. If he wasn't working with his son, one of his Bears' teammates was.
"(D.K.) got to be around a lot of guys who were really good at the game," Terrence said, according to Sports Illustrated. "When he was in about the second or third grade, (former Bears safety) Bobby Gray started working with him. At that age, when you're a parent trying to train your child, they don't want to listen to you, so you get them with someone else… The things he remembers helped him become a better receiver. He remembers all of the passing routes he was taught by the guys in the NFL."
D.K. Metcalf was hitting the weights at age 5
D.K. Metcalf was always around the NFL when he was growing up. He began working out at an early age. By the age of 5, Metcalf was squatting 100 pounds and benching 50 pounds. Metcalf said he would hit the weights every day at a young age.
"Probably every day, when my dad got home from practice," Metcalf said, according to ESPN. "Me just being young and wanting something to do, and just happy to see my dad after practice. That was just something that we did together. I believe that's what made me want to do it so much."
His work ethic continued to the point where he wanted to be faster and stronger than his father. "As it progressed, he just started outrunning me and outworking me," Terrence said. "As much as I pushed him, it got to the point where he was competing against me to prove to me that I was never going to be able to be faster than him again or run longer than him. I just saw that shift and saw just how hard he started working."