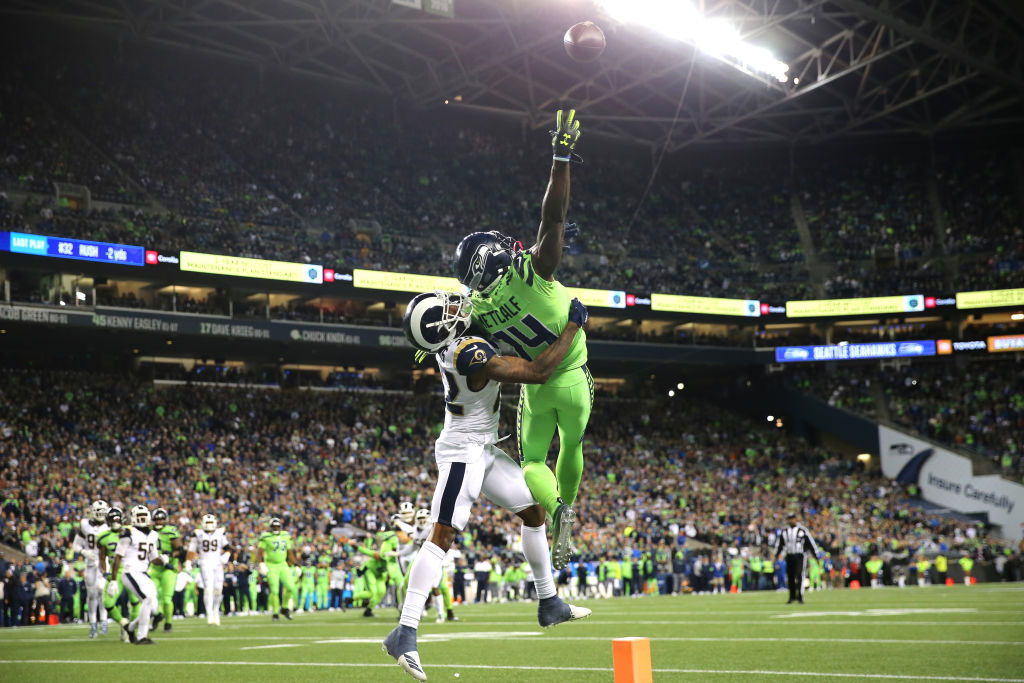 NFL: Has D.K. Metcalf's Massive, 82-Inch Wingspan Translated to Receiving Success?
Seattle Seahawks wide receiver DK Metcalf has a massive wingspan. But is that freakish size enough to make it as an NFL player?
While talent and hard work are essential parts of any professional athletes' career, genetics also play a significant role in success. Size, for better or worse, often determines your position; it's almost impossible to be a skinny lineman or a slow running back. Seattle Seahawks' massive receiver DK Metcalf, however, was born to catch passes.
Despite his physical gifts, however, Metcalf hasn't blown up at the NFL level yet. Is success on the horizon, though?
Metcalf's carer at Ole Miss
The massive Metcalf played his college football at Ole Miss. His NCAA career, however, was blighted by injuries that kept him from getting into a rhythm on the field.
During his freshman year, Metcalf only caught two passes before being sidelined with a foot injury. Both of those receptions were touchdowns, however, highlighting his potential as a red zone threat. He managed to 39 passes for 646 yards and seven touchdowns during his second season, but the injury bug would strike again.
During his third year at Ole Miss, Metcalf posted strong numbers through the first seven games of the season; his year would once again be cut short as he suffered a neck injury against Arkansas. At that point, the receiver had enough. He would declare for the 2019 NFL draft and never play another snap for the Rebels.
DK Metcalf's freakish NFL Combine
As an NFL prospect, Metcalf attended the league's scouting combine. While everyone knew he was physically gifted, his official measurements were even more impressive.
The receiver clocked in at 6 feet, 3 inches tall, and weighed 228 pounds. Each of his hands measured nearly 10 inches long, and his wingspan set an unofficial record at 82 7/8 inches. But he wasn't just big.
In terms of his physical performance, Metcalf ran the 40-yard dash in 4.33 seconds and posted a 40.5-inch vertical leap. He may have had some issues with agility drills, but that freakish combination of massive size and pure athleticism inspired the Seattle Seahawks to select DK in the second round of the 2019 NFL draft.
Adjusting to the Seattle Seahawks
Metcalf has slotted into the Seattle Seahawks line-up and has already started producing. Through the first five games of his NFL career, the receiver has caught 16 passes for 336 yards and two touchdowns. While he's not breaking rookie records, it's certainly a solid return for a player adjusting to the pro game after an abbreviated college career. He's currently projected to finish the year with 43 catches and five TDs, which no Seahawks fan would complain about.
While there's plenty of room for improvement—Metcalf's only caught 46% of his total targets—the receiver's massive size is already causing issues for opposition defenses. Since his size is more comparable to a linebacker than a standard wideout, Metcalf has been attracting double teams. Safety help over the top, of course, means that at least one other Seahawk is facing single coverage.
While DK Metcalf's counting numbers aren't popping off of the page just yet, he's putting together a solid rookie season. His physicality is already making life difficult for opposing defenses; with a bit more pro experience, he could develop into a stud receiver. It just goes to show that, even if size doesn't matter, it sure helps.