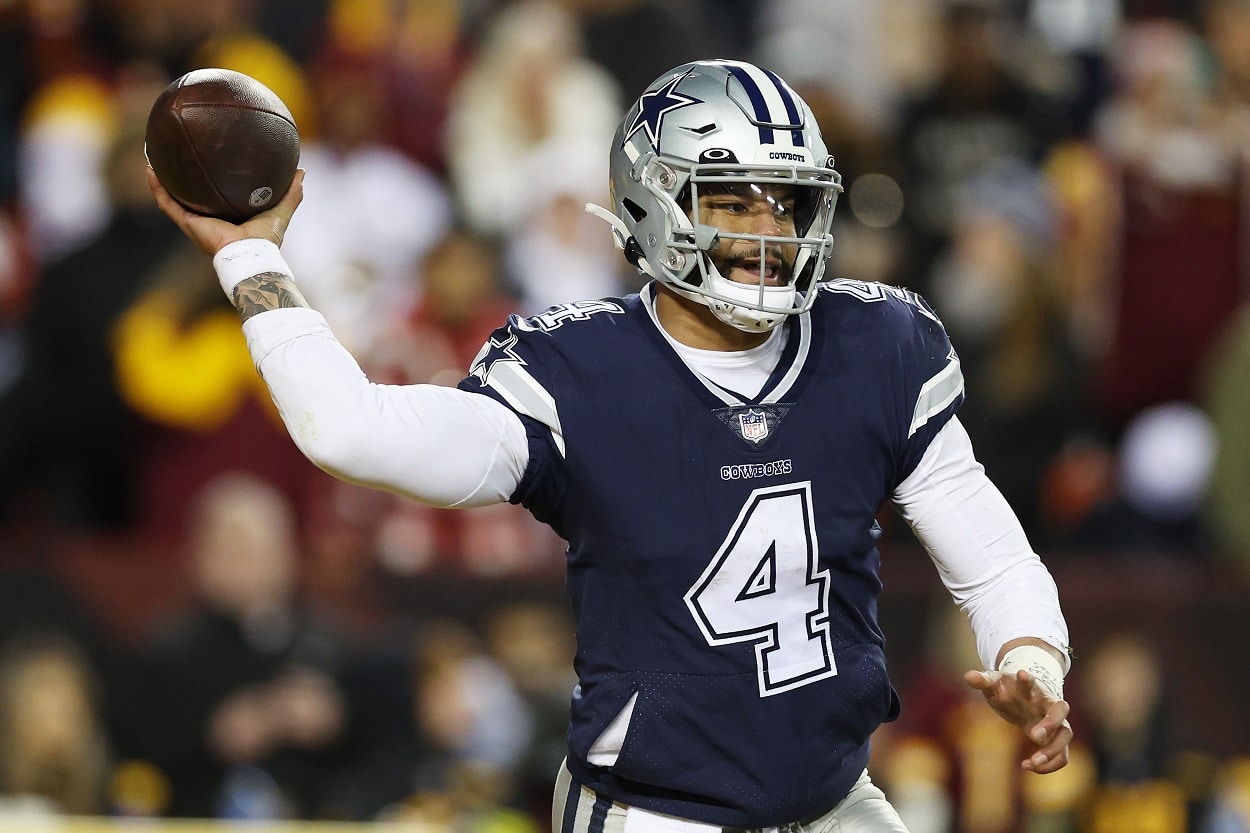 Dak Prescott Made Some Bad (Yet Deceiving) NFL History For the Dallas Cowboys This Season
Dak Prescott's NFL record for interceptions is a bit deceiving.
Much has been made about Dak Prescott and his interception issues with the Dallas Cowboys this season. And the pick-six during his dreadful outing in an embarrassing Week 18 loss to the Washington Commanders certainly didn't help matters.
In fact, that lone interception this past Sunday, his career-worst 15th, helped Dak make some NFL history. Of course, it wasn't good NFL history, as he became the first quarterback to ever lead the league in picks despite missing five or more games. In this particular case, he shared the league lead with Davis Mills, who threw 15 interceptions in 15 games for the Houston Texans, but it's still history nonetheless.
Prescott also led the league in interception percentage at 3.8%, beating out Justin Fields by three-tenths of a point. He threw at least one pick in his final seven games, which naturally has Dallas fans concerned as the Cowboys prepare for their wild-card matchup with the Tampa Bay Buccaneers on Monday night.
But while Dak has certainly made plenty of mistakes and has to shoulder plenty of the blame for his pick problem, the overall number is a bit deceiving.
Dak Prescott led the NFL in interceptions but also led the league in picks that weren't his fault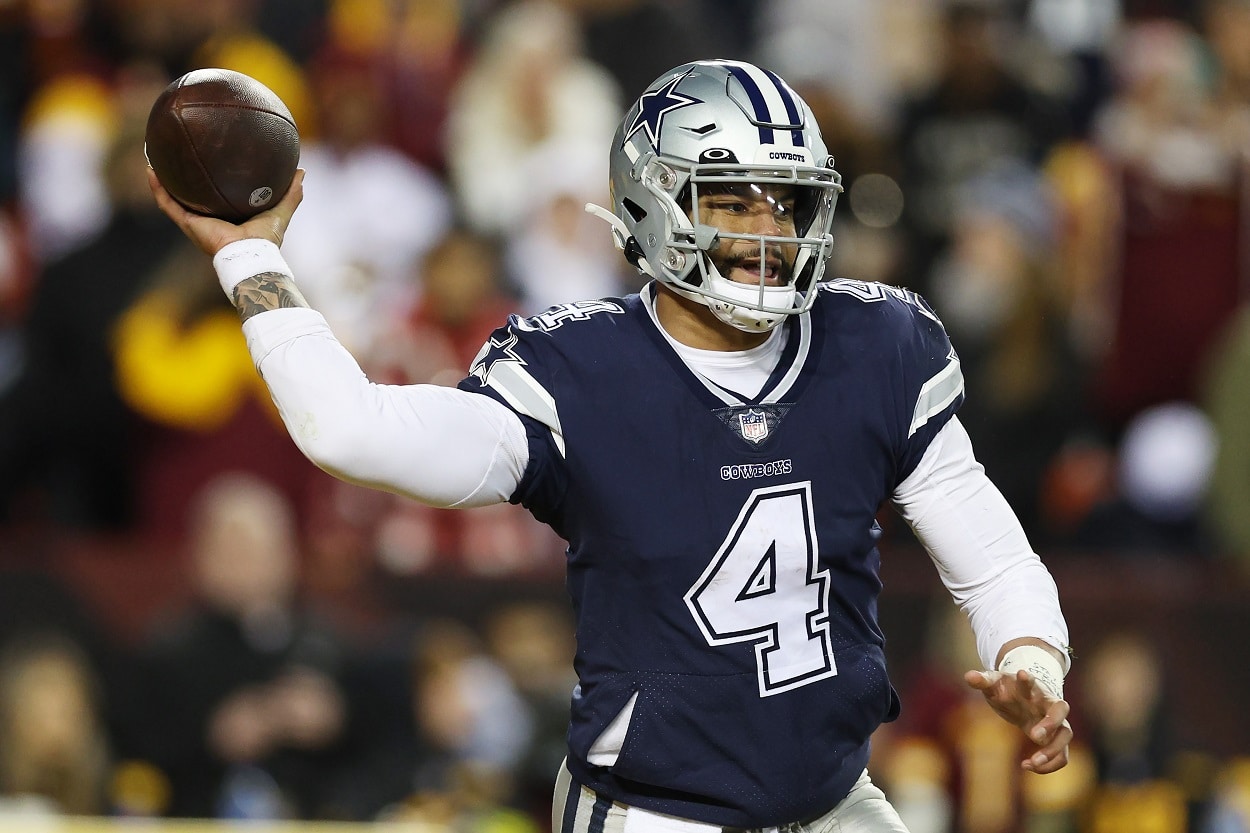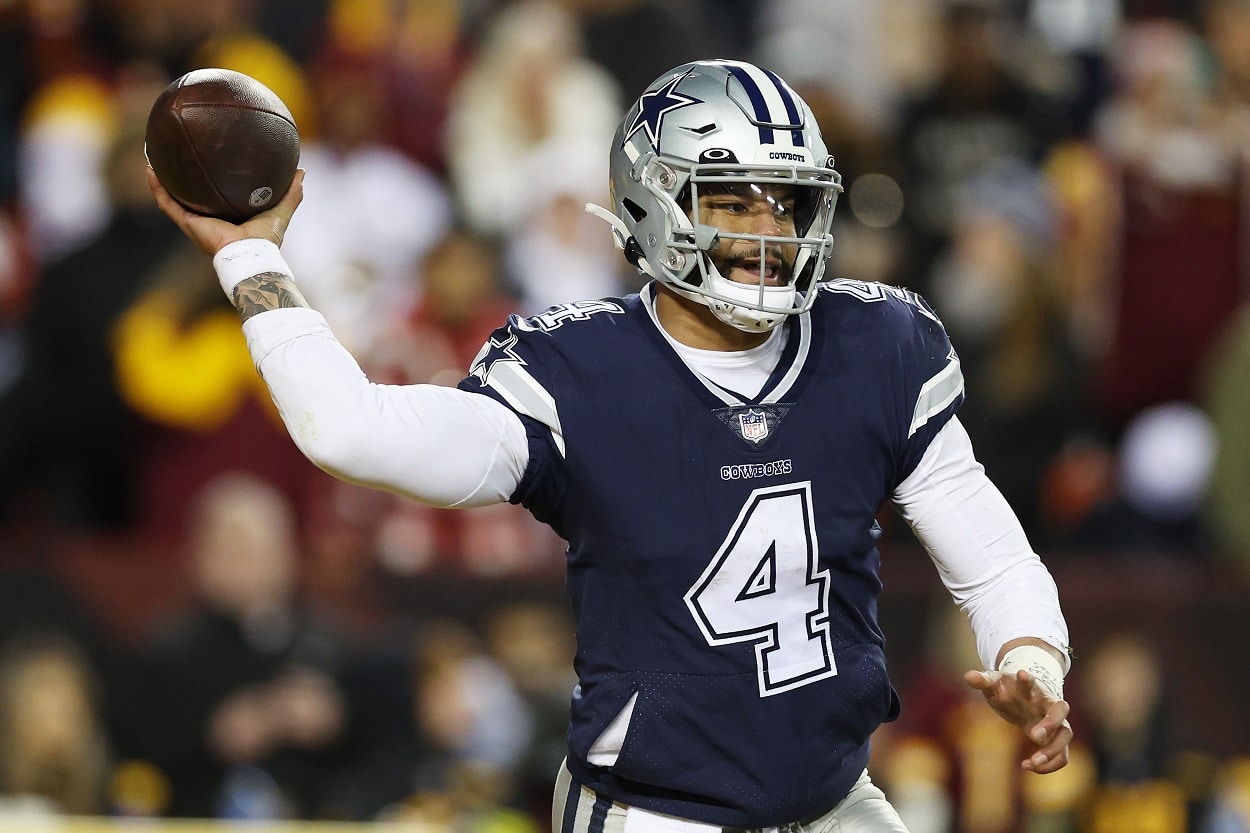 While Dak may have led the NFL in interceptions, he also led the league in interceptions that weren't necessarily his fault. At least, that's what a metric from Pro Football Focus tells us.
Of Prescott's 15 picks, seven weren't deemed turnover-worthy. What that means is that on nearly half of his interceptions, he either didn't throw into danger, the receiver should've caught the pass, or the receiver didn't run the correct route.
For example, the Prescott interception that was likely ridiculed the most this season, the overtime pick-six against the Jacksonville Jaguars that ended the game, wasn't Dak's fault.
If you recall, the pass he threw on 3rd & 4 from the Cowboys' 47-yard line should've been caught by Noah Brown for a first down. And just how catchable was the ball? You tell me.
But instead of a first down, Brown bobbled the ball, which found its way into the hands of Jacksonville safety Rayshawn Jenkins, who took it 52 yards the other way to secure a 40-34 victory. And Brown, to his credit, didn't let his quarterback take any of the blame.
Does this metric excuse Prescott from some of the heat he's taken? Certainly not. Because even if you take away the seven that weren't technically on him, eight picks in 12 games certainly aren't what you want from a guy making an average of $40 million per year. And that aforementioned pick-six against Washington this past Sunday was certainly all him, as were several others this season.
However, take away those seven, and his interception percentage drops to 2.03%, which would put him near the middle of the pack, just behind Patrick Mahomes (1.9), Joe Burrow (2.0), and Tua Tagovailoa (2.0).
And on the flip side of things, you know what stat hasn't gotten much attention? That would be Dak Prescott's touchdown percentage, which ranked fourth in the NFL at 5.84%, trailing only Mahomes (6.33%), Tagovailoa (6.25%), and Josh Allen (6.17%). But that's not as much fun for Cowboys haters, is it?
Which Dak Prescott will we see against the Buccaneers? We'll find out soon enough.