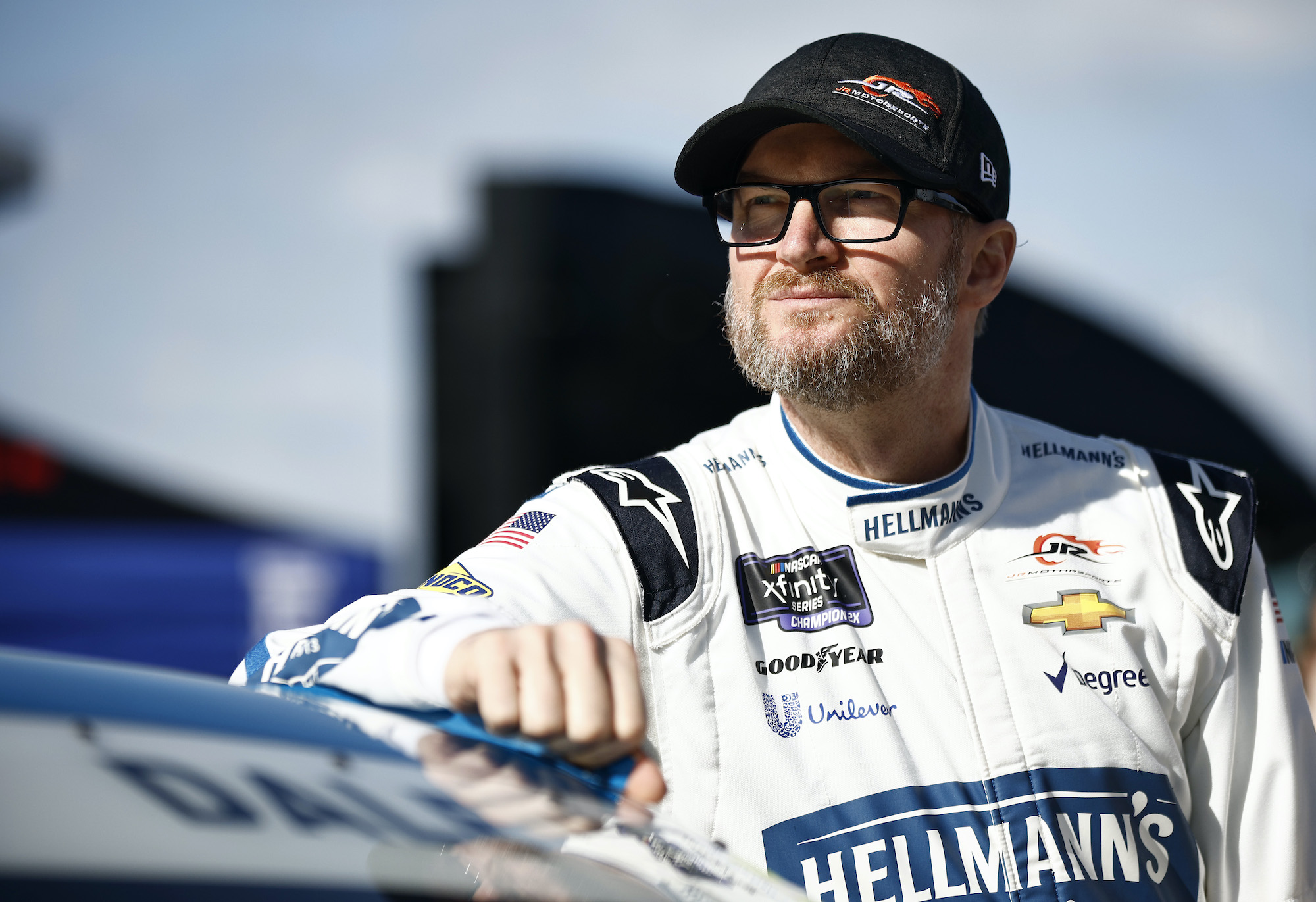 Dale Earnhardt Jr. Forgives NASCAR During Martinsville Race for How Organization Treated Him in Another Race Years Earlier: 'We're Even NASCAR'
Dale Earnhardt Jr. raced at Martinsville and retold a story over the team radio about a past event when NASCAR ruled against him and 'pissed' him off, before making it all right and ruling in his favor during this year's race.
Dale Earnhardt Jr. had his share of run-ins with NASCAR officials during his Hall of Fame career. He's talked about many of his experiences in the infamous hauler on his popular podcast. 
This weekend at Martinsville, during his one-off Xfinity Series race of the year, the two-time Daytona 500 winner found himself in a situation that reminded him of another race years earlier when the governing body made an unfavorable decision and he was not happy. He talked about the details over his team radio. However, this time around, NASCAR ruled in his favor and all was forgiven.
Dale Earnhardt Jr. revisits time NASCAR upset him
Dale Earnhardt Jr. raced against his fellow Xfinity Series competitors at Martinsville and couldn't help but notice one thing toward the end of the race — as the laps decreased, the aggression level increased. The first restart in overtime was the culmination of a night full of cautions and yielded another yellow flag as the leaders crossed the start-finish line, a chain-reaction crash began and ended with a massive pileup, clogging up Turn 1. 
"That was a bunch of cars spun out right there," Earnhardt said. During the ensuing conversation about his potential position in the upcoming restart, the 47-year-old relived a moment in the past when he was not happy with NASCAR for its ruling in a similar situation.
"One time that pissed me off so bad," Earnhardt began. "We were at Watkins Glen and 10th, 15th, (in season standings) coming up like two races to go to the playoffs, and we were racing a bunch of cars that were in front of us for points. And they had a big wreck, and Clint's (Bowyer) car got tore all to hell. He was slow. Damn toe bent out of shape, going 10 miles an hour. 
"And we passed him back in the chicane, way on the backside of the track. A lot of cars passing him. Come back, got the yellow, and the race is over. And they put his ass in front of us. I was so pissed." 
Earnhardt gets ruling in his favor: 'We're even NASCAR'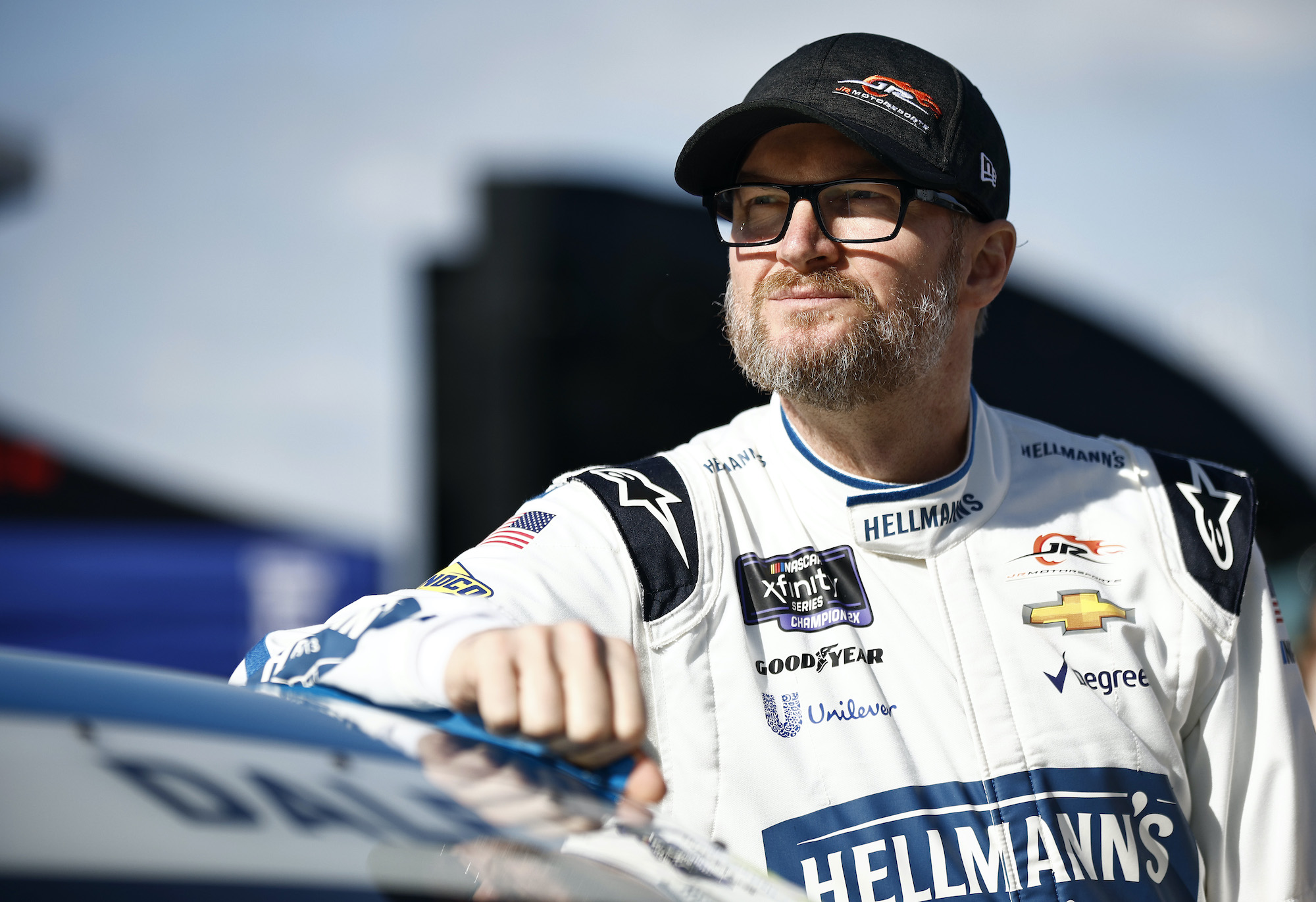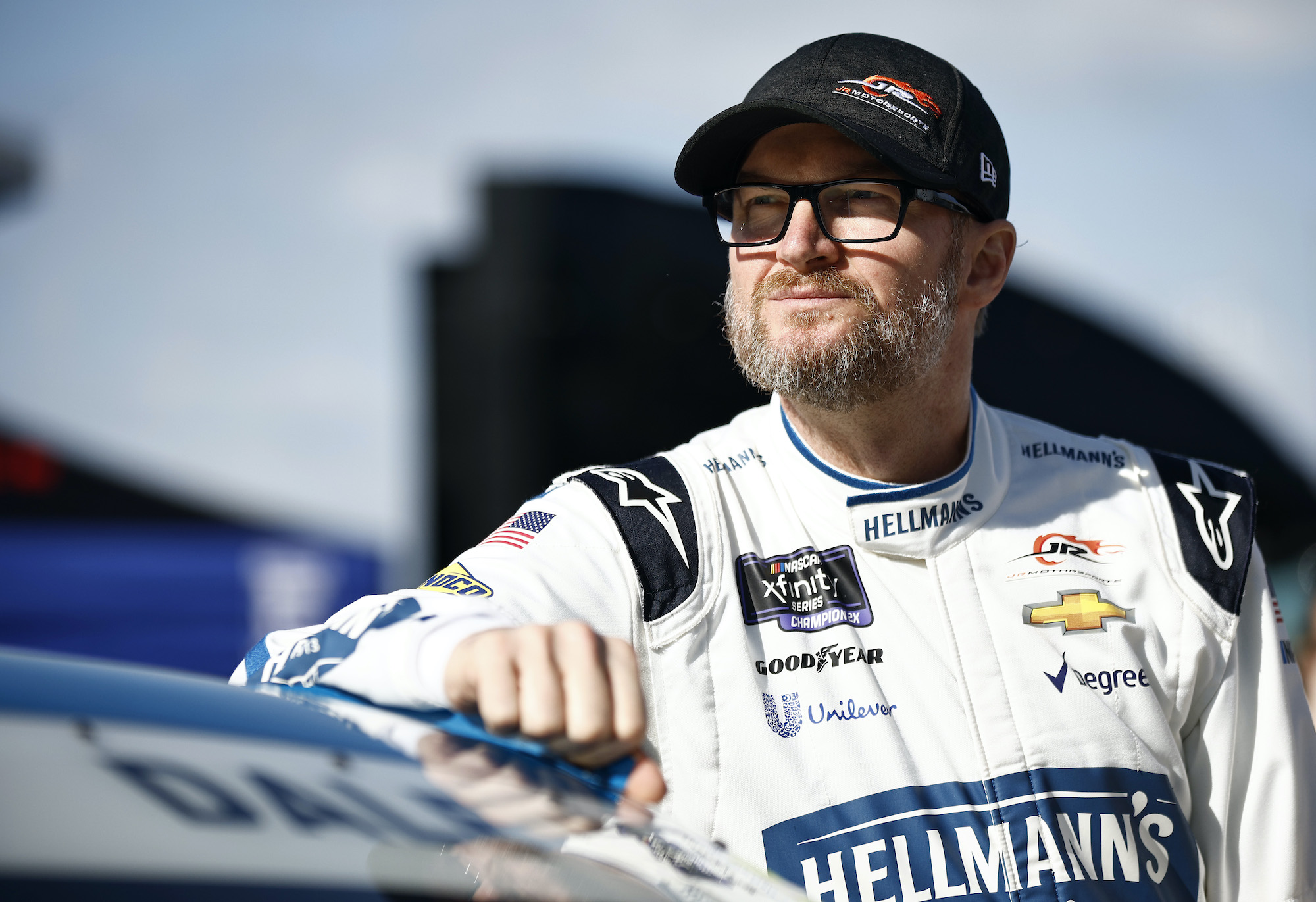 Following a lengthy red-flag delay as NASCAR cleared the cars and cleaned the track, Earnhardt's spotter TJ Majors prepared his driver for the next restart.
"They're getting ready to give me the lineup," Majors relayed to his driver.   
"Oh no, it ain't going to be a fun one," Earnhardt replied. 
"51, 38, 88," the spotter told him.
"Hey! We got a gift," Earnhardt excitedly said in response to his position. "Well, I'm a tell you what. That right there makes that whole s*** at Watkins Glen about 15 years ago, alright. We're even NASCAR. Thank ya."
Drinks beer with drivers
Unlike last year's single race at Richmond when Earnhardt got a little testy and cussed out Majors, he was much more relaxed this year, as revealed in his conversations over the radio. 
He also held up his end of the deal to drink beer after the race with Jeremy Clements, who had asked him before. Noah Gragson and others joined them.  
It's safe to assume Earnhardt shared plenty of stories from his storied career. It's also likely if any of the younger drivers asked him his thoughts on the night's race and that pileup at the end, the Hall of Famer likely revisited that race in Watkins Glen years ago and how NASCAR finally made it right. 
Like Sportscasting on Facebook. Follow us on Twitter @sportscasting19.