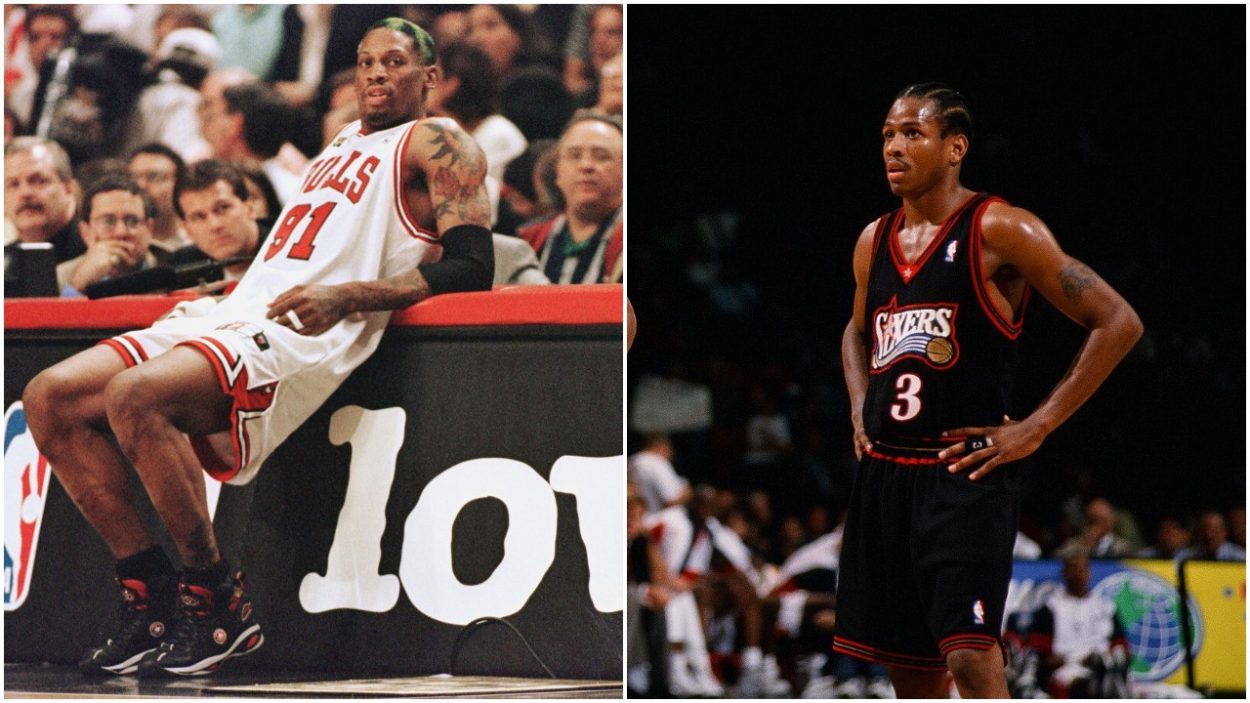 Dennis Rodman Ripped and Trolled Allen Iverson When AI Was Just a Rookie: 'Iverson Came in Here Thinking He Was Jumanji'
Allen Iverson had a rough go of things the first time he played against a a dynastic Chicago Bulls team. The rookie tried talking trash to Michael Jordan and Co., and it didn't work out well for him, prompting Dennis Rodman to react to AI's performance with an iconic quotable.
Dennis Rodman had his fair share of quotable during his NBA career, but his description of a rookie Allen Iverson probably belongs in a category all its own.
The Philadelphia 76ers drafted Iverson with the No. 1 overall pick in 1996 after AI starred at Georgetown. He became an MVP and franchise legend in Philly, though his style and cockiness at a young age struck the wrong chord with Rodman and some of his fellow Chicago Bulls teammates.
Allen Iverson took a brash approach when playing against Dennis Rodman and the Bulls
Allen Iverson might have played for the 76ers, but he brought quite a cavalier attitude the first time he played against Dennis Rodman, Michael Jordan, and the Chicago Bulls on Nov. 2, 1996.
Iverson seldom showed signs of fear or timidity on the floor, even as a rookie. He did not back down from the Bulls or their stars, despite the fact Chicago had just won its fourth championship since 1991. In fact, he even had the gall to talk smack to Jordan and Co.
Not everyone on the Bulls roster appreciated AI's brashness.
Chicago felt it deserved a sense of respect as the defending champions. However, Iverson never had much interest in showing reverence. He preferred to go out and try to dominate the best, and he'd do so with his usual flair and swagger.
Rodman wasn't all that impressed with Iverson's mentality. The two almost fought in their very first matchup, and the Worm said after the game that AI played the game with reckless abandon.
Rodman compared Iverson to a board game after their first meeting
Members of the Bulls showed a willingness to trade barbs with Allen Iverson, even if they were stunned the 76ers rookie had the audacity to talk trash.
Dennis Rodman and Scottie Pippen went at Iverson and guarded him all 94 feet, hounding him in the backcourt. Ron Harper and Randy Brown messed with AI and appeared to egg him on throughout the contest. Michael Jordan tried to impart some wisdom of his own, only for Iverson to shockingly walk away from Mike.
Rodman went on to say (h/t the Baltimore Sun) AI tried to do too much. He compared the Sixers youngster to a famous board game that has even been dramatized on the silver screen.
"Iverson came in there thinking he was Jumanji and was going to control the whole forest and the wilderness."

–Dennis Rodman (1996), via the Baltimore Sun
Iverson had been coming off a spectacular 30-point NBA debut when he came to Chicago. His follow-up performance against Rodman and the Bulls turned into a nightmare.
The Sixers rookie scored just 15 points on 4-of-13 and committed five turnovers. He finished the game -30 in terms of plus-minus, and Philly lost by 29 points. One would assume AI might tone down the chatter the next time he played the Bulls, right? Well, not exactly.
Rodman and AI exchanged more words in their second matchup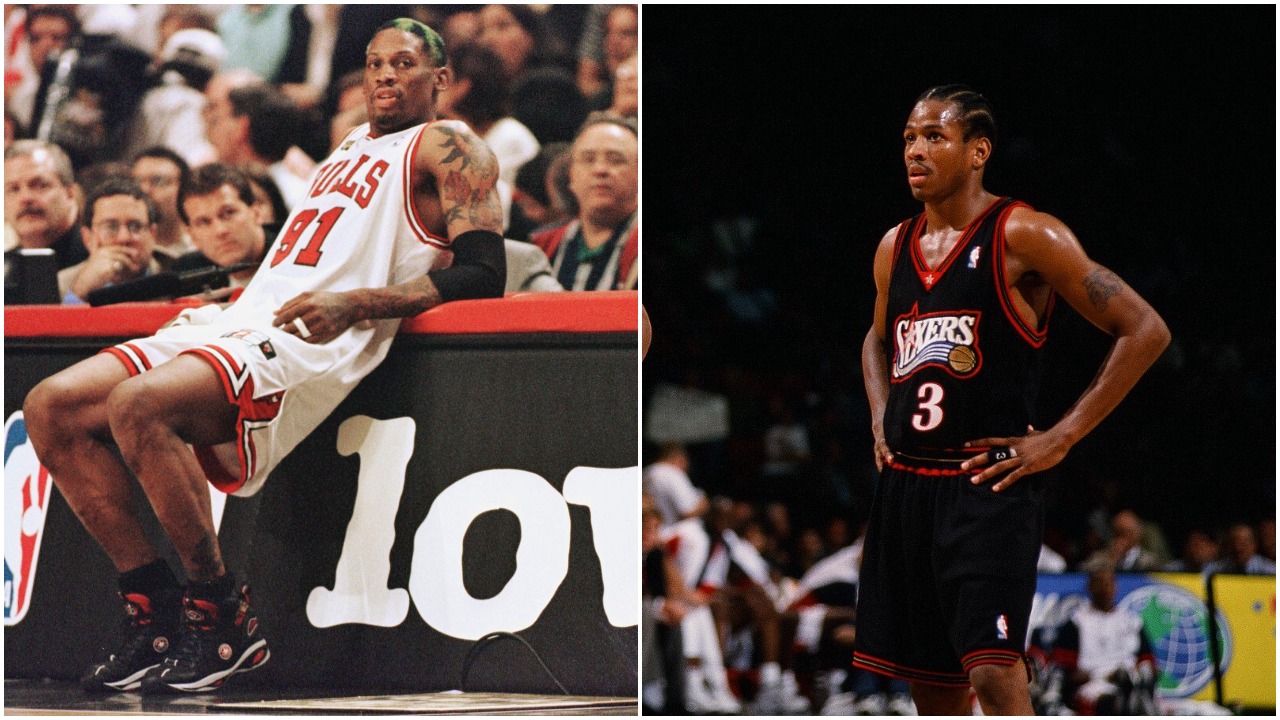 Iverson and Rodman nearly fought again in their next matchup on Dec. 21 of that same year. The Answer scored 32 points this time, but he also committed nine turnovers. Chicago won again.
After the game, the Worm had another stern message for Iverson and other NBA rookies, essentially suggesting they lack humility and should stay in college. He suggested "money" did all the talking for rookies instead of their play. Granted, Iverson went on to win Rookie of the Year and had a Hall of Fame career. His play did plenty of talking. Perhaps he just got too overzealous against Rodman, who frequently put young players in their place.
For all his quirks, Rodman always demanded respect from opponents when he had the good fortune of playing for a winning team. He previously mused that Jordan should buy the Detroit Pistons when MJ and the Bulls dethroned the Bad Boys in 1991.
This time around, Demolition Man sought to humble a rookie Allen Iverson, and his description of the former 76ers great could not have been more perfect.
Stats courtesy of Basketball Reference.