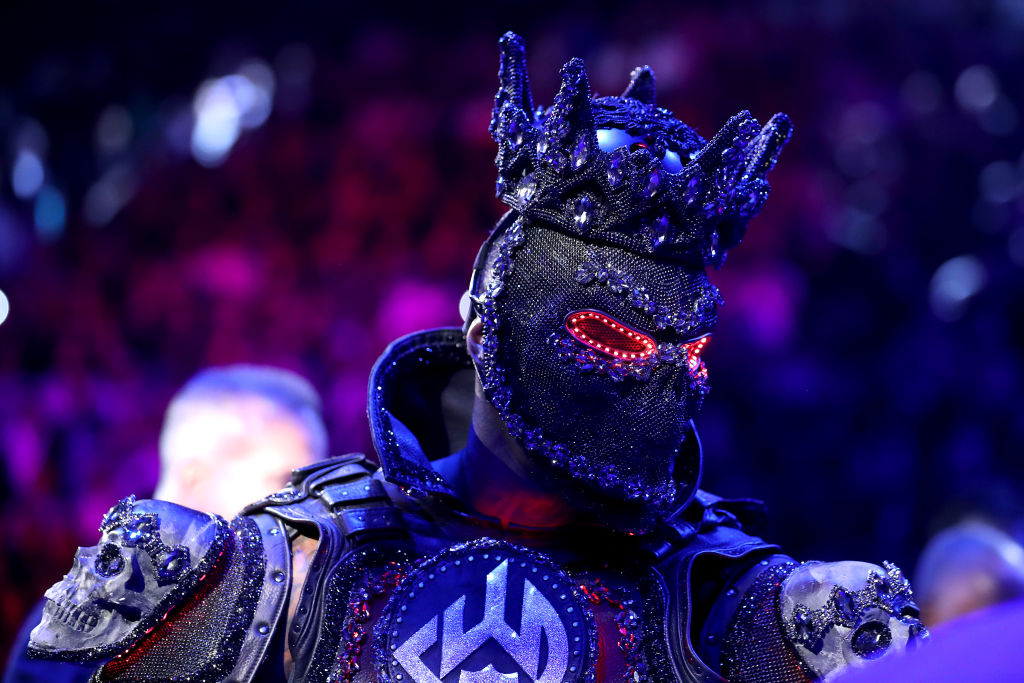 Deontay Wilder is Blaming His Loss to Tyson Fury On the Most Ridiculous Thing
Following his TKO loss to Tyson Fury in Las Vegas on Saturday night, Deontay Wilder is throwing a lot of blame around.
For the first time in 44 professional fights, Deontay Wilder left the ring a loser this past Saturday night in Las Vegas. Battered from pillar to post by Tyson Fury, Wilder never looked comfortable in the ring and couldn't make it through the seventh round. Fury, who added Wilder's WBC heavyweight crown to his own lineal championship, moved his record to 30-0-1.
Following the loss, Deontay Wilder did praise Fury on his performance. However, the "Bronze Bomber" had plenty of blame to throw around, including one thing boxing fans might have never heard before.
How many times did Tyson Fury knock down Deontay Wilder?
Utilizing his 43-pound weight advantage, Tyson Fury wore down Deontay Wilder from the minute the opening bell rang. Landing clean punches to both the head and body, Fury first dropped the sport's biggest puncher in Round 3 with a big right to the side of the head as Wilder's feet just came out from under him on impact.
Two rounds later, Wilder was down again as Fury attacked with a vicious body shot that rocked the now-former WBC champ. Fury was on point all night, outlanding Wilder 82-34 in total punches and threw nearly double the punches on the night, 267-141. 58 of the shots landed from the "Gypsy King" were power punches.
Wilder found himself in trouble again in the seventh. He took more big shots from Fury and the fight was stopped at 1:39 after it was determined that one of his trainers had thrown in the towel. Fury was ahead on all scorecards at the time of the stoppage.
Deontay Wilder is blaming his entrance costume for the loss
With a big fight comes big entrances. Tyson Fury hit the ring on a throne with a crown on his head, certainly showing plenty of pomp and confidence. Deontay Wilder took things even further with his ring entrance.
As a tribute to Black History Month, Wilder donned a costume featuring armor, a mask, and a crown of his own. The outfit weighed 40 pounds and was said to have cost around $40,000. And Wilder is now blaming the loss on the costume, telling Yahoo Sports that the weight of the costume took his legs from him.
"He didn't hurt me at all, but the simple fact is … that my uniform was way too heavy for me. I didn't have no legs from the beginning of the fight. In the third round, my legs were just shot all the way through. But I'm a warrior and people know that I'm a warrior. It could easily be told that I didn't have legs or anything. A lot of people were telling me, 'It looked like something was wrong with you.' Something was, but when you're in the ring, you have to bluff a lot of things. I tried my best to do so. I knew I didn't have the legs because of my uniform."

Deontay Wilder
Wilder isn't happy with his trainer
Not only did Deontay Wilder put some blame on his costume, he also turned some of his attention to the trainer that threw the towel.
It should be noted that it was Wilder's assistant trainer, Mark Breland, that threw in the towel from the corner, not lead trainer Jay Deas. Deas was extremely critical of Breland during the post-fight press conference and Wilder certainly wasn't happy with Deas either, saying he told every member of his team not to stop the fight for any reason.
"I am upset with Mark for the simple fact that we've talked about this many times and it's not emotional. It is not an emotional thing, it's a principal thing. We've talked about this situation many, many years before this even happened. I said as a warrior, as a champion, as a leader, as a ruler, I want to go out on my shield. If I'm talking about going in and killing a man, I respect the same way. I abide by the same principal of receiving.

"So I told my team to never, ever, no matter what it may look like, to never throw the towel in with me because I'm a special kind. I still had five rounds left. No matter what it looked like, I was still in the fight."

Deontay Wilder
Wilder was also critical of the referee
Wilder was also critical of referee Kenny Bayless, one of boxing's best and most highly-respected officials. Bayless has been in the middle of some of the sport's biggest fights over the past two decades, including the Floyd Mayweather vs. Manny Pacquiao dream match in 2015.
Wilder said that Bayless told him in the locker room before the fight that he would be disqualified if he did certain things, many of which he felt were done to him by Fury, including hitting him in the back of the head. He went on to say that this was the thing that bothered him the most.
Wilder has said that he will exercise his rematch clause.