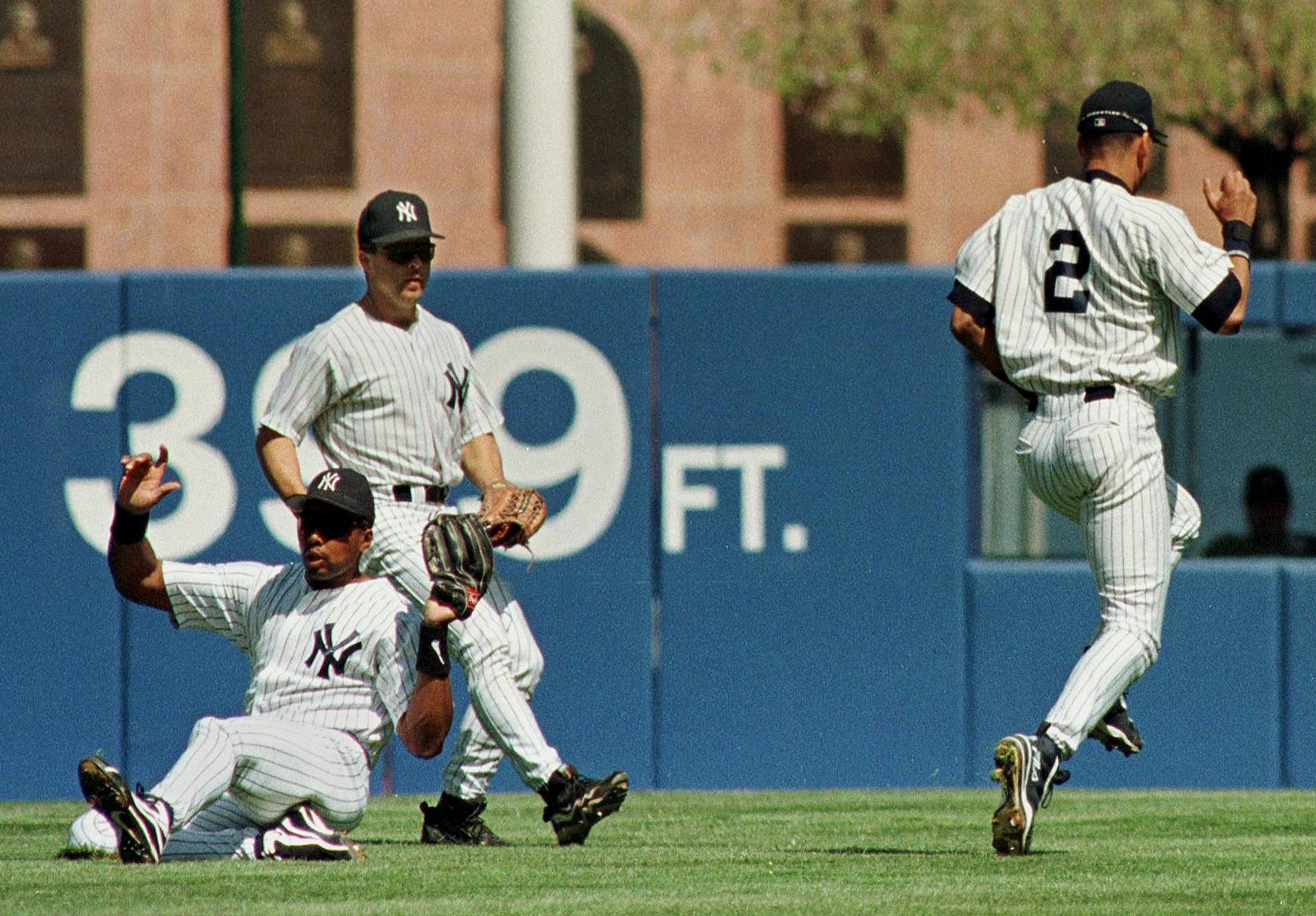 Derek Jeter Was Once Blasted by Chad Curtis and Told He Didn't Know How to Play the Game of Baseball
New York Yankees captain Derek Jeter was once scolded by teammate Chad Curtis in front of reporters and teammates.
Chad Curtis is a 10-year Major League Baseball veteran who was a solid player in the big leagues, playing for six different teams. Derek Jeter is a New York Yankees legend who played 20 years and was a 14-time MLB All-Star. Back in August of 1999, when they were teammates in New York, Curtis publicly blasted Jeter, saying the Yankees shortstop didn't know how to play the game.
Derek Jeter and Chad Curtis had very different baseball careers
Derek Jeter and Chad Curtis have two things in common. One, they played Major League Baseball. Two, they played for the New York Yankees. The similarities end there.
Jeter, of course, won five rings as captain of the New York Yankees. He became the face of the franchise during his 20 years with the team. Jeter was a 14-time MLB All-Star and a five-time Gold Glove winner. He finished his career with 3,465 hits and a .310 batting average. He was inducted into the MLB Hall of Fame in 2020.
Chad Curtis was a scrappy outfielder, who played 10 years in the big leagues. He played for six different teams, starting with the California Angels after being drafted in the 45th round. He also played three years with the Yankees, winning two World Series titles, although he never made an appearance in the first one.
Curtis publicly ripped Jeter and said he didn't know how to play the game
In August of 1999, the New York Yankees played the Seattle Mariners and a bench-clearing brawl broke out. While the players were going at it, Derek Jeter was with his then-good friend, Mariners shortstop Alex Rodriguez, off to the side. The two weren't involved in the fracas and that irked Yankees outfielder Chad Curtis.
According to The New York Times, Curtis confronted Jeter both near the dugout and then in the clubhouse. In front of teammates and reporters, Curtis blasted Jeter. Curtis said Jeter was a good player but did not know how to play the game. According to The Times, Jeter was angered by Curtis' comments and the two barely spoke afterward.
In a phone interview with The New York Times, Curtis later questioned his actions. "I constantly self-evaluate," Curtis said. "Was I wrong? Did I do something wrong? Maybe what I said was proper. The way I said it, where I said it and when I said it, wasn't proper."
Curtis has struggled since life after baseball
Chad Curtis played his final season of Major League Baseball with the Texas Rangers in 2001. He spent 10 years in the big leagues with six different teams. He collected 1,061 hits, had 101 home runs, and stole 212 bases. Curtis' big-league dream ended Sept. 30, 2001, when he played that final game. Then the nightmare began.
In the summer of 2013, Curtis was found guilty of six counts of criminal sexual conduct against three teenage girls, according to ESPN. Curtis was 44 when he was sentenced to seven-to-15 years in prison in October of 2013. Barry County (Michigan) Circuit Judge Amy McDowell referred to Curtis as a "predator."
Curtis served the minimum seven years of his sentence. According to WOOD TV8 in Grand Rapids, Michigan, Curtis was paroled in September of 2020.