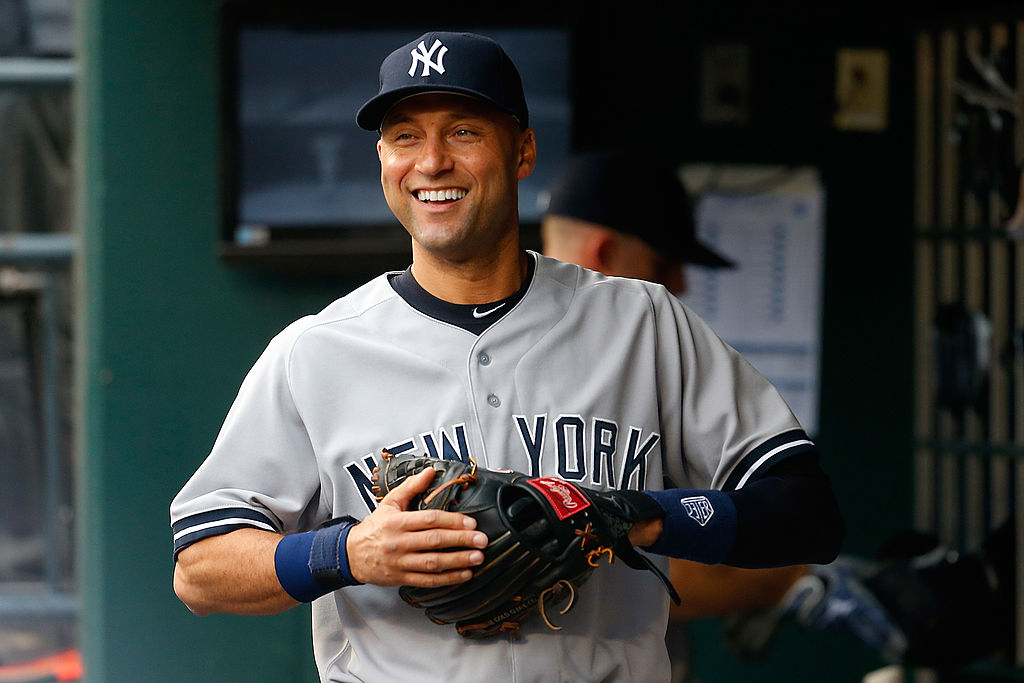 The Night Derek Jeter Became Mr. November
He's always been clutch. He usually came up big in the postseason. Since the nickname Mr. October was already taken by former New York Yankee outfielder Reggie Jackson, it only seemed fitting that Derek Jeter would become Mr. November after his walk-off home run in Game 4 of the World Series against the Arizona Diamondbacks. …
He's always been clutch. He usually came up big in the postseason. Since the nickname Mr. October was already taken by former New York Yankee outfielder Reggie Jackson, it only seemed fitting that Derek Jeter would become Mr. November after his walk-off home run in Game 4 of the World Series against the Arizona Diamondbacks.
Derek Jeter spent all 20 years with the New York Yankees
Derek Jeter was steady. He was a very good baseball player and was extremely consistent during his 20 years as the shortstop for the New York Yankees. Jeter never won an MVP, excluding his All-Star Game and World Series MVP awards. Jeter was a winner. He claimed five World Series titles during his run as captain of the franchise.
While Jeter never won a regular-season MVP, he was an outstanding player. Jeter finished second in the MVP voting in 2006 when he finished the season with a .343 batting average. Jeter also scored 118 runs and drove in 97, while stealing 34 bases. In 1998, Jeter finished third in the voting when he hit .324 and led the league in runs scored with 127. He also collected 19 home runs and 84 RBIs.
For his career, Jeter finished with a .310 batting averaged. He also had 3,465 hits. Jeter added 260 home runs and nearly 2,000 runs scored. The Yankees captain also won five Gold Glove Awards. He was a 14-time MBL All-Star and was Rookie of the Year in 1996.
How Derek Jeter became Mr. November
New York Yankees legendary outfielder Reggie Jackson is known as 'Mr. October' for coming up clutch in the postseason. Derek Jeter has also come up big for the Yankees in the postseason, but Mr. October was clearly taken. Jeter's nickname Mr. November came about during a game that actually started when it was October.
On Oct. 31, 2001, the Yankees were playing the Arizona Diamondbacks in the 2001 World Series. It was Game 4 and the Yankees were trailing 2-1 in the series heading into the fourth game. The game was tied 3-3 in the bottom of the 10th inning just after the clock struck midnight. Jeter took a Byung-Hyun Kim pitch and smacked a walk-off homer to give the Yankees a 4-3 win and tie the series 2-2.
As Jeter's ball went over the fence, the Yankee Stadium scoreboard read 'Mr. November' as he circled the bases. It was the first time a Major League Baseball game was played in November. Due to the World Trade Center terrorist attacks, the season was pushed back and forced some of the World Series games to be played in November. The Diamondbacks went on to win the World Series in seven games as the home team won every game.
Jeter recalls the Game 4 homer
Derek Jeter's 10th-inning home run off Arizona Diamondbacks reliever Byung-Hyun Kim was classic Jeter. Jeter used patience and poise during the nine-pitch at-bat to deliver the home run. After the game, Jeter said it was tough picking up the ball from the sidearm-throwing Kim.
"The first time I faced him (Arizona closer Byung-Hyun Kim), I bunted the first pitch, so I didn't get an opportunity to see him," Jeter said immediately after the game in an ESPN article. "Anytime you have someone throwing sidearm or underarm, it is going to take a few pitches to pick up his release point. I think the second time I was able to see a lot of pitches, so I think that helped."
Years later, Jeter told a secret that he always struggled with sidearmers. He never was able to get into a groove against them. "I can say this now. For my entire career, I could never pick up the release point on sidearm pitchers," Jeter told ESPN. "I just could never figure it out."
All stats courtesy of Baseball Reference.