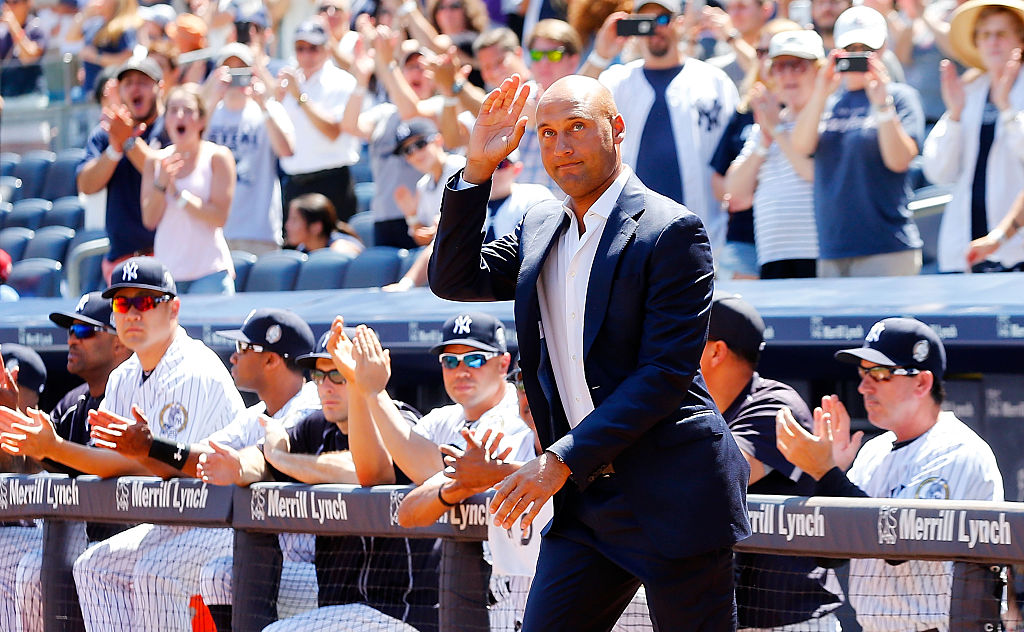 Derek Jeter Made $266 Million Playing Baseball But Has 'One Regret' About His Yankees Career
While Derek Jeter had a successful and well paying baseball career, he still has one regret about his time with the New York Yankees.
When it comes to idealized athletes, Derek Jeter sits at the top of the list. During his time with the New York Yankees, the shortstop seemed to do it all; he won five World Series titles, came through in the clutch, and avoided anything controversial. His time in the big leagues, however, still wasn't perfect.
For all of his awards and accolades, the Yankees captain retired with one regret. Even someone as perfect as Derek Jeter wished that he did one thing differently during his career.
Derek Jeter's legendary New York Yankees career
Once he made it to New York and donned the pinstripes, Derek Jeter became a Yankees legend. Looking at his road to the big leagues, however, it seems like that reality was simply meant to be.
Despite growing up in Michigan, Jeter took childhood trips to visit his grandparents in New Jersey. They were Yankees fans, and, unsurprisingly, he started watching the Bronx Bombers; he even took trips to New York to see the team in person. During one of those visits, Jeter decided that he was going to become a professional baseball player.
Back at home, Jeter took steps to make that dream reality. At Kalamazoo Central High School, he established himself as a top talent and accepted a scholarship to the University of Michigan. He would never play college ball, though. In a moment of serendipity, the Houston Astros deciding against selecting the young shortstop with the first overall pick of the 1992 draft; the Yankees would snap him up in the sixth spot.
While it took Jeter some time to make it to the show, he eventually blossomed into a Yankees legend. He spent 20 seasons in the Bronx, earning more than $266 million in the process. The shortstop batted .310 with 3,465 base hits and 1,311 RBIs; he also served as the team captain for 12 seasons and won five World Series titles before calling it a career.
Derek Jeter's one major league regret
On paper, Derek Jeter's time in the Major Leagues seemed pretty perfect; he won championships, avoided trouble, and, outside of Boston, was universally admired. The Yankees captain, however, wished that he could have done one thing differently.
"Someone asked me recently, do I have any regrets in my career? My last season, I kept a journal; every day I'd write something in there,'' Jeter told YES Network in a 2017 interview. While that journaling was a one-off exercise, the shortstop regrets not starting the routine sooner.
"The one regret I do have is that I wish I would've done that my entire career, because there are so many things that you forget," he continued. "Still to this day, I haven't looked at it. It's locked up, and I haven't looked. I'm going to be a father soon, so I'm sure one day when I sit down with my kid — or kids, if there's multiple [Jeter has since had two daughters] — I'll get a chance to reflect and maybe brag like my dad used to do when I was younger."
Journal or not, Derek Jeter gave us plenty to remember
While we might not ever know what Derek Jeter wrote down during that one year of journaling—or what he forgot during his previous seasons—one thing is clear: the shortstop's career will live on in baseball lore.
Beyond the statistics and the status, Derek Jeter was simply part of the baseball landscape. As Jonah Keri once laid out on Grantland, Jeter was different things to different people. He could be a model of consistency or an all-time great; you might think his defensive capabilities were exaggerated by a few notable plays or believe he was the epitome of a bland, cliche-spouting athlete. Regardless of your position, however, you know and remember the Yankees captain.
Derek Jeter hasn't played a baseball game since the fall of 2014, but the memories of his career aren't going away anytime soon. That, as much as any Hall of Fame plaque or Commissioner's Trophy, makes him a legend.