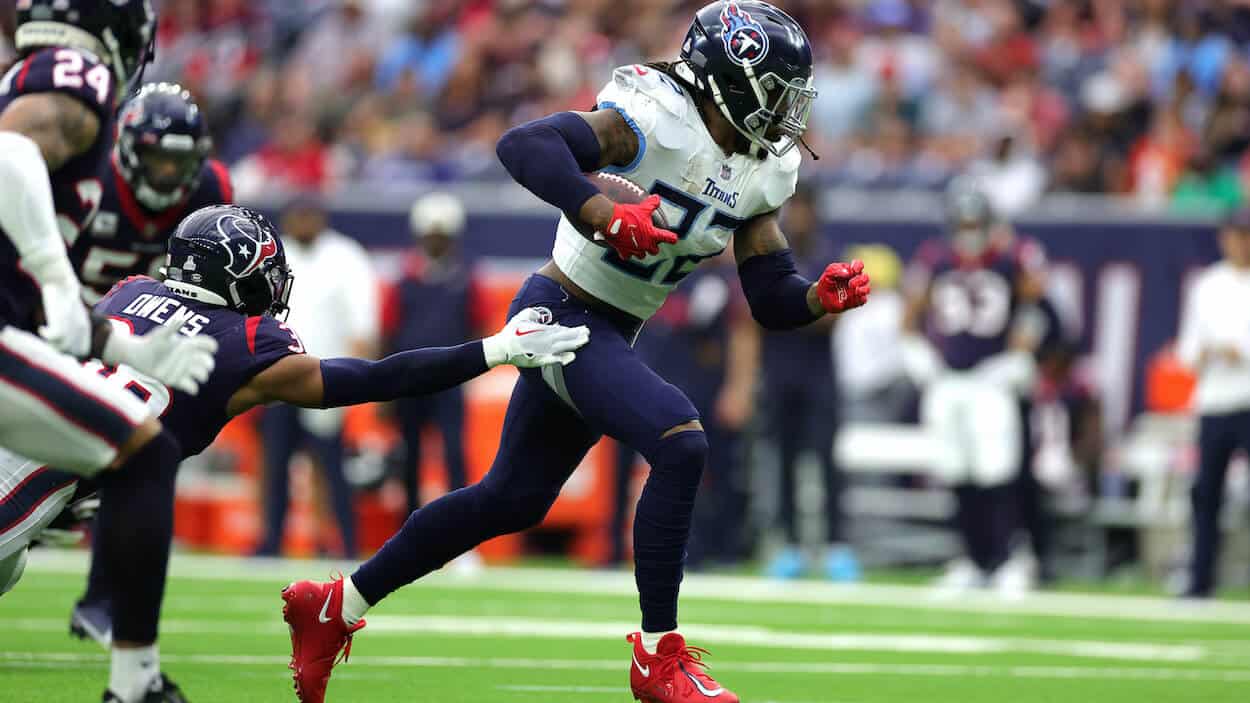 Derrick Henry Would be the Greatest RB of All-Time if He Only Played the Texans
Titans RB Derrick Henry is already a record-setting running back, but if he only played the Texans, his numbers would be astronomical.
When Derrick Henry is done in the NFL, he may go down as one of the best running backs in NFL history. However, in the Tennessee Titans star only played the Houston Texans, he would probably be the best that ever played the position. In a 2022 Week 8 Titans' 17-10 win over their AFC South rival, Henry did something for the fourth time against the Texans that LaDainian Tomlinson, Barry Sanders, and Jim Brown have only done three times in their entire career.
Derrick Henry punishes the Houston Texans
In Week 8 of the 2022 NFL season, Titans rookie quarterback Malik Willis made his NFL starting debut with veteran Ryan Tannehill out. With a young, inexperienced signal-caller under center, it's no surprise Mike Vrabel's game plan involved a lot of Derrick Henry.
And a lot of Henry was what the Texans got.
The one-time All-Pro had an incredible 32 carries for 219 yards and two touchdowns vs. Houston. He even threw in a nine-yard catch for good measure.
The second score made "King Henry" his franchise's all-time touchdown leader, passing legendary running back Eddie George's 72 TDs. However, it was his final stat line that really turned heads.
The game was Henry's sixth 200-plus yard, two-touchdown game. That's tied with former Buffalo Bills RB O.J. Simpson and doubles Hall of Famers like LaDanian Tomlinson, Barry Sanders, and Jim Brown.
The fascinating twist is that Henry has four such games vs. the Texans and just two vs. every other team in the NFL. These big games were:
10/30/22: 32 carries, 219 yards, two touchdowns vs. Houston Texans
10/18/20: 22 carries, 212 yards, two touchdowns vs. Houston Texans
12/13/20: 26 carries, 215 yards, two touchdowns vs. Jacksonville Jaguars
1/03/21: 34 carries, 250 yards, two touchdowns vs. Houston Texans
12/29/19: 32 carries, 211 yards, three touchdowns vs. Houston Texans
12/06/18: 17 carries, 2138 yards, four touchdowns vs. Jacksonville Jaguars
That's incredible domination against one team (and pretty impressive vs. the Jaguars, too). And while Derrick Henry can't play the Texans every week, it is nice he gets the franchise twice a year in the AFC South.
Is the Titans RB on the trade block in 2023?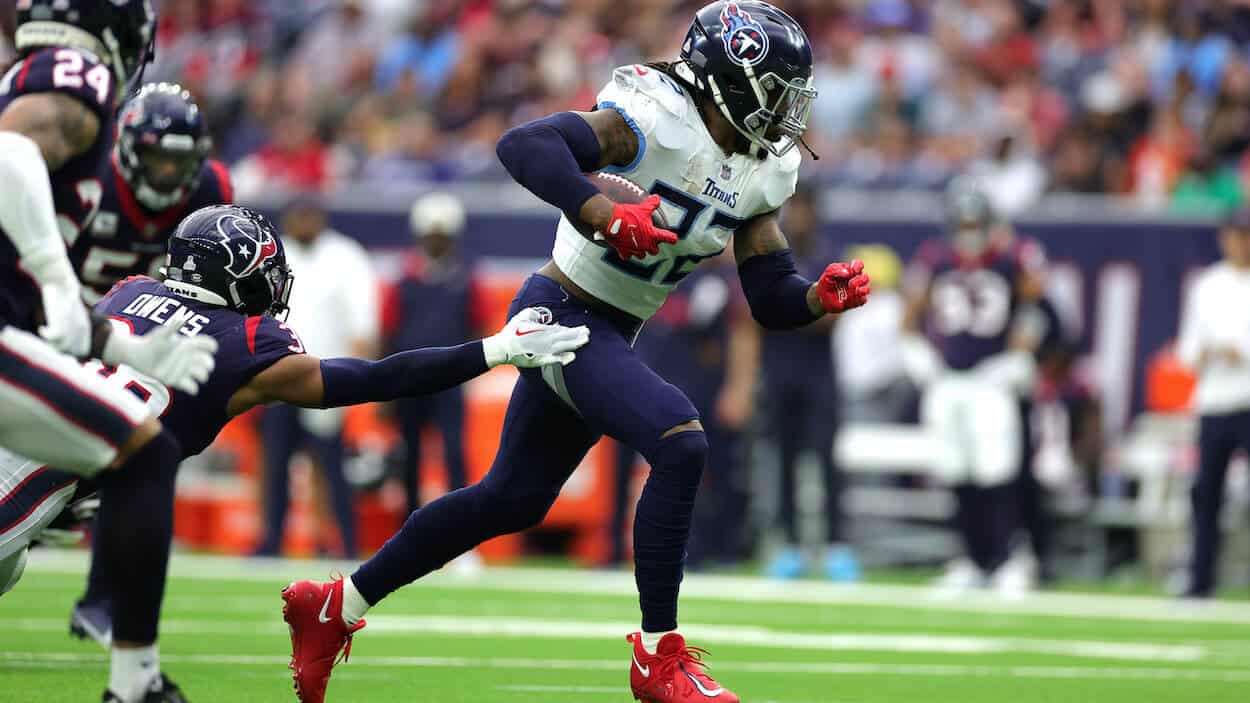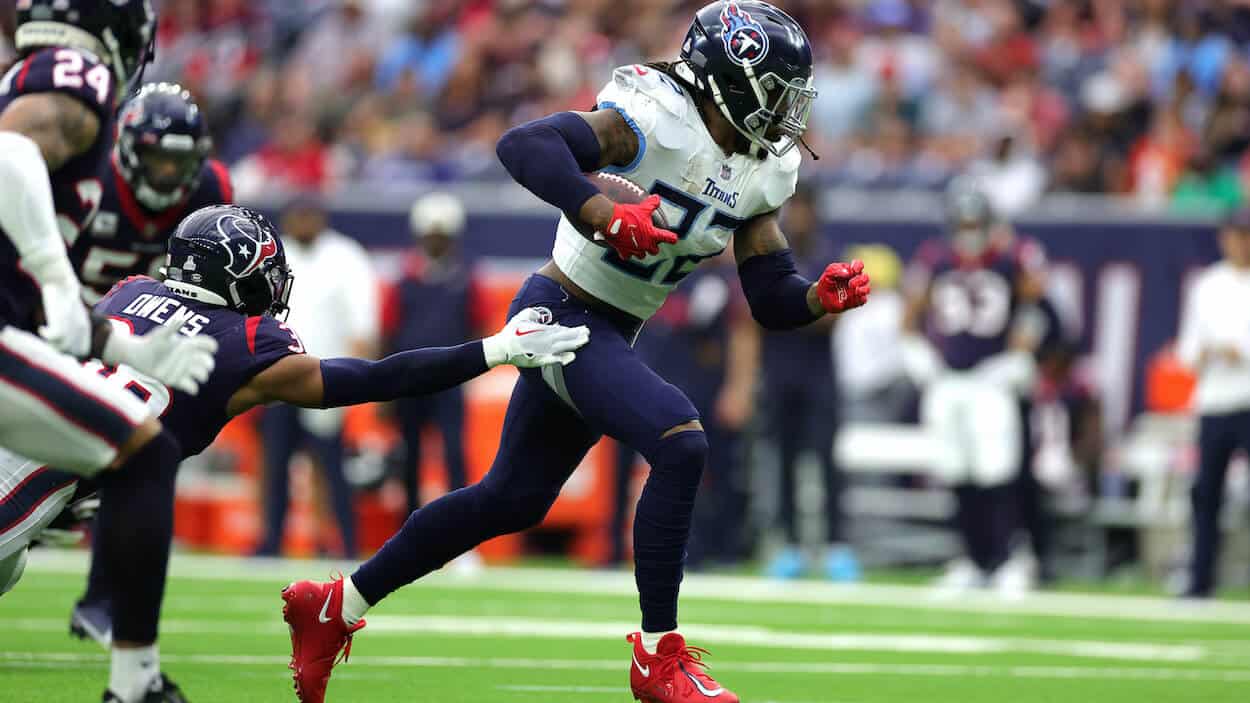 Derrick Henry has been the driving force behind the Titans' resurgence over the last few seasons. However, as Ryan Tannehill's career nears the end, the franchise is trying to execute a soft rebuild. And the superstar RB could be a casualty of that reshuffling of the roster.
After a 7-3 start in 2022, the Titans went on a seven-game winless slide to miss the playoffs.
And in the 2023 offseason, the team's rebuilding plans continued. In the previous offseason, the team traded star wideout A.J. Brown, and this year, they drafted QB Will Levis in Round 2 of the 2023 NFL Draft.
While the Titans defense has remained relatively unchanged, with defensive lineman Jeffery Simmons getting a big new extension this Spring, the offense is in a state of flux.
Rookie WR Treylon Burks replaced Brown in 2022, the team released longtime left tackle Taylor Lewan this offseason, and in 2023 training camp, there's a real chance Malik Willis or Will Levis win the starting job over Tannehill.
As for Derrick Henry, he is in the last year of his current deal and will count for $16.3 million against the salary cap next season.
The Titans could play out the season as is and let Henry and Tannehill's deals expire next offseason, saving the club over $52 million. However, Henry still has some real value, and there are rumors contenders like the Philadelphia Eagles and Cincinnati Bengals are interested in the RB.
However, new general manager Ran Carthon recently told ESPN he hasn't engaged in any trade talks involving the three-time Pro Bowl back.
If the price was right, the Titans surely would listen to a Henry trade proposal. That said, in the final year of his deal, a workhorse runner like Henry likely has more value to his current team as a safety blanket for one of the young QBs who may be under center this season.
Plus, if Henry leaves the AFC South, he woulnd't get to play the Texans twice a year!