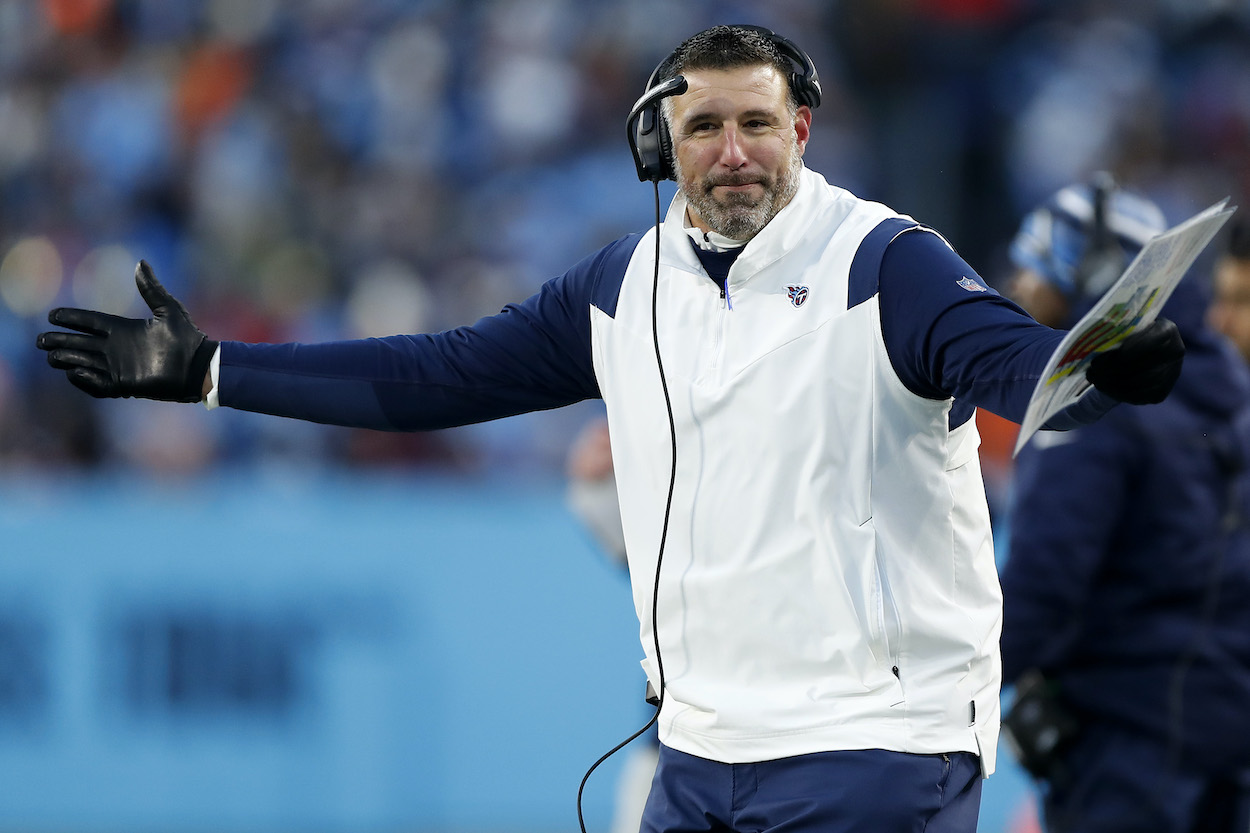 Tennessee Titans Head Coach Mike Vrabel Admits His Coaching Career Came From Having 'No Plan B'
Tennessee Titans head coach Mike Vrabel took home the NFL Coach of the Year Award at the end of the 2021 season. He led his team to a 12-5 record despite losing his best player, Derrick Henry, for most of the season. Being named the best coach in the NFL is a tremendous honor. And it's especially impressive …
Tennessee Titans head coach Mike Vrabel took home the NFL Coach of the Year Award at the end of the 2021 season. He led his team to a 12-5 record despite losing his best player, Derrick Henry, for most of the season.
Being named the best coach in the NFL is a tremendous honor. And it's especially impressive when you consider Vrabel says he only became a coach because he had no idea what else to do with his life.
Mike Vrabel had a 14-year NFL career
Ohio native Mike Vrabel went from Walsh Jesuit High School in Cuyahoga Falls, Ohio, to play for the Ohio State Buckeyes. During his three seasons in Columbus, he racked up 36 sacks and graduated as the all-time leader in tackles for a loss with 66. He also made the college football All-American team twice.
Vrabel's dominant college career led to the Pittsburgh Steelers taking him in the third round (No. 19 overall) of the 1996 NFL Draft.
In the Steel City, Vrabel was primarily a backup and ended his time in Pittsburgh with 56 tackles and 7.0 sacks. After four years in Pennsylvania, the pass-rusher joined the New England Patriots in 2001.
Over the next eight seasons, Vrabel helped the Pats win three Super Bowls. He made 606 tackles during those campaigns and sacked the quarterback 48 times. He even played on the offensive side of the ball for Bill Belichick's crew, catching 10 balls, all for touchdowns.
In 2009, he left for the Kansas City Chiefs with former New England front office executive Scott Pioli. The AFC West squad went 4-12 in Vrabel's first season there. But, the team turned it around the following year, going 10-6.
Vrabel retired following the 2010 season.
In 2011, he went back to Ohio State to start his assistant coaching career. In 2014, he returned to the NFL to coach the linebackers for the Houston Texans. He rose to the position of defensive coordinator in 2017 and, in 2018, became the head man for the Tennessee Titans.
Vrabel explained to Pat McAfee how he became a coach
As Mike Vrabel and his Tennessee Titans organization gear up for the 2022 NFL Draft, the head coach joined the Pat McAfee Show with host Pat McAfee and Vrabel's fellow Buckeyes alum, A.J. Hawk.
McAfee told Vrabel that neither he nor Hawk has the time, dedication, or commitment that it takes to be a high-level football coach. He asked if Vrabel always knew he'd be a coach, and Vrabel responded by sharing his relatively unplanned path to coaching at the highest level:
For most players, there's no plan B. It's 'I wanna play football for as long as I can.' And that is what my plan was. Just play professional football for as long as I could. I loved every minute of it. I loved the locker room, I loved competing. It took me a lot of great places. Met a lot of great people, and then when that ends, it's like, 'what's it gonna be?' And the opportunity came up at Ohio State, and it kind of took off from there.

Mike Vrabel on becoming a football coach
Vrabel is 41-24 as a head coach with the Titans and has three playoff appearances. In 2019, his team made a Cinderella run to the AFC Championship Game. The Titans ultimately lost to the eventual Super Bowl champion Kansas City Chiefs.
It's all pretty impressive for a guy who claims to have had no bigger ambitions than just playing pro football for as long as he could.
The Tennessee Titans 2022 outlook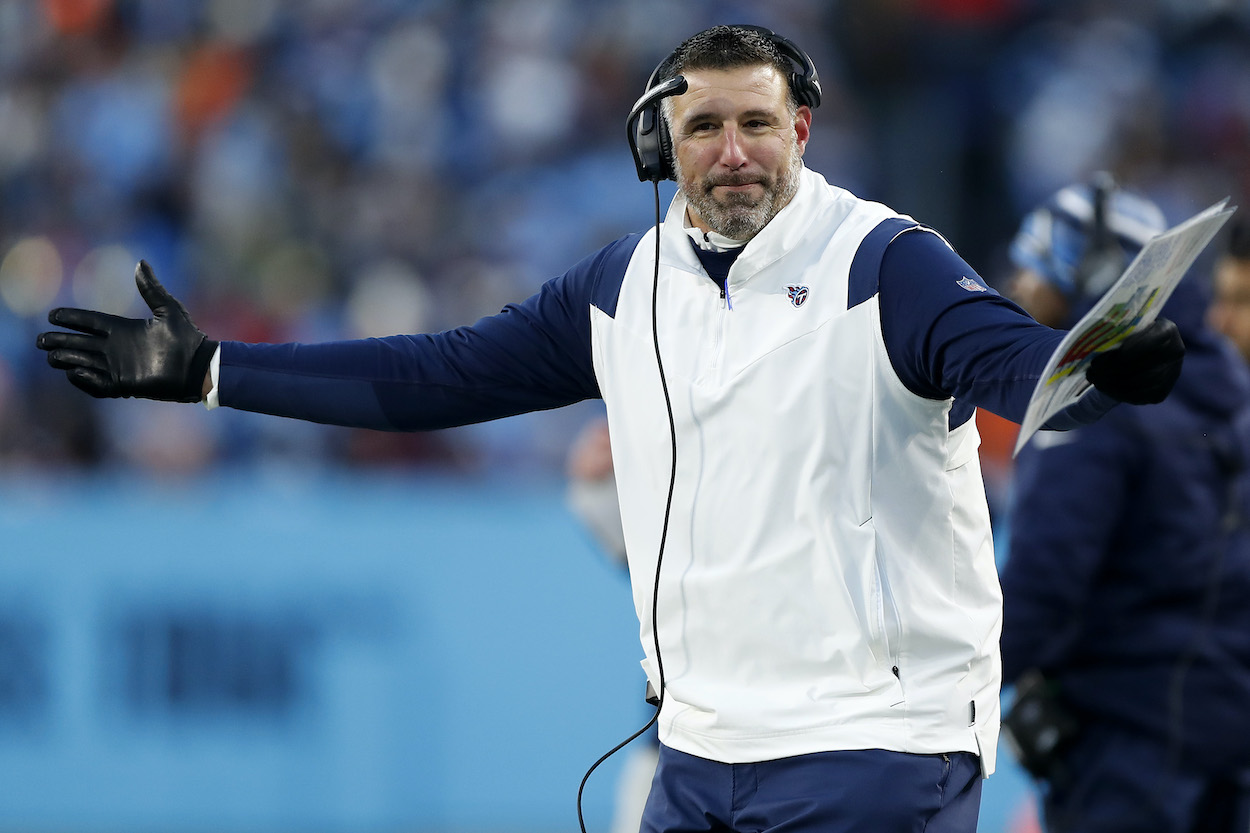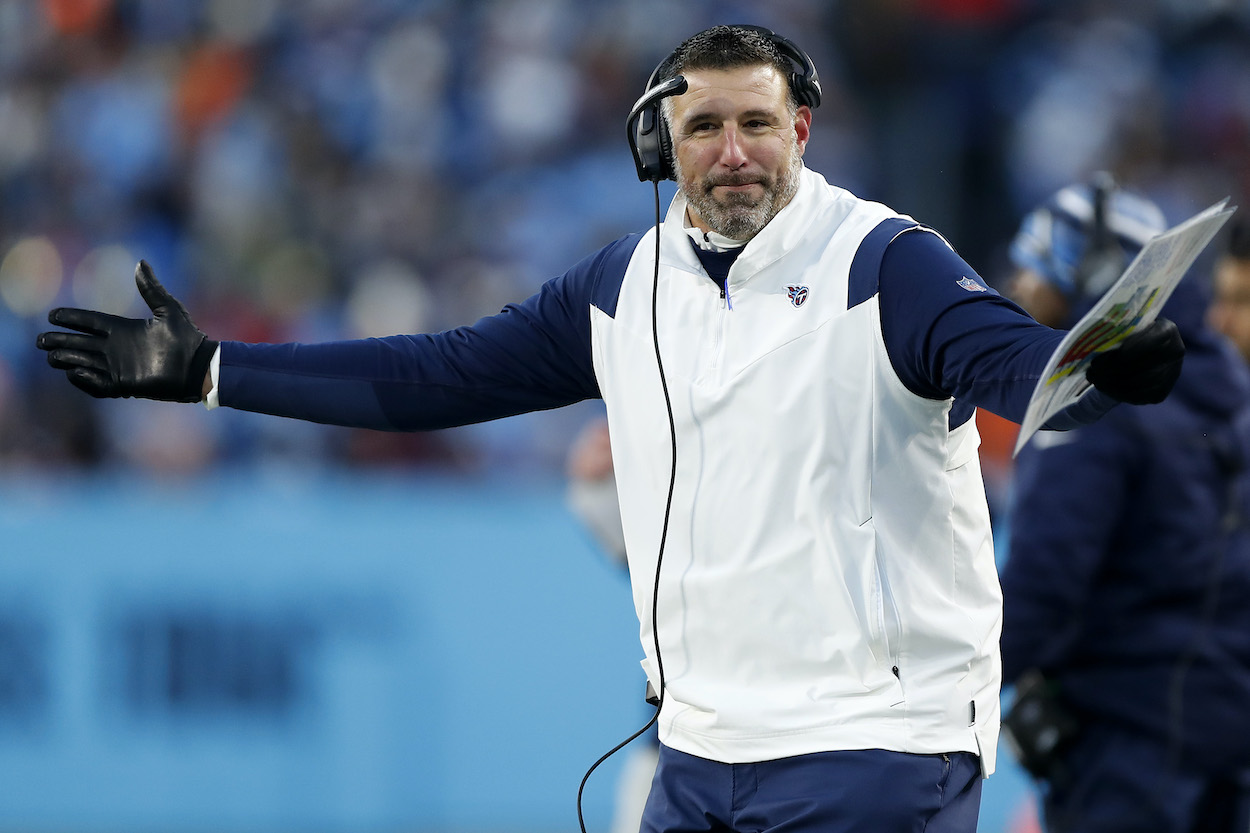 Mike Vrabel will kick off his fifth season as an NFL head coach in 2022 with Big Game aspirations once again. After last season's 12-5 AFC South-winning record, Vrabel's crew will look to do that again and improve on their disappointing Divisional Round loss to the Cincinnati Bengals.
The Titans will have to contend with a likely improved Indianapolis Colts team that now has Matt Ryan at QB instead of Carson Wentz. Also, the Jacksonville Jaguars have Trevor Lawrence in Year 2 now and the No. 1 overall pick in the 2022 NFL Draft. The franchise also spent a quarter-billion dollars in free agency, so that squad should be better as well.
As for Vrabel's team, the roster is relatively similar to 2021.
The team signed a few players around the edges and lost some fringe players as well. The most significant moves were releasing WR Julio Jones and signing free-agent wideout Robert Woods from the Los Angeles Rams.
Vrabel's 2022 season will likely hinge on two things. One, if Henry can come back and stay healthy, the coach will once again have one of the most dangerous squads in the league. That said, Ryan Tannehill is still the QB. And if he can't find a way to be better in the playoffs, there is a ceiling on the team, and no amount of great coaching from Vrabel will fix that.
All stats courtesy of Pro Football Reference