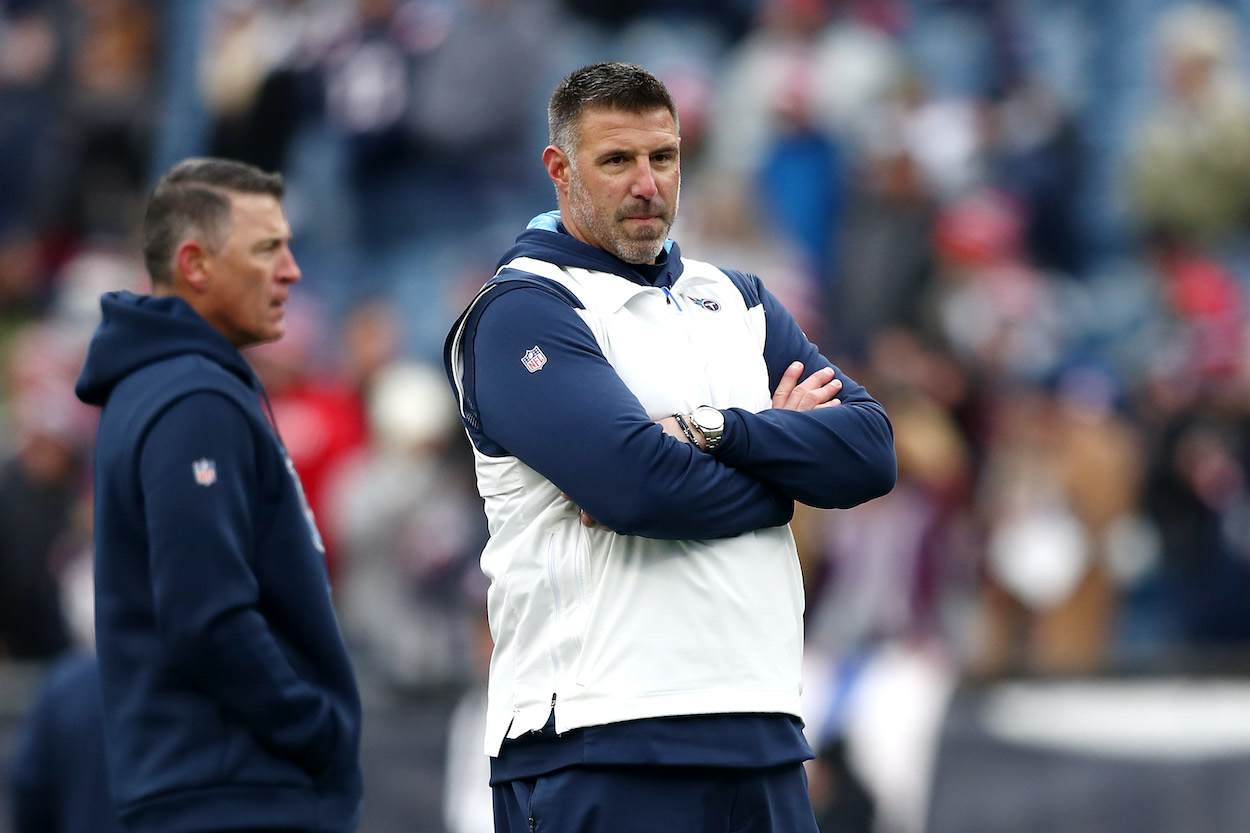 Tennessee Titans Coach Mike Vrabel Storms out of Press Conference After 3 Questions About LB Zach Cunningham in 2 Minutes: 'We'll Talk About Him Next Week, He Won't Be Active for the Game'
Tennessee Titans head coach Mike Vrabel didn't take kindly to the questions about inactive LB Zach Cunningham and stormed out of his Week 14 press conference.
NFL head coaches are notorious for only focusing on the game right in front of them. Tennessee Titans coach Mike Vrabel is no exception and, in fact, took that mindset to the extreme this week. When reporters wouldn't stop asking questions about the newest Titans player, linebacker Zach Cunningham, Vrabel threw a fit and stormed out of the media session after just two minutes.
The Tennessee Titans claimed former Houston Texans LB Zach Cunningham off waivers  
The 2021 season is not going well for the Houston Texans. A former team chaplain, Jack Easterby, is running the team. Also, 66-year-old first-time head coach David Culley is struggling to find wins, and superstar QB Deshaun Watson is sitting for the entire season because he's facing numerous sexual misconduct allegations and lawsuits.  
It's with this backdrop that Texans players are looking for a way out of Houston.
The latest casualty of the mess in Houston is linebacker Zach Cunningham. The 2017 second-round draft pick led the NFL in tackles in 2020 (167) but, with just 67 tackles in 2021, the Texans made the former Vanderbilt Commodore a healthy scratch in Week 13 and an ex-Texan shortly afterward.  
Tennessee Titans head coach Mike Vrabel is intimately familiar with Cunningham. The former Pittsburgh Steelers, New England Patriots, and Kansas City Chiefs linebacker was the Texans' defensive coordinator when the team took the player No. 57 overall in 2017.
With a cap hit of just $422,055 this season (ahead of his massive $10 million cap hit next season), the Titans claimed Cunningham off waivers instead of trying to wait until the rest of the NFL passed and signing him to a new deal.  
To paraphrase Von Miller's now-famous quote from a few weeks ago when the Denver Broncos traded him to the Rams, Cunningham went to sleep 2-10 and woke up 8-4.
Head coach Mike Vrabel didn't want to discuss Cunningham at a press conference and stormed off after questions
Zach Cunningham isn't the only one excited about his arrival in Tennessee. The local media that covers the team is fired up too.
The problem is, Tennessee Titans coach Mike Vrabel isn't as enthusiastic to talk about the move just yet.
During a press conference leading up to the Titan's AFC South matchup with the drama-ridden, bottom-feeding Jacksonville Jaguars, reporters wanted to talk about the team's new acquisition.
Upon being asked about Cunningham once, Vrabel said, "Yeah, we're excited to add him to our football team. We'll talk more about Zach next week. He won't be active for [this week's] football game."
When asked a follow-up about when Cunningham will start practicing with the team, Vrabel was quick to shut the entire line of questioning down, stating, "We'll talk about that next week. He won't be active for the game."
After another reporter took Vrabel's cue and asked a question about Titans players returning from injury — which Vrabel happily answered — another media member tried to steer the conversation back to Cunningham one more time.
That's when things took a turn.
"Can you just talk about Cunningham's skillset a little bit and what's the reasons —," a reporter started to ask.
He didn't get to finish, though, as Vrabel took a hard left-turn and stormed off the stage muttering, "This if f****** ridiculous" as he left.
Vrabel and the Titans (without their new LB) face the Jacksonville Jaguars in Week 14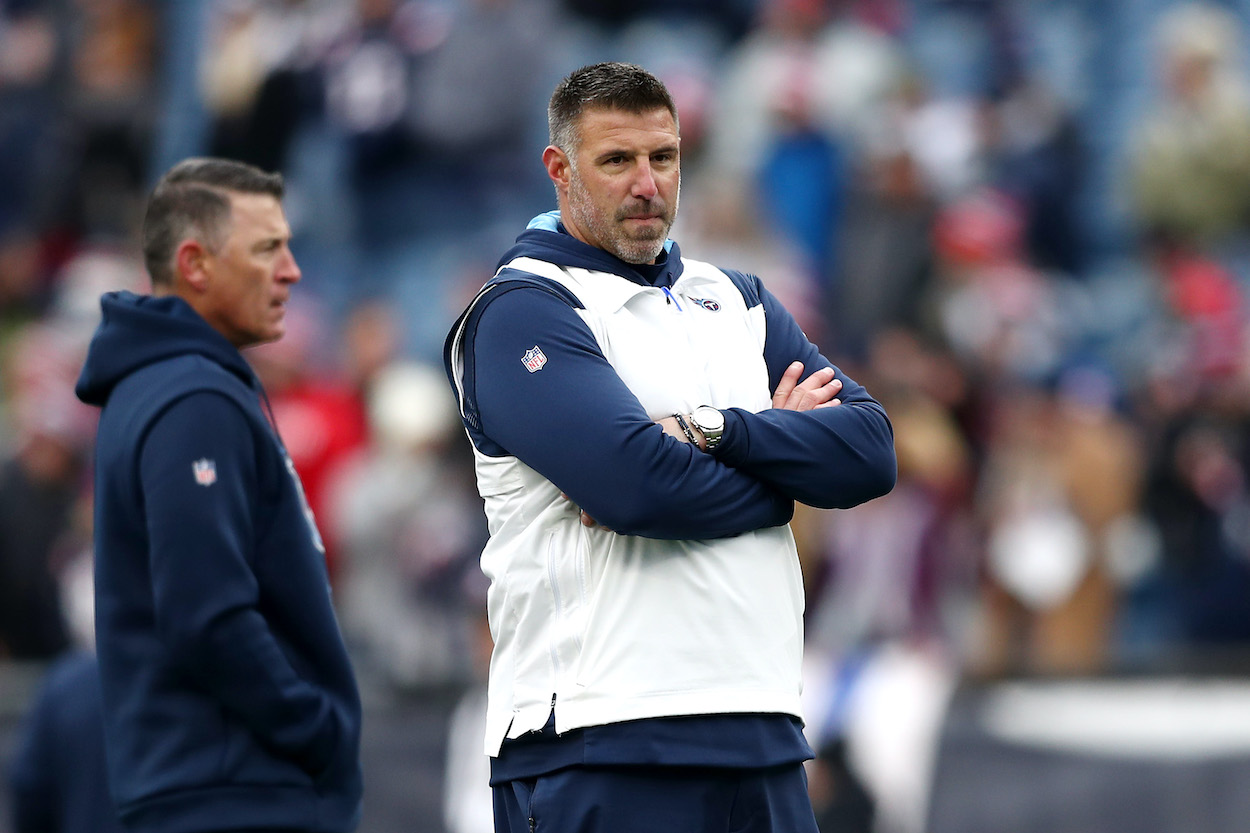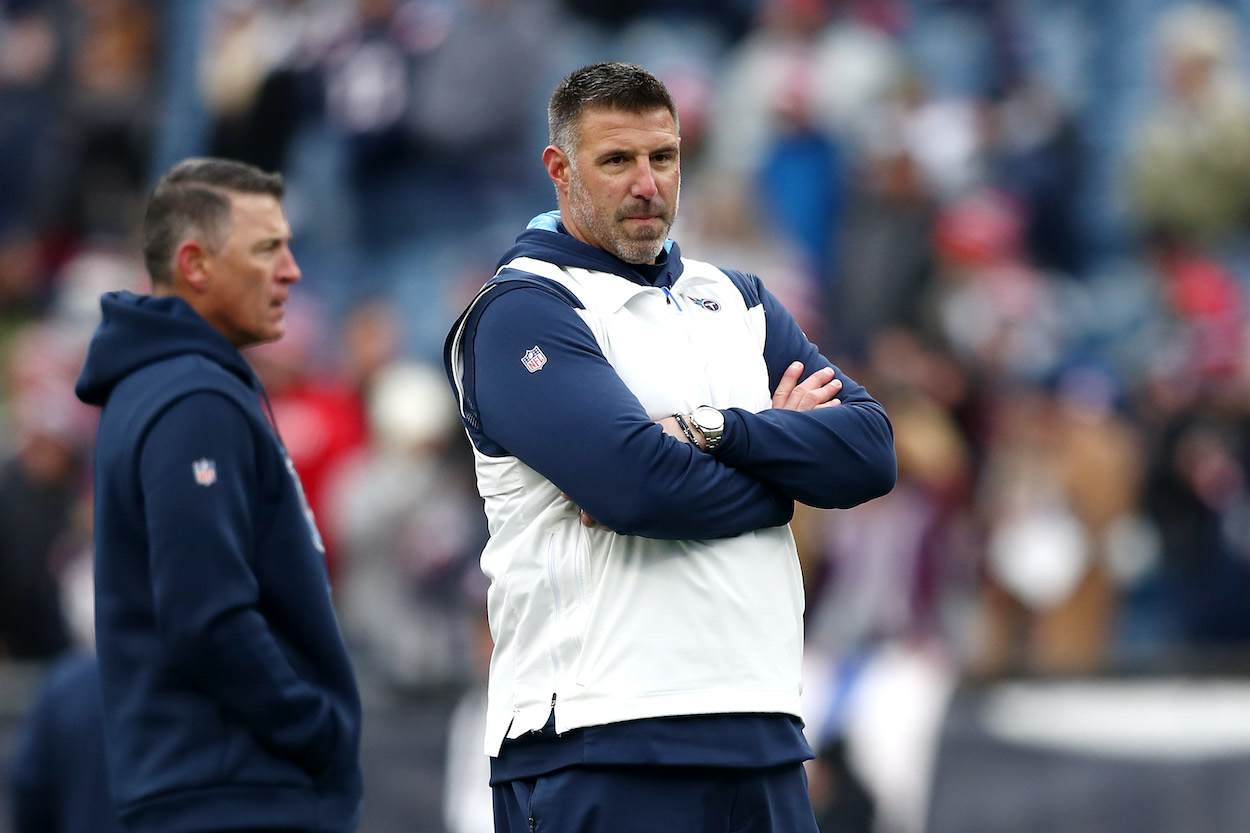 Mike Vrabel has yet to reveal what exactly about the three questions set him off so badly, but he surely is trying to focus on the game ahead and only the game ahead.
In this case, the game ahead is against the lowly Jacksonville Jaguars, which shouldn't present the Tennessee Titans with all that many issues.
The Titans are coming off a much-needed bye week and trying to stop a two-game skid. The losing streak comes on the back end of a six-game winning streak where the team lost its top three offensive players: RB Derrick Henry, WR A.J. Brown, and WR Julio Jones.
While Brown and Henry remain out — Brown is eligible to come back in Week 16, and the team hopes Henry can return for the playoffs — the Titans did get some good news. Jones, the team's major off-season acquisition, is off the IR and should play Sunday, per ESPN.
At 8-4 and with a relatively easy last five games (Jaguars, Pittsburgh Steelers, San Francisco 49ers, Miami Dolphins, Texans), Vrabel and his crew should cruise to a playoff spot.
However, in order to make noise in the AFC playoffs, the team needs to stay relatively healthy from here on out and start getting some of their stars back from the injured list.
Zach Cunningham could be a big part of the Titans' 2021 Super Bowl charge…
But we'll talk about that next week. Right, Coach Vrabel?
All stats courtesy of Pro Football Reference and contract figures courtesy of Spotrac