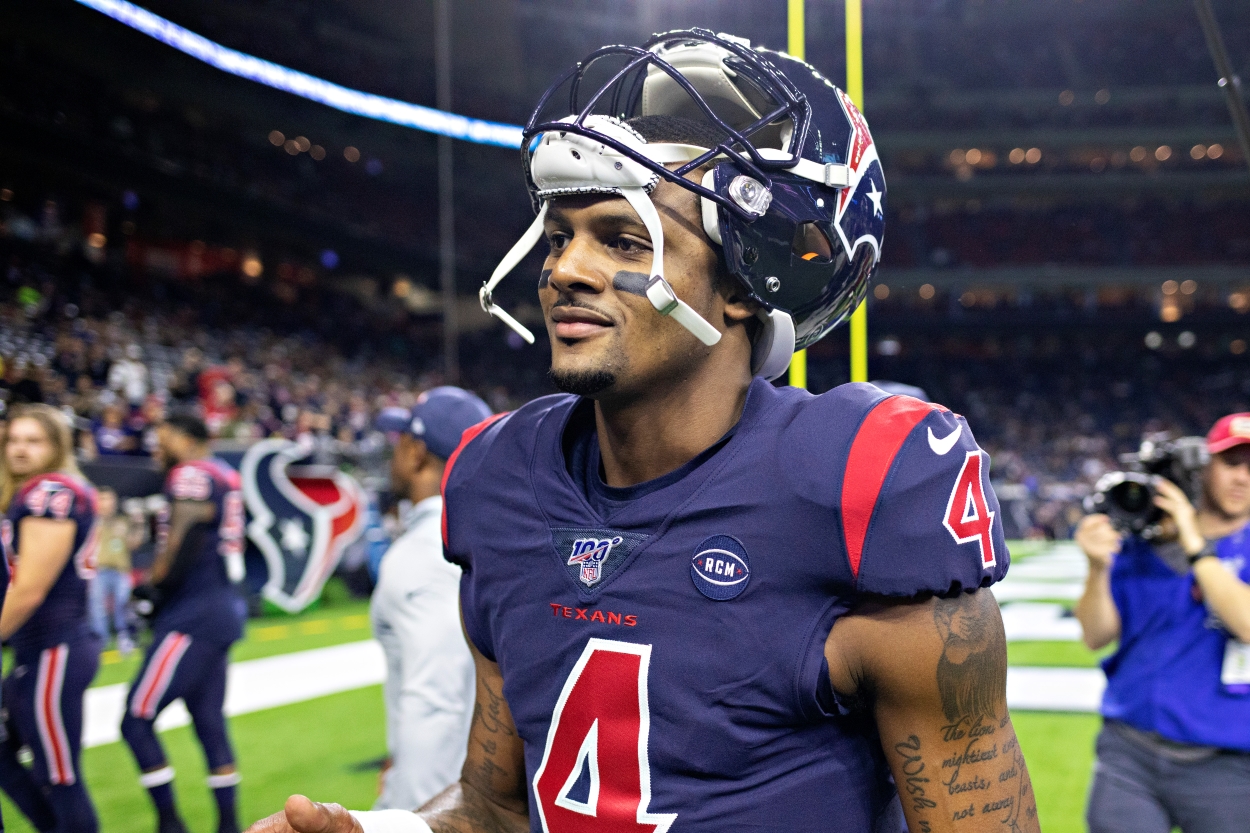 Deshaun Watson's Attorney Directly Accuses All 22 Plaintiffs of Lying About Sexual Misconduct Allegations in Detailed Response to Civil Lawsuits
Deshaun Watson's attorney left no doubt about his belief in his client's innocence with his recent statement that accused all 22 plaintiffs of lying.
Deshaun Watson has watched his life take a dramatic turn this offseason. At one point, it seemed like he held all the leverage to force the Houston Texans to trade him. But with the star quarterback facing 22 civil lawsuits concerning allegations of sexual misconduct, his NFL future remains a complete mystery.
On Monday, Watson's legal team filed an official response to the accusations made against the 25-year-old. And in his own statement, attorney Rusty Hardin directly accused all the plaintiffs of lying.
Deshaun Watson faces an uncertain future given his current legal situation
Just a few months ago, it looked like Deshaun Watson would get his wish of finding a new NFL home. However, that plan quickly fell apart once his name was connected to sexual misconduct allegations.
On March 16, a Houston-based massage therapist filed the first civil lawsuit against the Texans quarterback. Watson denied the claims made by attorney Tony Buzbee's client. Three days later, Buzbee said nine more civil suits had been filed against one of the NFL's most popular stars.
The situation took another turn on April 3 when the Houston Police Department revealed it had begun conducting an investigation after a complainant filed a criminal report concerning the Texans signal-caller.
It didn't take long for several sponsors to part ways with Watson. On April 7, Nike suspended his endorsement deal.
"We are deeply concerned by the disturbing allegations and have suspended Deshaun Watson. We will continue to closely monitor the situation," the company said in a statement.
Beats By Dre completely cut ties with him. Reliant Energy dropped Watson as a brand ambassador. And with the quarterback facing 22 civil lawsuits, his football future remains firmly in doubt.
Rusty Hardin says all 22 plaintiffs are lying about the allegations made against the Houston Texans QB
On Monday, Deshaun Watson's legal team filed its response to the allegations made against him. According to ESPN, the document said the lawsuits are "replete with mischaracterizations of [his] conduct" and that they range from "being misleading, to fradulent, to slanderous."
In addition, Watson's legal response stated seven plaintiffs "willingly worked or offered to work with Mr. Watson after their alleged incidents." The document also said five plaintiffs told other people they wanted to get money out of the young NFL star.
The filing contained detailed rebuttals to the plaintiffs' allegations. One section also pointed out that at least four of Watson's accusers have altered their social media accounts since their names became public to remove pictures "that are inconsistent with the image they portray through their petitions."
Furthermore, Rusty Hardin released a statement of his own in which he made it quite clear where Watson's legal team stands on the situation.
"Mr. Watson has been adamant that he did not engage in any improper conduct and we strongly believe him," the statement read. "Therefore, the answer to the question of whether we are saying that all 22 plaintiffs are lying about the allegations of sexual misconduct by Mr. Watson is a resounding yes."
Two of Deshaun Watson's accusers will meet with an NFL investigator
Not long after Deshaun Watson's legal team issued its response and formally requested a trial by jury, the story took another turn.
Mark Berman of FOX 26 reported via Twitter that at least two of the women who have filed civil lawsuits against Watson have agreed to meet with the NFL. League investigator Lisa Friel will speak with the plaintiffs via Zoom. Berman also said additional women involved in the lawsuits have agreed to meet with the Houston Police Department.
Of course, Watson could face discipline from the NFL if the investigation determines he violated the league's personal conduct policy. Only time will tell if his current legal situation will have an effect on his future availability. But given the way the last few months have gone, it wouldn't be surprising to see a new starting quarterback in Houston for the 2021 season.
Like Sportscasting on Facebook. Follow us on Twitter @sportscasting19.