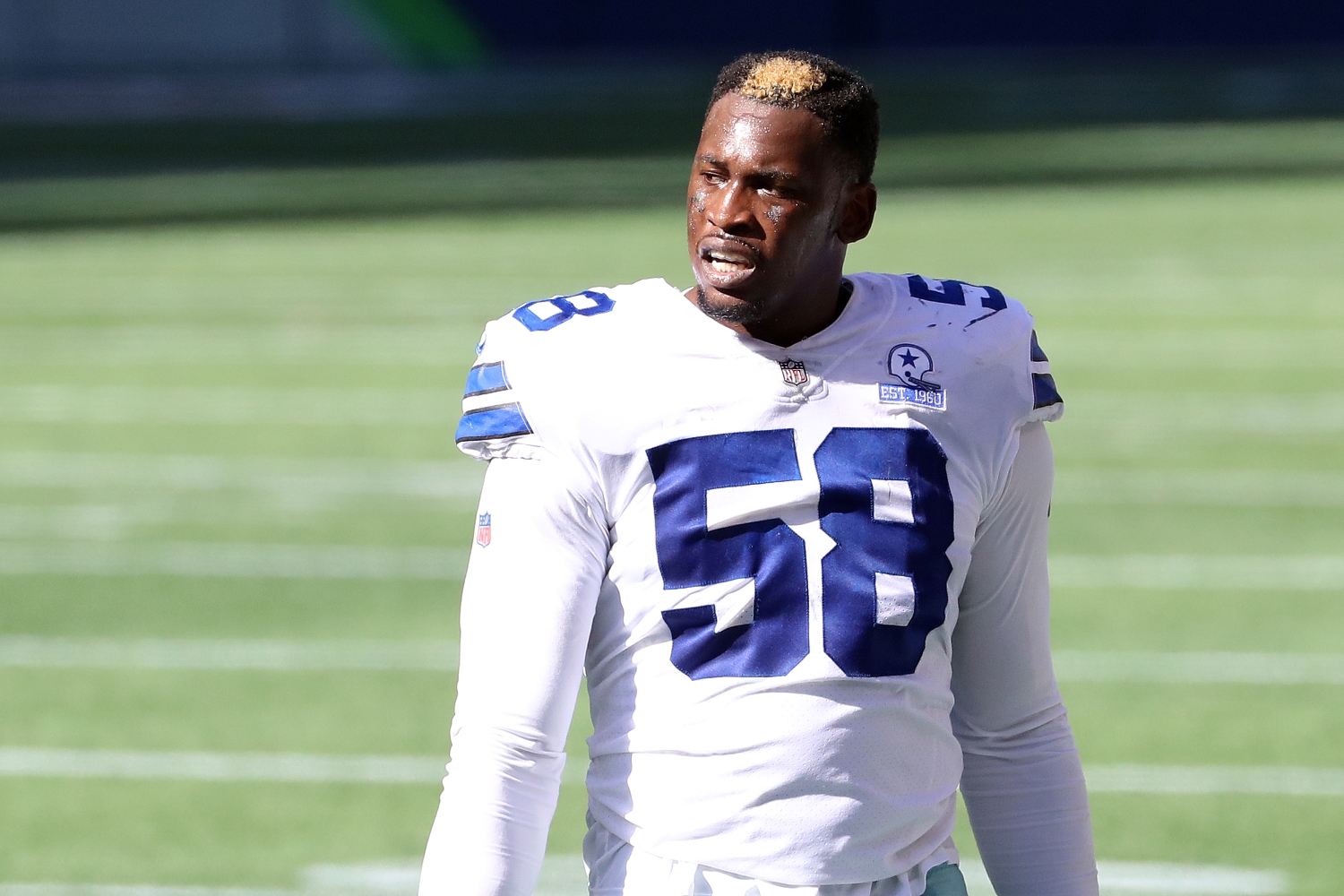 Seahawks DE Aldon Smith Wanted for Second-Degree Battery for Allegedly Choking Victim Unconscious at Coffee Shop
Aldon Smith just joined the Seahawks on a one-year deal. But he now faces a second-degree battery charge for an incident that allegedly occurred in Lousiana.
The Seattle Seahawks just signed Aldon Smith to a one-year contract in early April. Yet the former San Francisco 49ers star has already made headlines for something other than his ability to make plays on Sundays.
On Monday, news broke about Smith's alleged involvement in an incident at a coffee shop in the New Orleans area.
Aldon Smith recently joined the Seahawks
The Dallas Cowboys took a chance on Aldon Smith last year by signing the former All-Pro pass-rusher to a one-year deal. After spending the last four seasons out of the league due to suspensions, he put up solid numbers as a full-time starter for Mike McCarthy.
Smith didn't miss a single game, and he made his presence known off the edge. The 6-foot-5, 255-pound defensive end racked up 48 tackles, five sacks, and 14 quarterback hits. He also recovered two fumbles, one of which he returned for a touchdown.
With Dallas moving in a different direction, Smith entered free agency with a relatively quiet market. But after waiting for weeks to find a new NFL home, he finally secured his short-term future by signing a one-year contract with the Seahawks. The veteran rounds out a defensive line group that features several solid players in Carlos Dunlap, Poona Ford, and Kerry Hyder Jr.
Smith wanted for second-degree battery
Two days after Aldon Smith signed with Seattle, he allegedly got involved in an altercation in Louisiana. According to ESPN, an arrest warrant has been issued for Smith for an alleged second-degree battery that occurred on the evening of April 17.
St. Bernard Parish District Attorney Perry Nicosia said the 31-year-old allegedly choked a victim unconscious during a confrontation that began inside the French Press Coffee House in Chalmette, Louisiana. Nicosia said the victim was transported to a hospital but did not have to stay overnight.
The St. Bernard Parish District Attorney's office said in a news release that the alleged victim suffered "severe injuries." A second-degree battery conviction carries a maximum fine of $2,000 and/or up to eight years in prison.
Local TV station WDSU delivered the first report regarding Smith's arrest warrant. The network also reported that a portion of the incident was believed to be captured on video.
The Seahawks released a statement about the situation involving their recent free-agent addition.
"We are aware of the reports regarding Aldon Smith. Aldon notified us and we are gathering more information. We have no further comment at this time," the statement read.
The 31-year-old has been involved in several legal matters since he entered the league in 2011
Aldon Smith's current legal situation represents yet another chapter of a story that involves many dealings with law enforcement. Last April, ESPN provided a detailed breakdown of the off-field issues.
On Jan. 27, 2012, Smith was arrested on suspicion of driving under the influence in Miami Beach, Florida. On Sept. 20, 2013, he was arrested on that same charge after he crashed his truck into a tree in a residential neighborhood in California. Smith subsequently checked into rehab and missed the 49ers' next five games. In July 2014, he was sentenced to 11 days of work release as a result of his 2013 DUI arrest.
Smith was arrested on hit-and-run, DUI, and vandalism charges on Aug. 6, 2015. The 49ers released him the next day.
Although he resurfaced quickly with the then-Oakland Raiders, his NFL career was officially put on pause in the middle of the 2015 season. On Nov. 17, Smith received a one-year suspension for violating the league's substance abuse policy.
His legal troubles continued even as he waited to get back on the field. A 2018 domestic violence case put Smith back in the spotlight. He was sentenced to 90 days in jail and three years of probation after pleading guilty to two misdemeanor charges.
All statistics courtesy of Pro Football Reference.