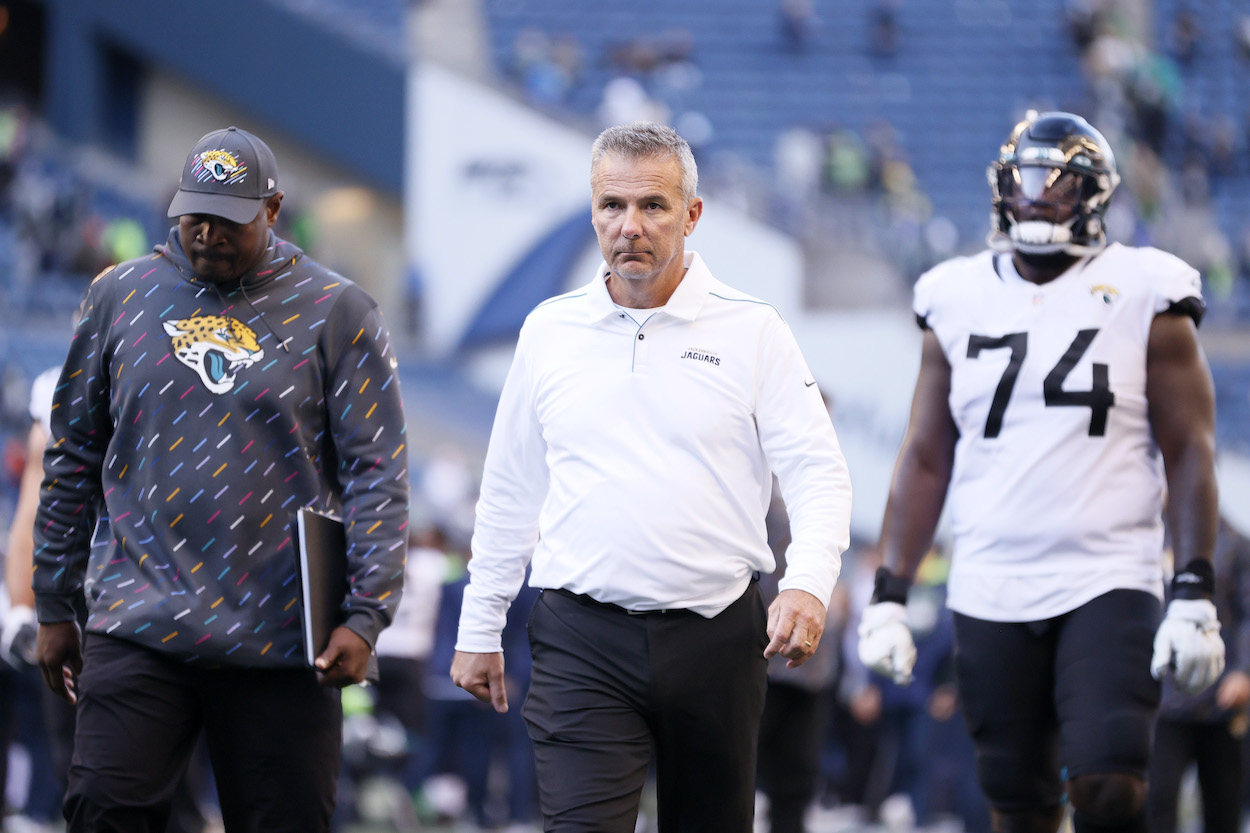 NFL Insider Tom Pelissero Drops Explosive Report About 'Tension Boiling Over' in Jacksonville Between Urban Meyer and His Players and Coaches
Urban Meyer has completely lost the Jacksonville Jaguars players and coaches, according to NFL insider Tom Pelissero. Will he be fired after just one season?
Urban Meyer's first season as an NFL head coach with the Jacksonville Jaguars isn't going well. On the field, the squad is among the worst teams in the league at 2-10. Off the field, things are going even worse for the embattled coach. Now, a bombshell report from NFL insider Tom Pelissero paints a dire picture of the tension within the franchise. It also raises major questions as to whether Meyer can survive to see year two.
The Jacksonville Jaguars are a mess in Urban Meyer's first season
Here's where we're at for those not keeping a close eye on the Jacksonville Jaguars 2021 season.
After selecting potential franchise-changing quarterback and generational prospect Trevor Lawrence No. 1 overall in the 2021 NFL Draft, things started going downhill.
The issues started in training camp when Meyer brought in his former Florida protégé Tim Tebow to play tight end. The short-lived Tebow Era in Jacksonville became a sideshow, and Meyer cut Tebow early in camp.
When the season started, the Jaguars lost their first four games of the season. This included a heartbreaking Thursday Night Football loss to the Cincinnati Bengals in Week 4. That's when things went from bad to worse.
Meyer made the highly unusual decision to not fly back to Florida with the team. Instead, he opted to stay in Ohio, go out to dinner at his restaurant, and later go for drinks at a bar he owns. At the bar, a patron filmed him acting inappropriately with a woman who is not his wife.
The video on its own was a major personal problem. However, Meyer's decision to be less than forthcoming about the situation with his team became a serious football issue as well. Reports came out saying "he's being openly mocked and ridiculed by players" on the Jaguars.
The rough seas settled a bit for Meyer and his club as the season progressed. The team picked up a dramatic 23-20 win in London against the Miami Dolphins in Week 6 and shocked the Buffalo Bills 9-6 in Week 9.
Heading into Week 14, though, the team is mired in another long losing streak, and things are going from worse to even worser (?) with an explosive report from NFL Network's insider Tom Pelissero that details the turmoil behind the curtain in Northern Florida.
The situation in Jacksonville is chaotic behind the scenes, according to Tom Pelissero
On Saturday, Dec. 11, NFL Network insider Tom Pelissero released a damning report titled, "Tension boiling over between coach Urban Meyer, Jaguars players, staff amid 2-10 start," that describes the goings-on inside the building for the Jacksonville Jaguars and it's not pretty. 
The article contains a laundry list of complaints that Jaguars players and coaches have against the first-time NFL head coach. Pelissero sets the scene in the opening paragraph, writing:
Months of tension surrounding Jaguars coach Urban Meyer has boiled over with multiple run-ins with players and other coaches in recent weeks, sources say, renewing questions in league circles about whether Meyer's stay in Jacksonville could end after just one tumultuous season.

NFL insider Tom Pelissero on Urban Meyer and the Jacksonville Jaguars
The article continues with shocking revelation after shocking revelation relating to Meyer's "repeated public comments shifting blame to players and coaches" and "his hard-charging and sometimes condescending approach."
Examples include the controversial and murky benching of RB James Robinson in Week 13, a blowup between Meyer and the "respected and mild-mannered" Marvin Jones over public and private criticism of the team's WRs, and the head coach delivering "a biting message that he's a winner and his assistant coaches are losers … challenging each coach individually to explain when they've ever won and forcing them to defend their résumé."
The picture Pelissero paints is of an utterly toxic work environment that makes it completely unsurprising that the team isn't winning games.
That said, the reporter also notes that Meyer has long-been owner Shad Khan's dream hire and that, "At this point, there are no signs that Jaguars owner Shad Khan is seriously considering a change."
Shad Khan needs to fire Meyer immediately or risk losing the most important person in franchise history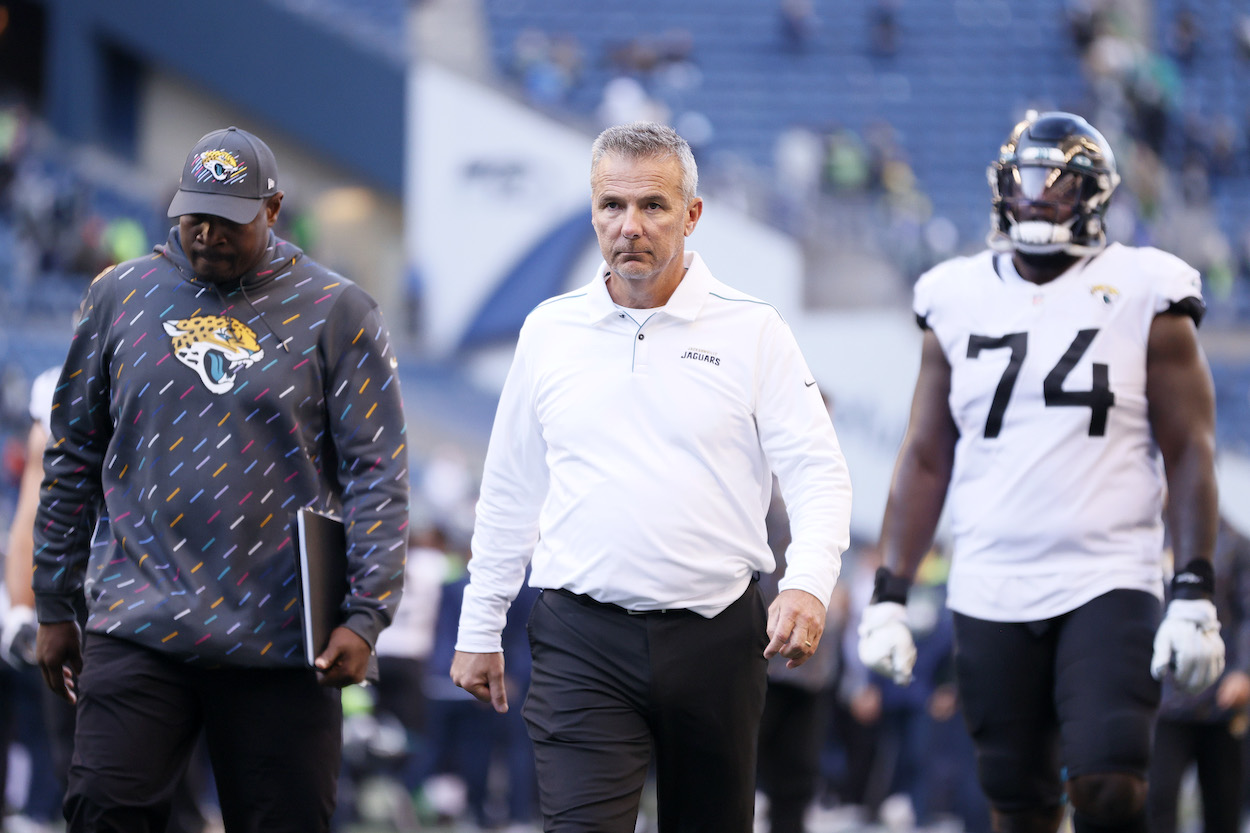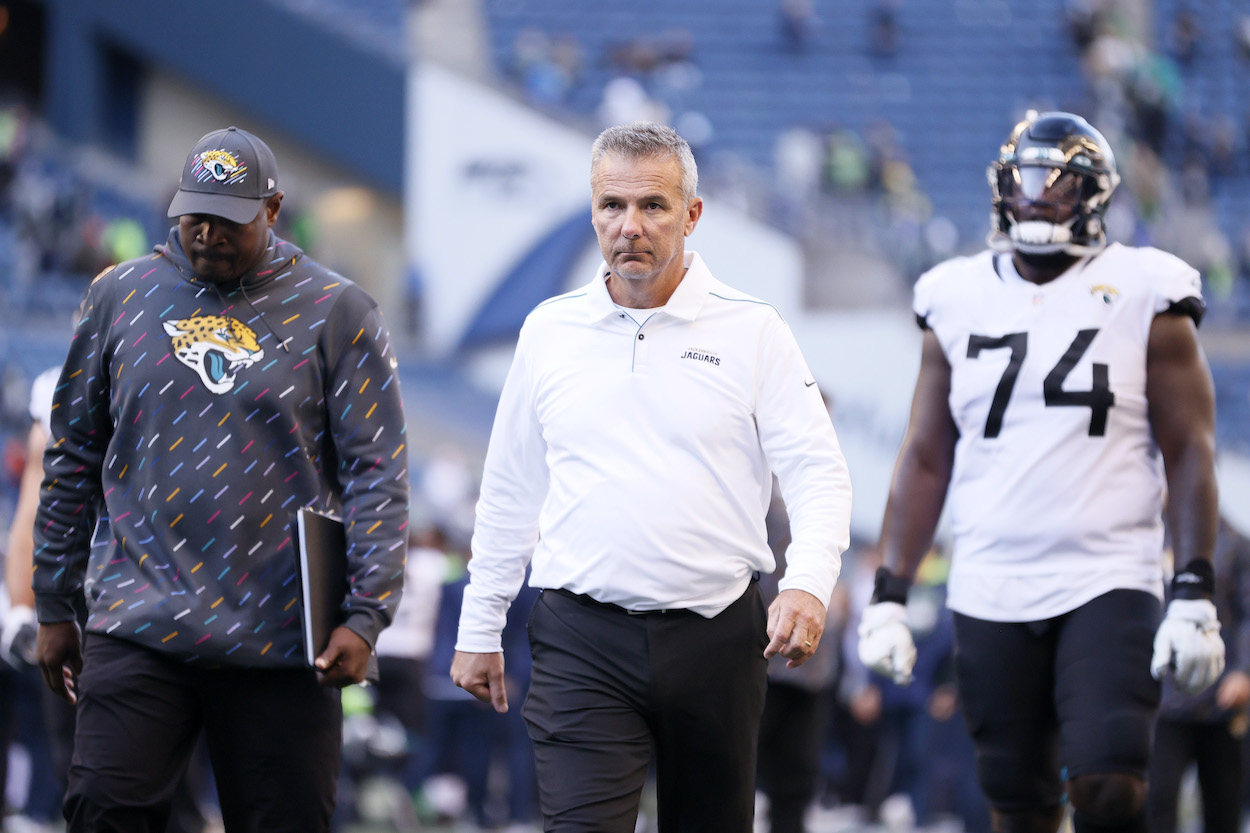 Although Shad Khan worked for years to hire Urban Meyer — whose stellar college resume includes a 187-32 record, two BCS Championships (2006, 2008) at Florida, and a College Football Championship (2014) at Ohio State — he needs to fire him now.
There is one reason, and one reason only, this needs to happen, and that is Trevor Lawrence.
If Meyer's staff doesn't like him, fine. He can hire new coaches. If his players don't respect him, fine. He can get rid of them and get new ones.
The one thing you can't get rid of and easily find a replacement for is a franchise QB. 
It is the most important position in professional football and, without a top signal-caller, a franchise is doomed to languish for years like, well, the Jacksonville Jaguars since Mark Brunell left almost two decades ago.
So far, Lawrence isn't exactly thriving on the field. He's currently thrown for 2,514 yards with nine touchdowns and 10 interceptions.
Off the field, Lawrence and Meyer's relationship doesn't seem great. Earlier in the year, the former Clemson Tiger bristled at the implication by Meyer that the QB didn't know how to execute quarterback sneak. And, just last week, the 6-foot-6 passer blasted Meyer's decision to bench Robinson.
Khan's No. 1 task as an owner right now is to create a positive and stable environment to help Lawrence develop. Otherwise, it could ruin the young QB's career.
Firing Meyer now is the best way for Khan to accomplish this critical task.
All stats courtesy of Pro Football Reference and Sports Reference