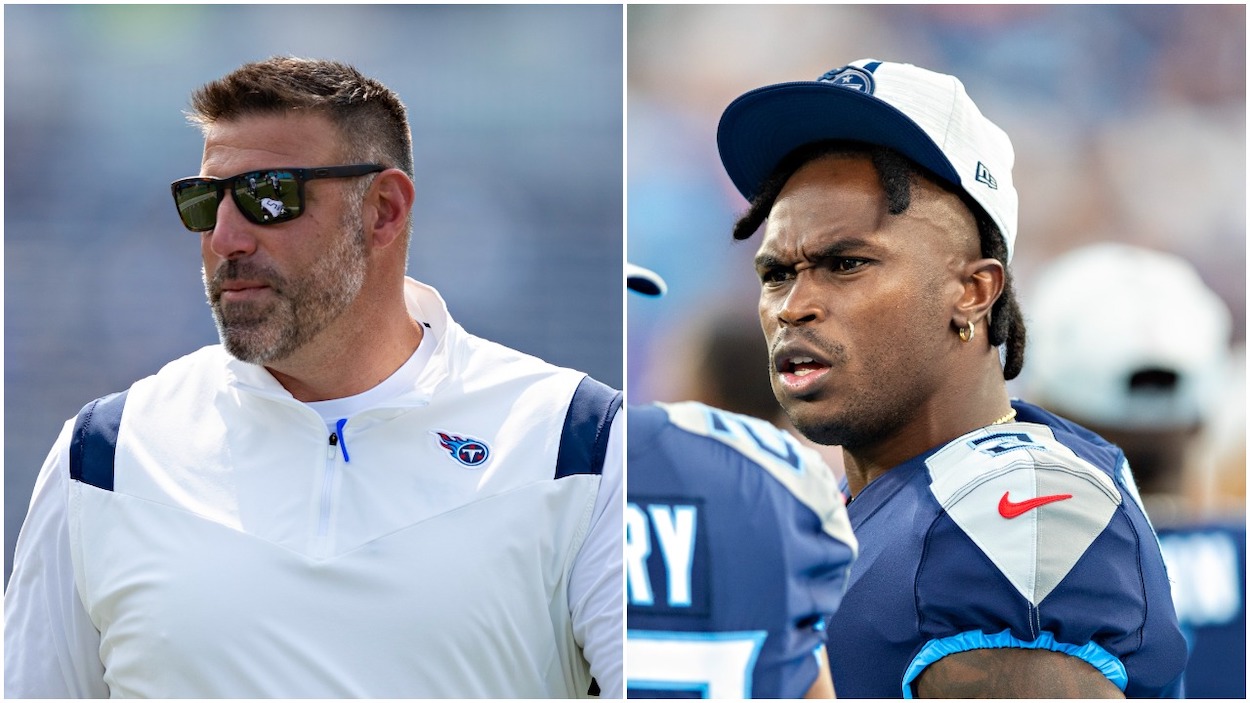 Julio Jones Gets Attacked By His New Tennessee Titans Head Coach Mike Vrabel for 'Doing Dumb S*** That Hurts the Team' in Week 1 Loss
Julio Jones took a bad penalty in the Tennessee Titan's Week 1 loss to the Arizona Cardinals and head coach mike Vrabel wan't too happy. He crushed the team's new star before walking the comments back.
When Julio Jones forced his way off the Atlanta Falcons to go to the Tennessee Titans this offseason, the veteran receiver likely had visions of big games, big wins, and good times with his new franchise. His first game in Nashville was anything but these things. It was a blowout loss to the Arizona Cardinals that saw Jones get a 15-yard penalty that his coach, Mike Vrabel, crushed him for in the media the next day.
Needless to say, it was not a great start for the veteran star with his new franchise.
New Tennessee Titans star wide receiver Julio Jones' debut didn't go well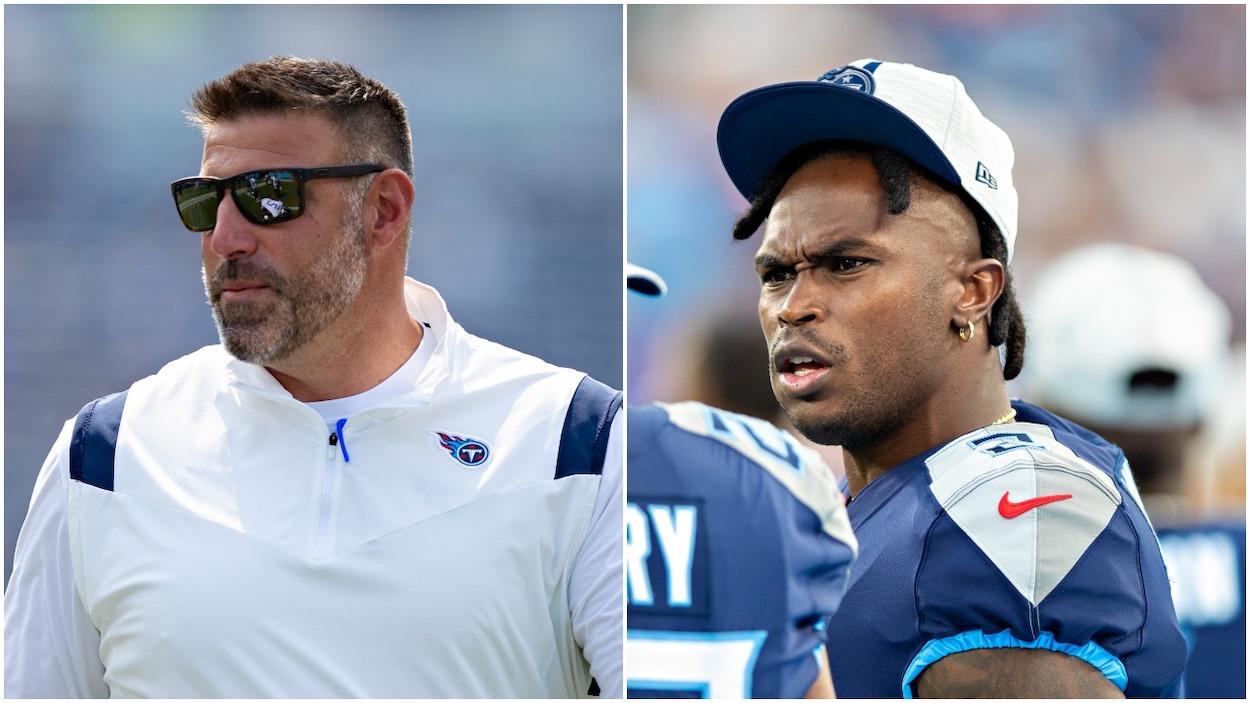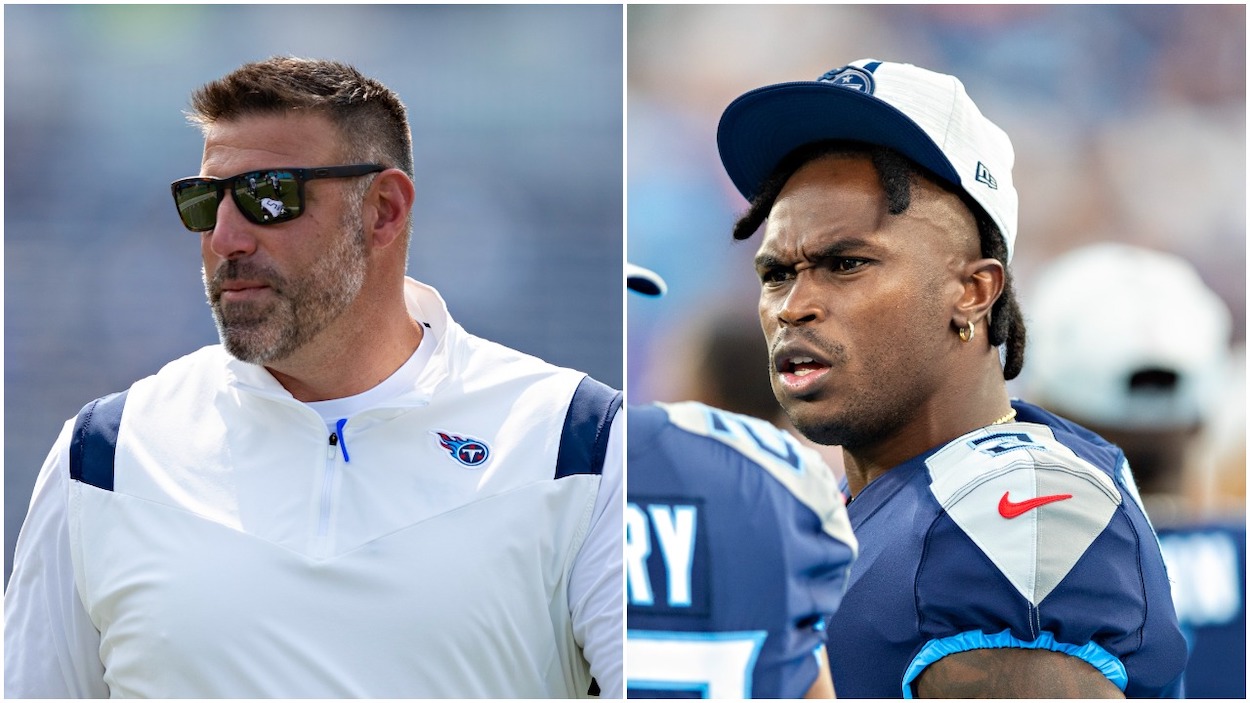 Julio Jones was the No. 6 overall pick in the 2011 draft by the Atlanta Falcons. The former Alabama Crimson Tide receiver went on to play 10 seasons in Atlanta.
During his run with the team, Jones made the playoffs four times, including the 2016 Super Bowl, where the New England Patriots overcame a 28-3 third-quarter deficit to shock Jones and the Falcons.
On an individual level, Jones had a lot of success. He made seven Pro Bowls and two All-Pro teams. The pass-catcher led the league in receptions once (2015), receiving yards twice (2015, 2018), and yards per game three times (2015, 2016, 2018). All told, he caught 848 balls for 12,925 yards and caught 60 touchdowns in Atlanta.
After a 4-12 season in 2020, Jones asked out of his decade-long home, and the team traded him (and a 2023 sixth-round pick) to the Tennessee Titans for a 2022 second and a 2023 fourth.
Now with the 2020 AFC South champs, Jones likely expects big things from the team this year. However, Not much about Jones' debut for his new team went well.
The 32-year-old wideout finished the game with just three catches on six targets for 29 yards. The team as a whole also performed poorly, falling to the Arizona Cardinals 38-13.
The biggest issue may have been a personal foul penalty the receiver picked up in a first-half scuffle with Arizona defensive back Byron Murphy.  
The day after the loss, Titans coach Mike Vrabel shared his feelings on the play.
Titans head coach Mike Vrabel called out Julio Jones in a press conference
The game was 10-0 Cardinals when the Jones penalty took place. It happened after a nice second-down run by Derrick Henry that would have brought on a 3rd-and-1. Instead, it became a 3rd-and-15, and the Titans punted one play later.
Kyler Murray and the Cardinals outscored the Titans 28-13 from that point on, but if the game went to 10-3 or 10-7 on that stunted Tennessee drive, who knows what could have happened.
Mike Vrabel must have had similar thoughts when he stepped up to the podium on Monday because, when asked about the foul, the former NFL linebacker let his new star have it:  
That's absolutely nothing we coach or teach. So that would fall under the category of doing dumb s*** that hurts the team. Right there, in bold letters.

Mike Vrabel on Julio Jones' penalty
This outburst from Vrabel is surprising for several reasons. While he's always been an outspoken coach, crushing his own players isn't something he usually does. It's even more unexpected because he did it to a new star player.
And, when you consider who Vrabel played under during his career, it makes it that much more shocking.
Vrabel explained his way of coaching players that is different than his mentors' method
Bill Cowher and the Pittsburgh Steelers drafted Vrabel in the third round of the 2007 draft. He was a rotational linebacker in the Steel City for the first four years of his career, then got to the New England Patriots, where he became an All-Pro under Bill Belichick. Vrabel then followed Pats' exec Scott Pioli to Kansas City for his final two seasons.
While he played for the volatile Todd Haley in his last stop, Vrabel spent most of his career with Cowher and Belichick, two coaches who played it close to the vest.
The Titans coach may have thought back to these two mentors and how they did things after his comments because he walked them back the next day. He told the press:
[I've never said] anything in front of you guys, these cameras, or this microphone that I haven't said to the players. I hope not. That's never my intent. They've heard it from me well before I come out here. And that just happened to be that specific play. It'll be somebody else the next time.

Mike Vrabel on his Julio Jones comments
Julio Jones has never been a true diva wide receiver, but he surely didn't sign up to get singled out and crushed by his new coach. This probably isn't a problem now, but if the losses start piling up (which they could against the Seattle Seahawks in Week 2), the Jones/Vrabel dynamic might be something to keep an eye on.
All stats courtesy of Pro Football Reference