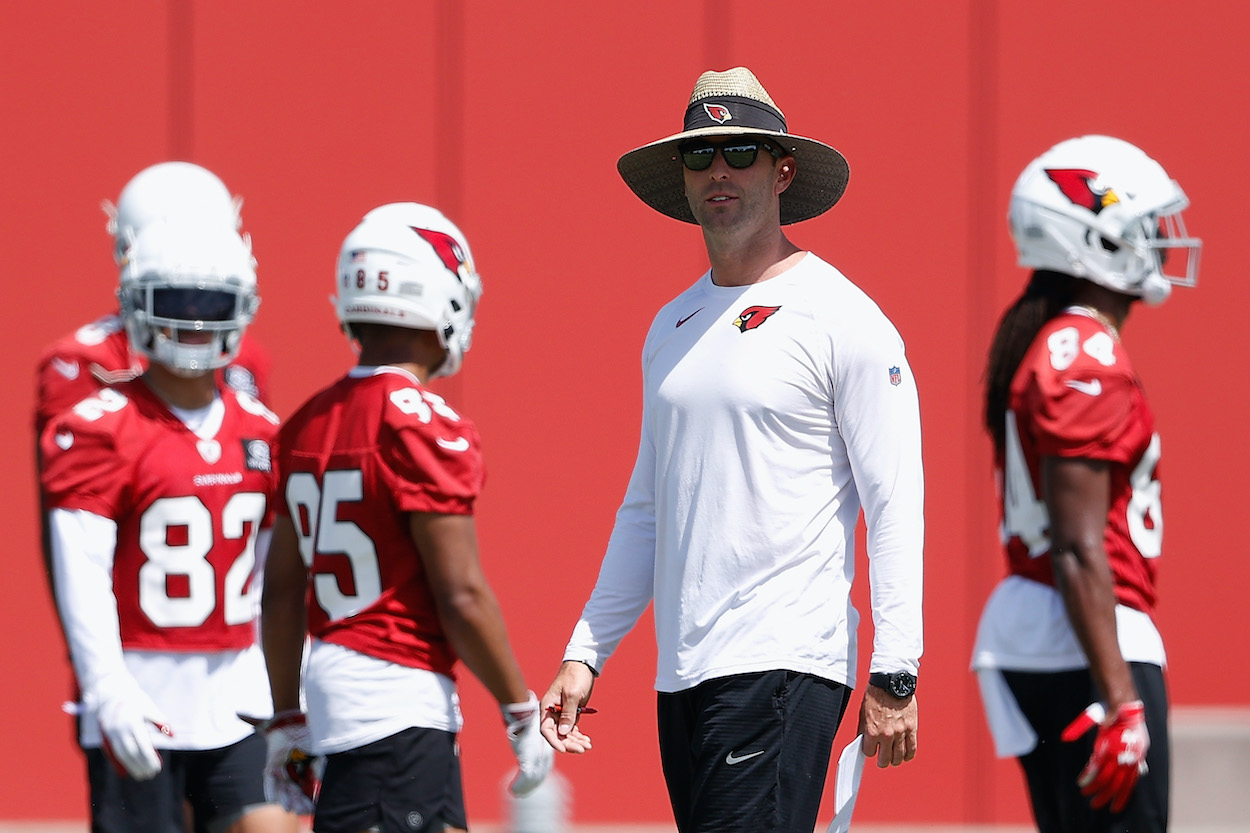 Kliff Kingsbury Reveals Getting Fired by His Alma Mater Helps Him Deal With the Heat in Arizona
Kliff Kingsbury might be on the hot seat as the coach of the Arizona Cardinals, but nothing could be worse than his firing at Texas Tech. The third-year coach explains how that low moment helps him today.
New NFL coaches face pressure to make the playoffs soon after they take over. When a new head coach — especially an unproven college coach — doesn't achieve this, it can lead to the coach being put on the hot seat or even getting fired. That's what Arizona Cardinals' third-year coach Kliff Kingsbury faces in 2021. Even with a better team on paper, the NFC West is brutal, and making the playoffs out of the division will be a challenge. Kingsbury takes it all in stride, though. It was much worse for him when his alma mater showed him the door. That's why he says he's not so worried about NFL pressure these days.
Kliff Kingsbury was an excellent player and a so-so coach at Texas Tech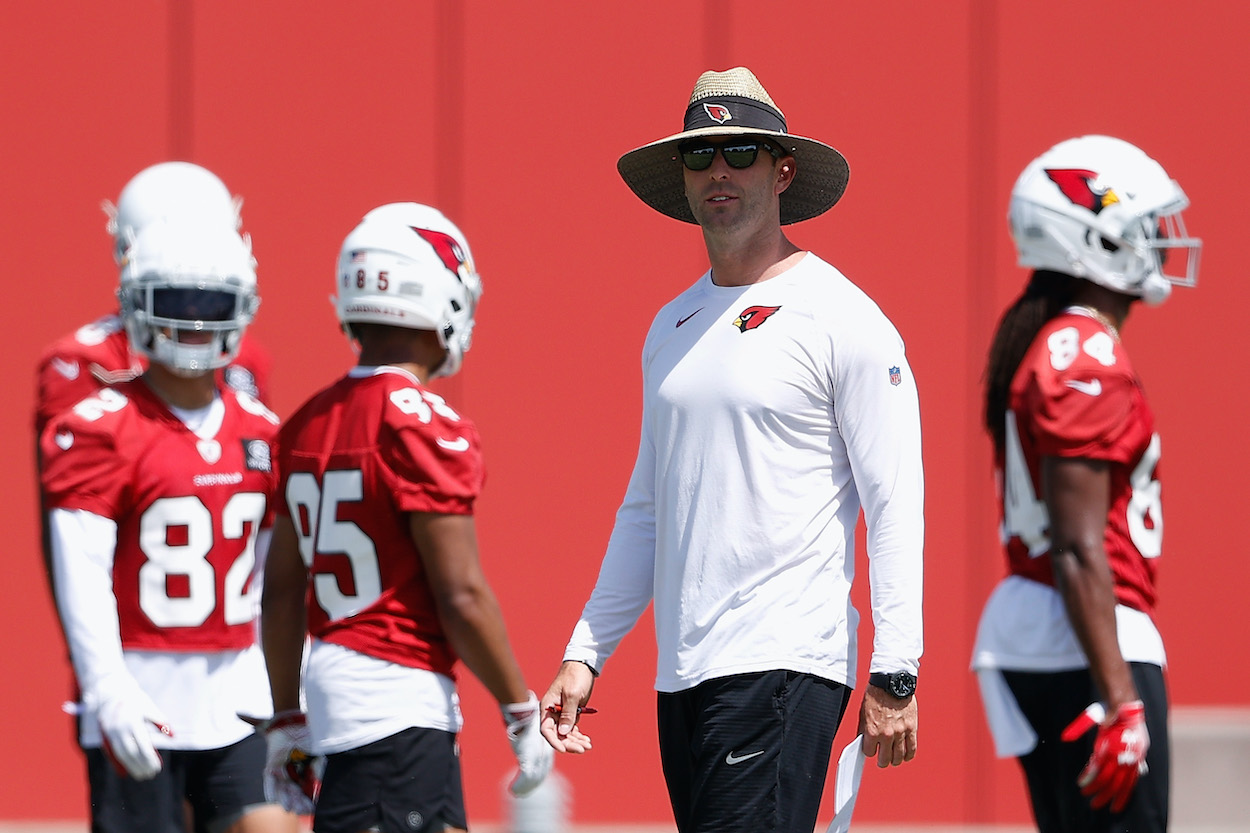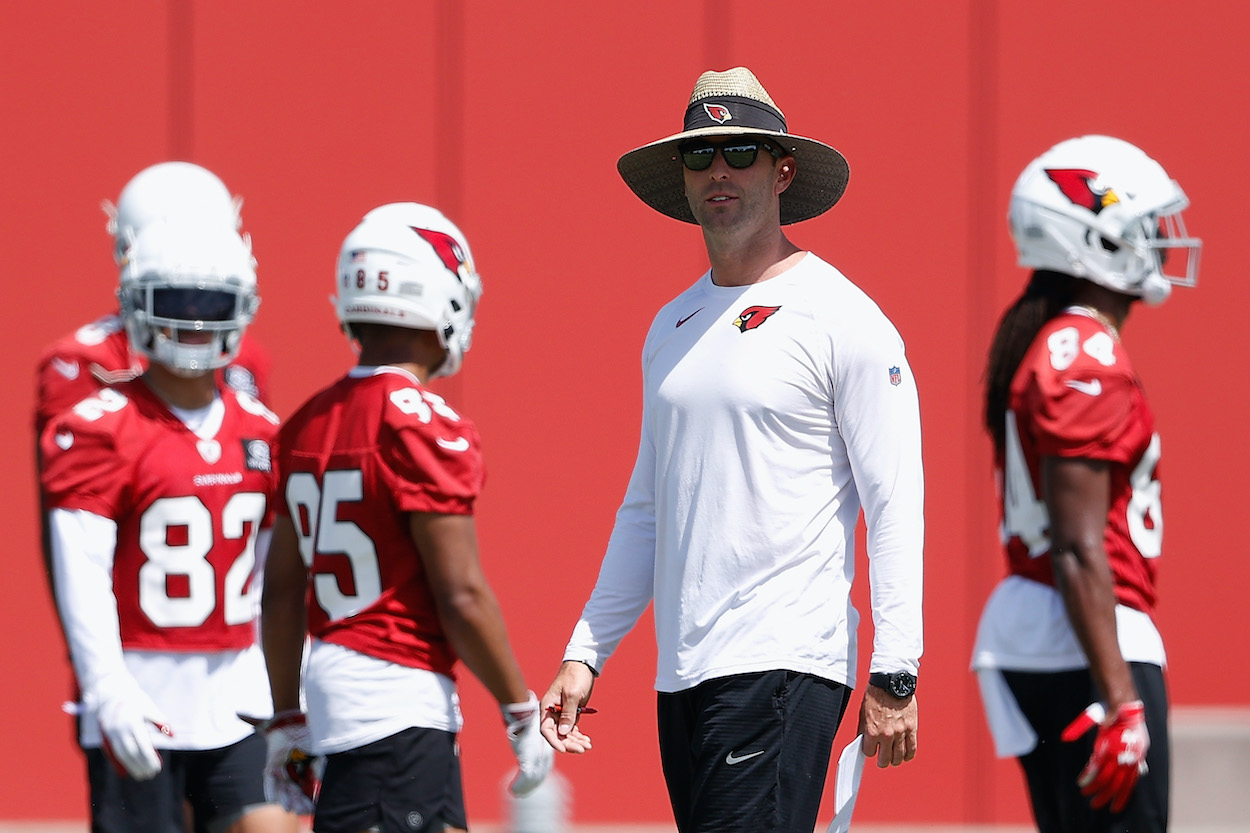 As a prep quarterback at New Braunfels High School in Texas, Kliff Kingsbury was prolific. He put up wins and passing numbers that led to an induction into the Texas High School Football Hall of Fame, per AZCardinals.com. His performance also earned him a scholarship to Texas Tech.
Playing under offensive mad scientist Mike Leach for three seasons, Kingsbury put up numbers rarely seen in college football to that point. All told, he threw for 12,423 yards and 95 TDs while setting 39 school, 16 Big 12, and 17 NCAA records during his time in Lubbock.
Following brief stints in the NFL, NFL Europe, and the CFL, Kingsbury started his coaching career at the University of Houston. Kingsbury went to Texas A&M from Houston before landing the head coaching job at his alma mater in 2013.
As the head man of the Red Raiders for six years, Kingsbury was a mixed bag. He took the school to three bowl games but only finished with a winning record twice. His final record at Texas Tech was 36-42, and the school fired him after three consecutive losing seasons.  
What Kingsbury is best known for at his alma mater is developing quarterbacks. In his tenure at Texas Tech, the former QB coached future NFL signal-callers Patrick Mahomes, Baker Mayfield, and Davis Webb.
Kingsbury credits his Texas Tech experience with helping him deal with NFL pressure
After Texas Tech gave Kingsbury the boot, the Arizona Cardinals hired him to coach in the NFL starting in the 2019 season.
The team drafted Oklahoma's Kyler Murray with the No. 1 overall pick in 2019, and in the coach and QBs first season in the desert together, the team went 5-10-1. The team improved and won three more games in their second season, ending 2020 8-8.
Despite the improvement, there is now pressure on Kingsbury to get better once again and make the playoffs or face the consequences. The franchise hasn't made a playoff appearance since 2015, the second-longest stretch in the league.
Even though his seat is starting to get warm in Arizona, Kingsbury says the pressure doesn't faze him these days. Why? Because he's already faced his greatest coaching nightmare. He told ESPN:
I think going through being the head coach at your alma mater and getting fired, it's kind of walking through fire in this profession. So, after going through that, not too much really fazes you.

Kliff Kingsbury on getting fired at Texas Tech
That is a healthy attitude for Kingsbury to have and one that might serve him well this season. Although the team seems like it's once again an improved squad heading into the season, it might not matter in one of the toughest divisions in pro football.
The Arizona Cardinals should be better in 2021, but that may not be enough
There is good news and bad news for Kingsbury on the eve of the 2021 NFL season. On the plus side, the Cardinals took steps to get better this offseason.
The team won the J.J. Watt sweepstakes and added the veteran defensive lineman to a defense that put up respectable numbers last season. The unit was 12th in points against, 13th in yards, and eighth in yards per play, but only 18th in takeaways. In the draft, the organization also used its top pick to take Zaven Collins, a rangy linebacker from Tulsa. 
The Cards also drafted a weapon on offense, taking speedy Rondale Moore from Purdue in the second round. The team adds him to incumbent superstar Deandre Hopkins and free-agent signing and seven-time Pro Bowl wideout A.J. Green.
The franchise also invested heavily in upgrading the offensive line in front of Murray. New linemen brought in this offseason include center Rodney Hudson, guard Brian Winters, and tackle Kelvin Beachum.
Arizona did lose two club legends this offseason, though. Wide receiver Larry Fitzgerald is (unofficially) retired, and safety Patrick Paterson is now with the Minnesota Vikings. Despite these losses, the Cardinals should be better than the 2020 edition that finished 8-8.
The problem for Kingsbury and company is that even a noticeable improvement might not be enough to make the playoffs in the loaded NFC West.
The Los Angeles Rams and Seattle Seahawks might be two of the best teams in football, and the San Francisco 49ers are healthy again following an injury-filled 2020 and just two seasons removed from a Super Bowl appearance.
Kliff Kingsbury has his work cut out for him, but if he fails, at least it won't be as bad as his exit from Texas Tech.
All stats courtesy of Sports Reference