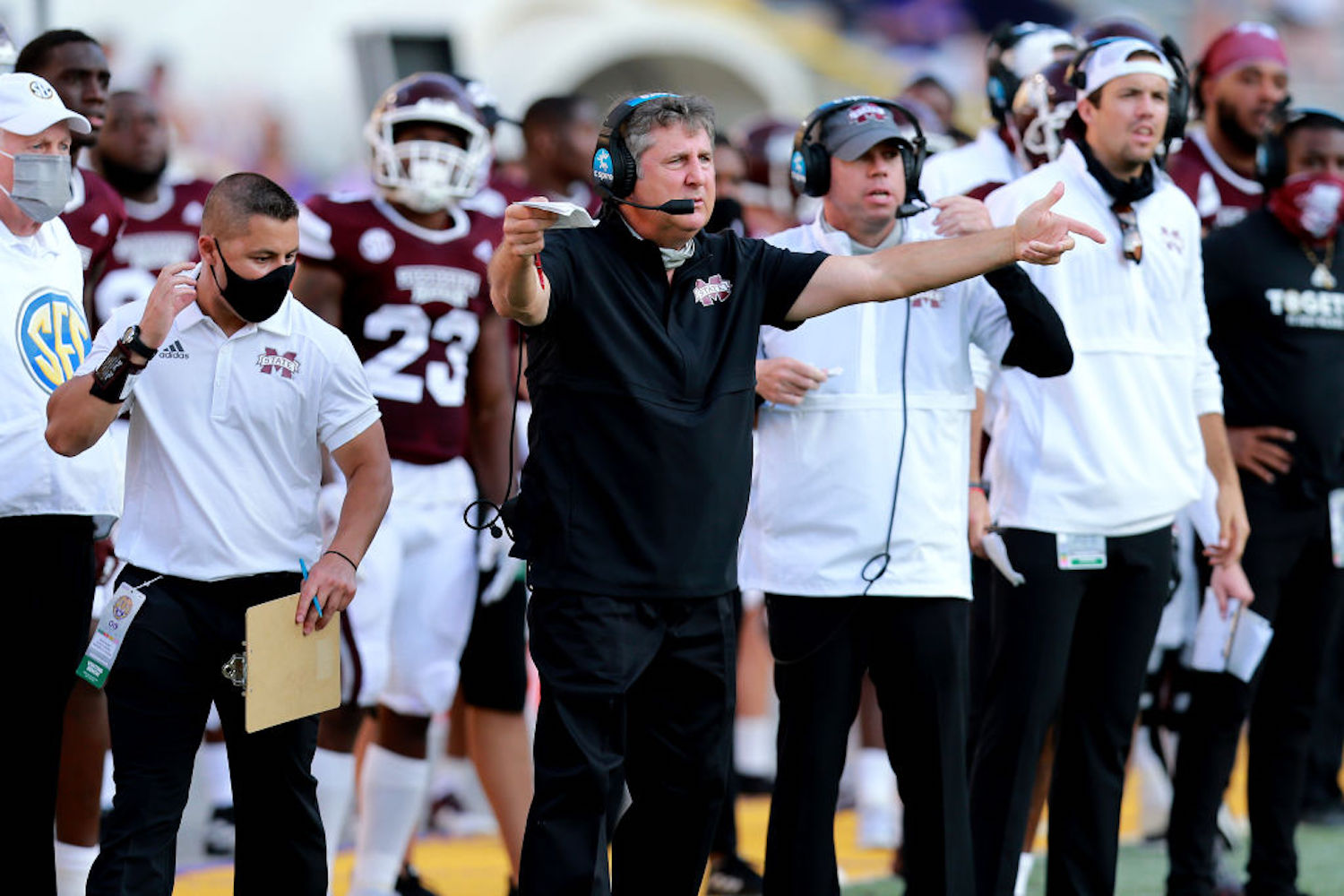 Mike Leach Is Losing Control of His Mississippi State Program After Calling for a 'Purge'
Mike Leach called for a 'purge' of the program a few weeks ago, and Mississippi State is now losing players left and right.
Mississippi State had one of the most impressive starts to the 2020 season in college football this year, but things have only gone downhill since Week 1.
Mike Leach's group rolled LSU 44-34 as double-digit underdogs in the head coach's first game with his new program. Since then, the Bulldogs have gone 0-3 and have only scored 30 points in those three games combined. Leach called out his team and called for a 'purge' after Mississippi State scored just two points against Kentucky two weekends ago, and now players are bailing from the program left and right.
Mike Leach has not adjusted to the SEC well
Leach has become famous in college football for airing the ball out and putting a ton of points on the scoreboard. In his five years as the head coach of Washington State, he led the Cougars to five straight top-three passing offenses in the NCAA. They led the nation in passing twice during his tenure.
Leach decided to bring his air-raid offense to the SEC when he joined Mississippi State in the offseason. He had great success in the season opener against LSU, as the Bulldogs threw for 623 yards and put up 44 points against the reigning national champions.
But it only took one game of film for SEC defenses to solve Leach's puzzle. Over the next three games, Mississippi State threw for just 644 yards combined. The Bulldogs only managed 30 total points during that span.
Leach's team now sits at 1-3 in the SEC, and it doesn't seem like things are going to turn around any time soon.
Leach calls for a 'purge' of program
The low point of Mississippi State's season was easily its 24-2 loss to Kentucky in Week 3. The embarrassing offensive showing marked the first time in Leach's 19-year head coaching career that his team failed to score a single offensive point.
In the postgame press conference, Leach called out his own players for not buying into the program.
"I think we're going to have to check some of our group and figure out who really wants to play here," Leach said. "Any malcontents, we're going to have to purge a couple of those."
Well, Leach is now getting what he asked for.
Mississippi State is losing players left and right
Two weeks after calling for a 'purge' of his program, Leach is watching Mississippi State players walk out the door seemingly every day. Four players announced their decisions to leave the program after the Kentucky game, and Leach announced Wednesday that three more are on their way out as well.
That brings the total number of opt-outs to seven players, and that doesn't even include star running back Kylin Hill. Hill didn't play last week against Texas A&M, and he reportedly plans to opt-out and enter the NFL draft early.
Leach was being heralded to start the season as the first head coach to successfully bring the air-raid offense to the SEC. Four weeks later, though, his program is in shambles, and he might not even be able to field a full roster by the end of the season.