Larry Fitzgerald's Latest Comments Leave Little Doubt About Whether He's Caught His Final NFL Pass
Larry Fitzgerald has made more money than he will ever need thanks to the game of football. And despite playing a position that's renowned for having over-the-top personalities like Terrell Owens and Randy Moss, the sure-handed receiver has remained incredibly humble for someone who's bound to get inducted into the Pro Football Hall of Fame.
However, even Arizona Cardinals fans would have to admit that Fitzgerald's days as a dominant player ended years ago. And for those wondering what lies ahead for the legendary wideout, his latest comments should leave little doubt about whether he's caught his final NFL pass.
Larry Fitzgerald remains a free agent following the least productive season of his legendary NFL career
Fitzgerald has never have been the biggest, fastest, or most physically talented receiver in the NFL. However, that hasn't stopped him from building an incredibly impressive resume. An 11-time Pro Bowler and member of the NFL 2010s All-Decade Team, Fitzgerald undoubtedly deserves to be called one of the greatest wideouts of all time.
However, he hasn't put up elite numbers in quite a while.
After recording three straight 1,000-yard seasons from 2015-17, the longtime Cardinals star recorded 69 catches for 734 yards and six touchdowns in 2018. He followed up with 75/804/4 during Kyler Murray's rookie season.
But in 2020, Fitzgerald's production took a substantial dip. With DeAndre Hopkins taking over as Arizona's No. 1 receiver, his accomplished teammate recorded career-lows in catches (54), receiving yards (409), and touchdowns (one). After averaging at least 10.6 yards per catch in all but one of his previous 16 seasons, Fitzgerald only averaged 7.6 in 13 games.
The soon-to-be 38-year-old is not under contract for the upcoming season. While he remains a free agent, it would be a massive surprise if Fitzgerald signed a deal to catch passes for a team other than the Cardinals. And given his age retirement most certainly looks like a viable option.
Fitzgerald's latest comments leave little doubt that his days as an NFL receiver are over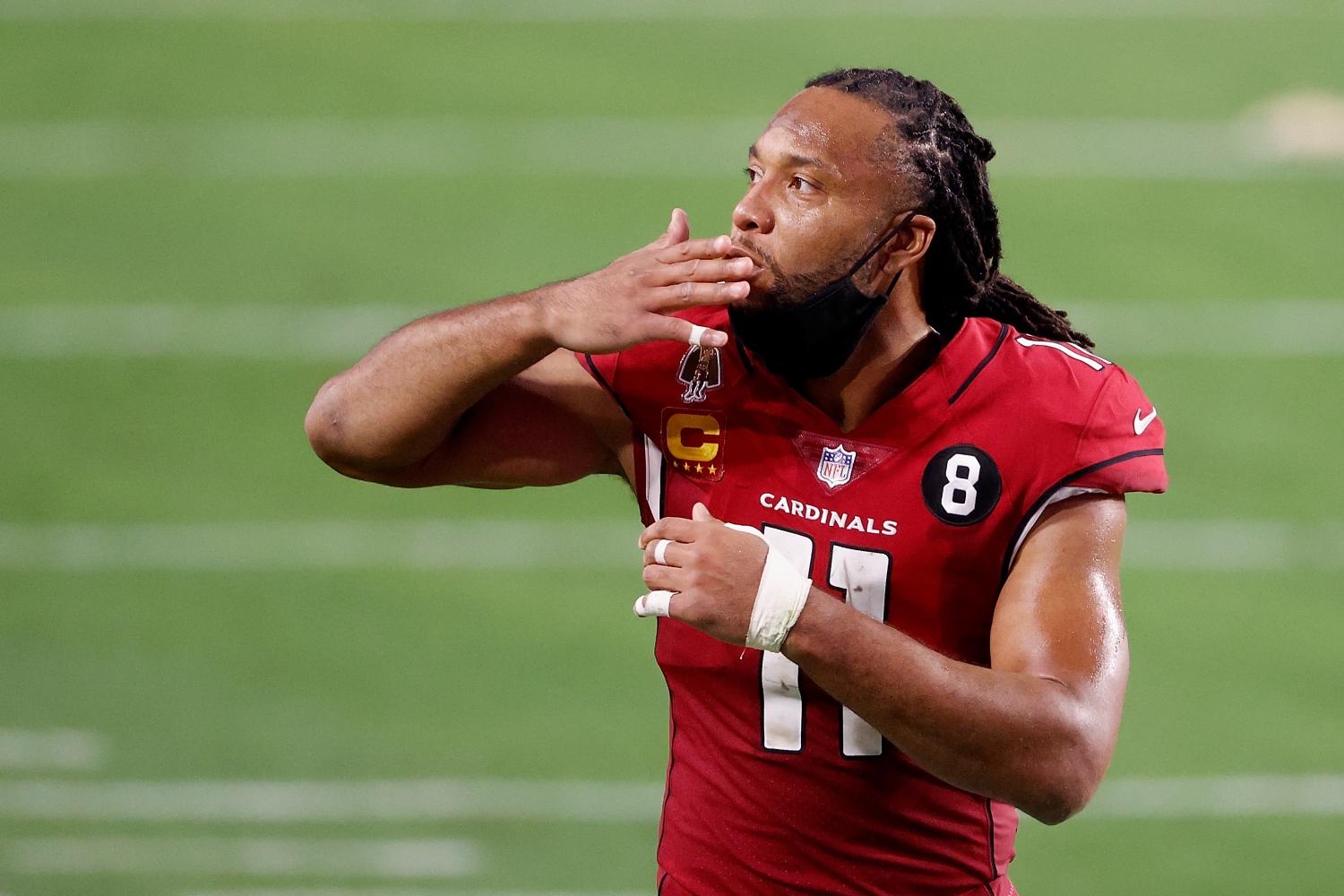 The Cardinals have left the door open for Fitzgerald to return. But considering August is coming to a close, it seems like Kliff Kingsbury should plan on moving forward without one of the most decorated wideouts in NFL history.
So, what does Fitzgerald think about putting on a helmet and shoulder pads for an 18th season?
The future Hall of Famer answered that question during a recent appearance on SiriusXM's "Let's Go" with Tom Brady and Jim Gray. When asked whether he is going to be a radio broadcaster or play football again, Fitzgerald left little doubt about whether he's recorded his final NFL catch.
"For now, I'll be a radio broadcaster," Fitzgerald said. "To be honest with you, I just don't have the urge to play right now. I don't know how I'll feel in September, October, November moving forward, but I just, today, I just don't have the urge. And I think I have to be respectful of that. Football is not one of those games you want to walk out there and play and not be fully engaged and ready to prepare and do the things necessary that you need to do."
Could the situation change?
Perhaps.
But the odds of Fitzgerald getting motivated to play again once the season begins seem incredibly slim. The longer he stays away from the game, the more time he will have to get used to life without football. And at 38 years old, why subject your body to more punishment?
In addition, the Cardinals don't look capable of toppling the Tampa Bay Buccaneers or the Green Bay Packers in the NFC. If Arizona isn't in a position to win a Super Bowl title, Fitzgerald has almost no reason to extend his career. At this point, he seems destined to transition from NFL player to TV star, which isn't a bad gig at all.
Will the Arizona Cardinals take a leap forward this season without the beloved wideout in the lineup?
With Fitzgerald looking like he's moved on from football, it'll be interesting to see how his longtime team does without him.
Can the Cardinals take a step forward in the third year of the Kingsbury era? Or will Tom Brady's former backup fail to make the playoffs again?
Will Kyler Murray become an elite quarterback in his age-24 season? He certainly has intriguing physical skills, but the 2019 No. 1 overall pick still has plenty to prove. In many ways, the Cardinals' future hinges on his development.
On paper, Arizona has a decent roster. But it's hard to get excited about a team that projects to rely on aging versions of J.J. Watt and A.J. Green to play major roles. The Cardinals have some young players worth getting excited about — including the potentially dominant linebacker duo of Zaven Collins and Isaiah Simmons — but there are far too many question marks to consider them a true championship contender.
Perhaps that's why Larry Fitzgerald isn't feeling so motivated about playing football again.
All statistics courtesy of Pro Football Reference.