Chandler Jones' Cardinals Career Could Be Coming to an End Partly Because of DeAndre Hopkins
Although Bill Belichick didn't want to make Chandler Jones one of the highest-paid defensive linemen in the NFL, the Arizona Cardinals showed no hesitation about building around the talented edge rusher. Thanks to his strong work ethic, long frame, and pass-rushing chops, Jones has grown into a dominant force since he got traded by the New England Patriots shortly before the 2016 NFL Draft.
However, after leading the Cardinals' defense for the last few years, the three-time Pro Bowler faces an uncertain future with the franchise.
Ironically, Jones' time with the team could come to an end partly because of DeAndre Hopkins. While the star receiver didn't necessarily do anything directly to upset his teammate, Hopkins' pricey contract should cause the disgruntled defensive end to have a serious problem with the Cardinals.
Chandler Jones has no long-term financial security despite being one of the NFL's top sack artists
Not many Patriots players experience success once they leave New England. But based on what he's done since he arrived in Arizona five years ago, there's no doubt Jones is one of those exceptions. 
Prior to getting traded, Jones totaled 36 sacks and 64 quarterback hits in 55 regular-season games with the Patriots. However, moving to a stand-up outside linebacker position has allowed the 6-foot-5, 265-pound defender to unleash his full potential.
Jones led the NFL in sacks (17) and tackles for loss (28) in his second season with the Cardinals. Two years later, he set career-highs in sacks (19) and forced fumbles (eight). Thanks to his ability to consistently get after the quarterback, Jones' resume includes two first-team All-Pro selections and a spot on the NFL 2010s All-Decade Team.
At 31 years old, though, the 2012 first-round pick faces a pivotal point in his NFL career. Coming off a season-ending biceps injury, Jones enters the final year of the $82.5 million extension he signed in 2017. Given his resume and status as one of the team's few proven stars, he seems like a logical candidate to receive a long-term deal. 
As training camp nears, though, Jones still doesn't have any long-term financial security.    
Jones' time in Arizona may be coming to an end partly because of DeAndre Hopkins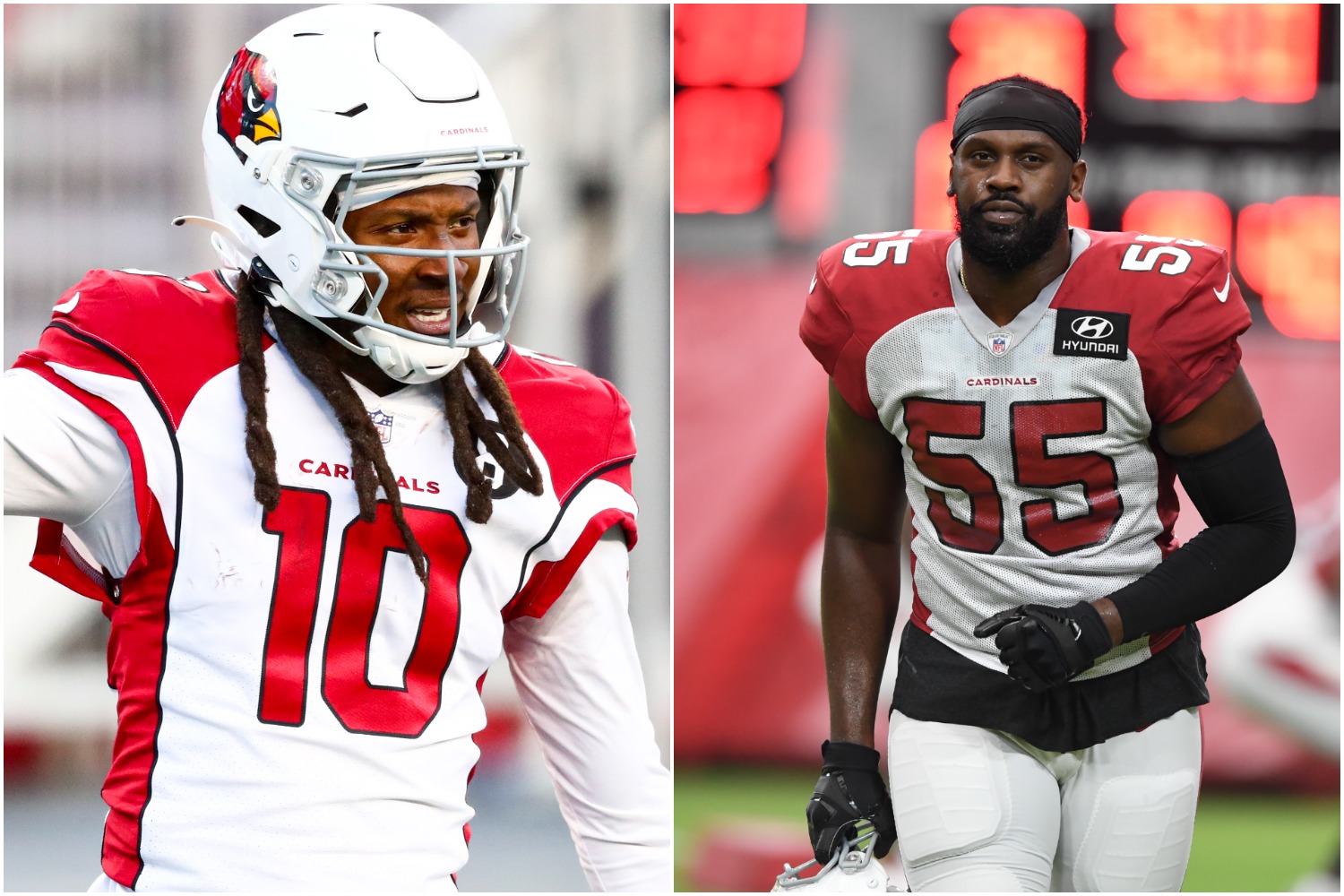 Could the Cardinals lose their most decorated defender because of a decision they made a year ago? 
With Jeremy Fowler of ESPN reporting that Jones requested a trade this offseason due to contractual issues, it's fair to point to DeAndre Hopkins' deal as a potential reason for the outside linebacker's displeasure. That doesn't mean Jones has a problem with Hopkins himself. However, when you consider the entire scope of the situation, it's clear the Cardinals made a risky choice by handing the former Houston Texans star a lucrative extension before he caught a single pass from Kyler Murray. 
As former NFL agent Joel Corry suggested on Twitter, the Cardinals giving Hopkins a two-year, $54.5 million extension when he first joined the team may not have sat well with Jones. To make matters worse, after not receiving an extension like his new teammate, Arizona's top defender suffered a serious injury. Based on Jones' trade request, it's clear the aging star didn't receive a compelling enough offer from Arizona. Given his contributions to the team from 2016-19, he certainly has a case to be perturbed by the fact Hopkins got a record-setting extension as soon as he became a Cardinal. 
Despite his age and recent injury, Jones doesn't look like a candidate to fall off the proverbial cliff. Legitimate Super Bowl contenders looking for a pass-rush boost should consider trading for him and look to sign him to a two- or three-year extension. The Cardinals could get a decent draft pick back for a player with a track record of elite production.
Of course, if Jones gets traded, that might just be the first domino to fall in Arizona.
Potential trade destinations for the All-Pro pass-rusher
Think Kliff Kingsbury feels the pressure to win in 2021?
Expected to turn the Cardinals into a playoff team, Tom Brady's former backup has yet to do so. Heading into his third year as head coach, Kingsbury desperately needs Arizona to take a massive leap forward in 2021. 
Could that happen? 
Absolutely. 
Will it? 
The odds don't appear particularly strong. 
First, Kingsbury needs his starting quarterback to live up to his draft pedigree. Murray has shown flashes of brilliance, but the 5-foot-10, 207-pound dual-threat signal-caller needs to take his game to another level to justify the Cardinals taking him No. 1 overall in the 2019 NFL Draft. However, counting on a washed-up version of A.J. Green to help make that happen doesn't seem like a smart strategy. 
In fact, Arizona's overall roster doesn't look capable of winning a Super Bowl title. A defense that may lose Jones is already relying on 31-year J.J. Watt to be a major contributor. Needless to say, banking on the oft-injured defensive lineman to stay healthy looks like another huge gamble by general manager Steve Keim. 
Ultimately, if the Kingsbury-Murray duo can't deliver a winning record and a playoff berth in 2021, ownership may have no choice to hit the reset button. 
And if that happens, Chandler Jones certainly won't be the only current Cardinals player (or coach) who won't be around in 2022. 
All statistics courtesy of Pro Football Reference. All contract data courtesy of Spotrac.