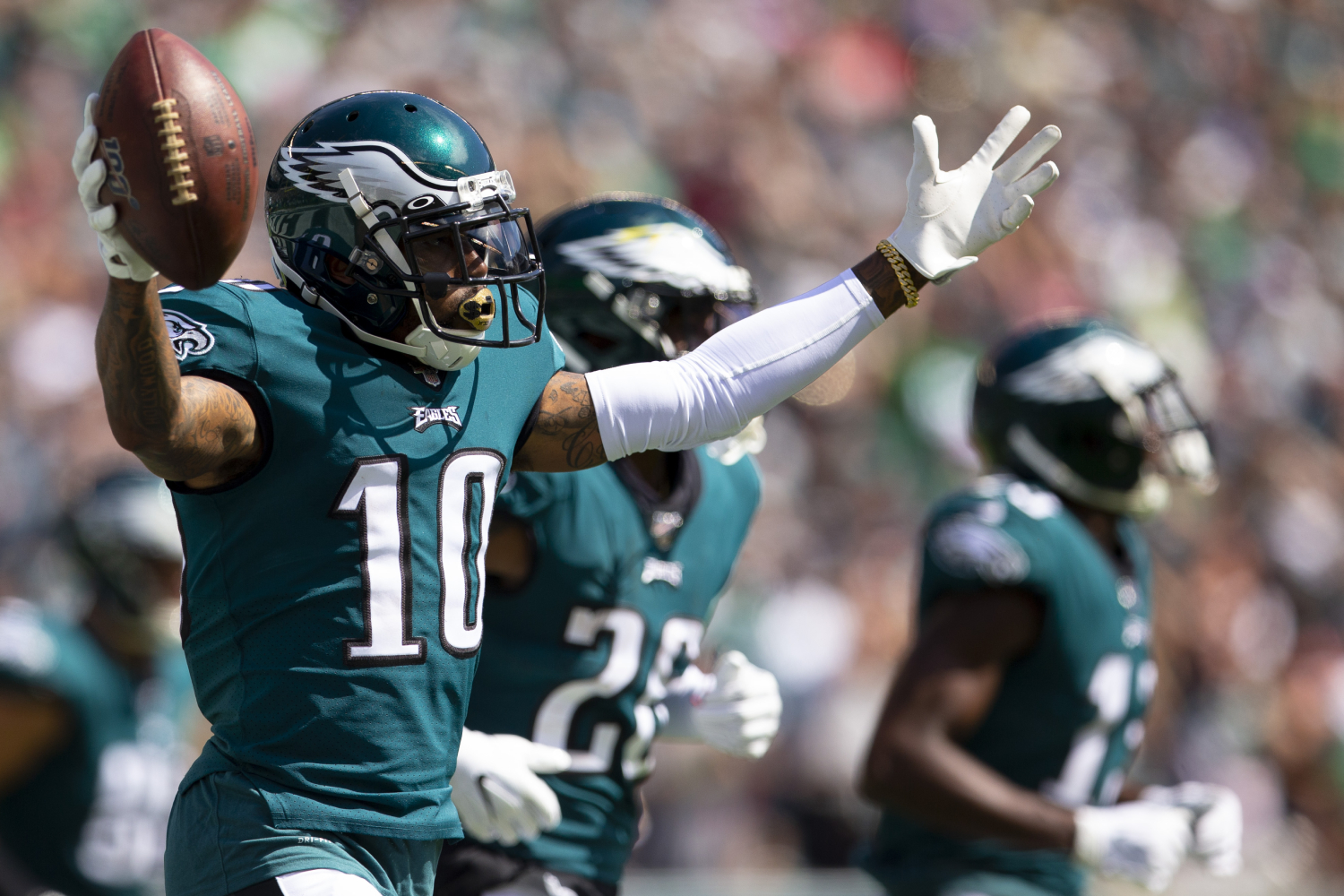 DeSean Jackson's Anti-Semitic Posts Blasted by Former Eagle
One former member of the Philadelphia Eagles blasted the anti-Semitic comments shared by wide receiver DeSean Jackson.
When DeSean Jackson made anti-Semitic posts on his Instagram account earlier this week, it caused a stir. Jackson received a lot of backlash from it, but very little, if any, from players in the National Football League. Jackson's team, the Philadelphia Eagles, came out with a strong statement condemning the posts, but no players. One former member of the Eagles, however, finally came out and blasted those comments Jackson posted on social media.
DeSean Jackson's life in the NFL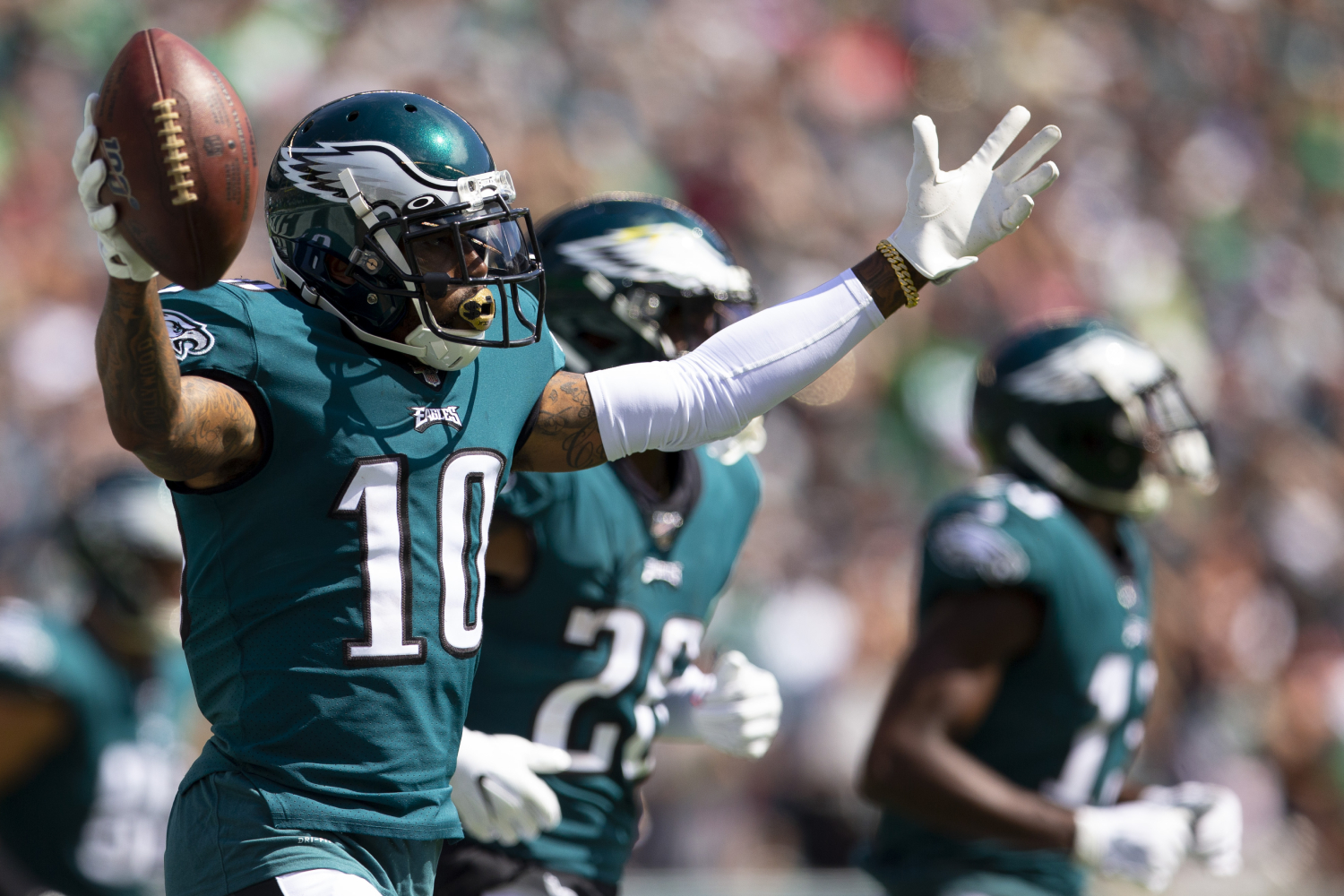 DeSean Jackson has been in the NFL since the Philadelphia Eagles selected him in the second round of the 2008 NFL draft. Jackson a speedy wide receiver, is in his second stint with the Eagles after spending time with the Washington Redskins and Tampa Bay Buccaneers. Jackson is a three-time Pro Bowler.
In just his second season in the NFL, Jackson earned his first trip to the Pro Bowl after catching nine touchdown passes and racking up 1,156 receiving yards. He returned to the Pro Bowl the following season when he led the NFL by averaging 22.5 yards per catch. He had his second straight 1,000-yard season to go along with six touchdowns.
Jackson left the Eagles after his third Pro-Bowl season in 2013. He played for the Washington Redskins from 2014-16 and led the league with an average of 17.9 yards per catch. Four times in his career, Jackson was the NFL's leader in that category. Jackson hooked on with the Buccaneers for the 2017 and 2018 seasons before returning to the Eagles last season.
Jackson's very controversial posts
Earlier this week, DeSean Jackson shared a post on Instagram quoting Adolf Hitler, so he thought. Quoting Hitler during a time when racial injustice is headlining the news is bad enough, but it was later determined via that the quotes weren't even from Hitler. Jackson's post said, white Jews "will blackmail America. (They) will extort America, their plan for world domination won't work if the Negroes know who they were."
His post drew the ire of the Philadelphia Eagles, who called the post "appalling" in a statement. The Eagles said, "We have spoken with DeSean Jackson about his social media posts. Regardless of his intentions, the messages he shared were offensive, harmful, and absolutely appalling. They have no place in our society, and are not condoned or supported in any way by the organization." 
According to ESPN, Jackson also had two since-deleted Instagram posts
expressing admiration for Louis Farrakhan, whom the Anti-Defamation League and Southern Poverty Law Center have identified as anti-Semitic.  Jackson has since apologized for the posts and said his apology is more than words and he promises to do better.
Former Eagle rips Jackson's posts
Chris Long, who played his final season in 2018 with the Philadelphia Eagles, has been outspoken when it comes to the subject of racial equality. He has been an advocate for social justice and was one of the few NFL players, current or former, to speak out on DeSean Jackson's anti-Semitic posts.
According to The New York Post, Long was speaking on his "Green Light" podcast and called Jackson's posts "a f***ing disaster." Long went on to say, "I mean, quoting Hitler is bad business, but quoting fake Hitler quotes is like a cherry on top. I don't know if it'd be worse if he quoted a real one or the fake one.
"Needless to say, it's wrong … It seems like, and I don't know what it is, but it seems like we're not allowed to say, 'Hey, that's not good.' It's not good. It's wrong, and I'm sure I have Jewish listeners. I'm against anti-Semitism, and I didn't see and I haven't seen nearly enough people saying, 'Yeah, man, this was a misstep.'"