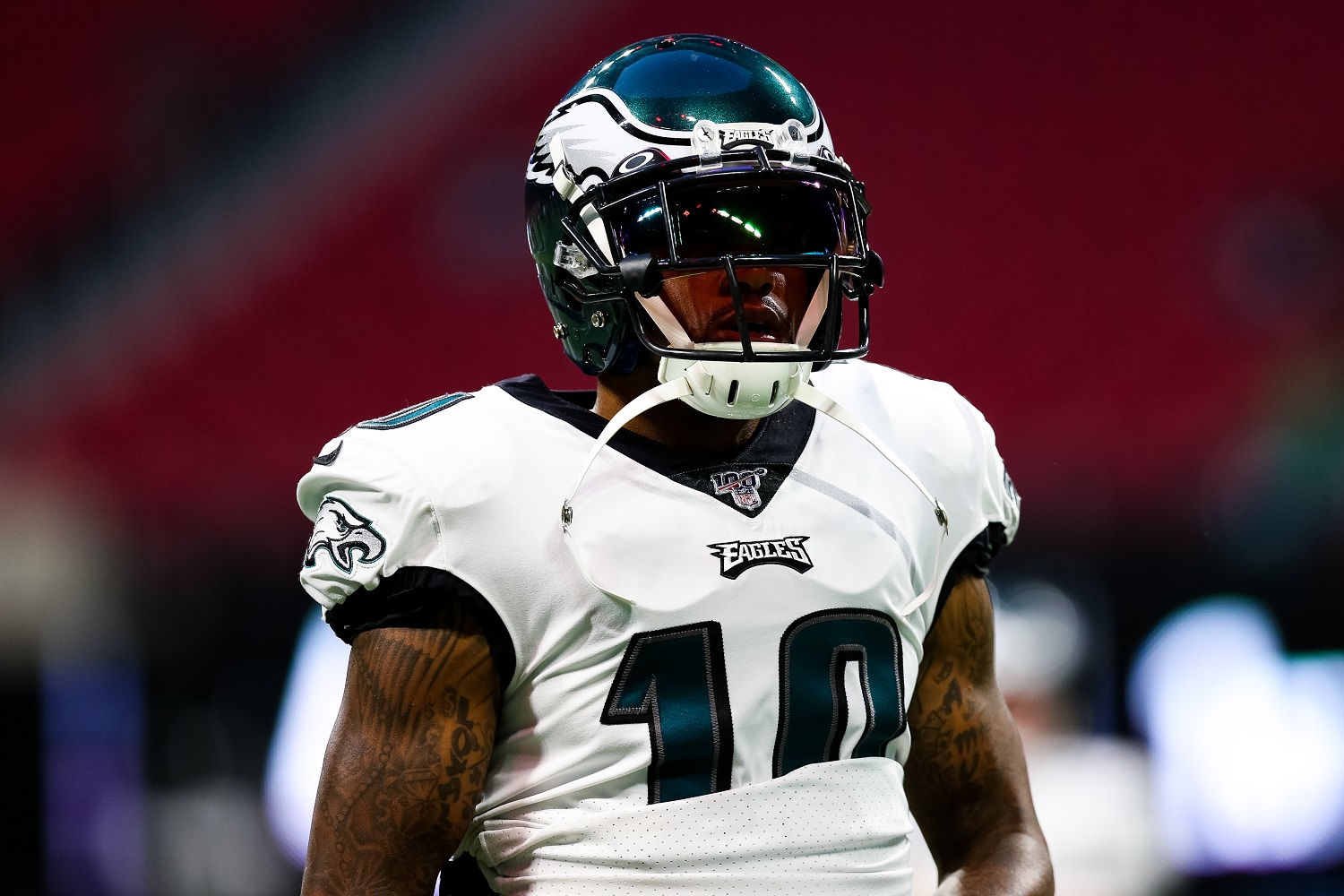 DeSean Jackson Stands to Lose Quite a Bit of Money If the Philadelphia Eagles Release Him
Philadelphia Eagles receiver DeSean Jackson stands to lose millions of dollars if he's released after posting anti-Semitic remarks.
DeSean Jackson finds himself in hot water this week after recently posting anti-Semitic remarks that he attributed to Adolf Hitler, remarks which certainly can't sit well with Philadelphia Eagles owner Jeffrey Lurie and general manager Howie Roseman, both of whom are Jewish.
Jackson has issued multiple apologies for his remarks and the Eagles released a statement condemning his actions but the three-time Pro Bowl receiver's future in Philly has yet to be determined. Can the Eagles release him? Will the Eagles release him? Will Roger Goodell and the NFL step in and suspend him if Philadelphia doesn't? There are a lot of questions out there right now as many sit and wait for the answers, likely including DeSean Jackson himself.
But there is one thing that's certain. If the Philadelphia Eagles do release Jackson, which they may be able to do without penalty, he's going to be out a nice chunk of change.
What did DeSean Jackson say?
For those unaware, DeSean Jackson took to Instagram on Saturday, and then again on Monday, posting two different pictures. One was in support of the Nation of Islam leader Louis Farrakhan, who has been identified as anti-Semitic by the Anti-Defamation League, and the other was an excerpt from a book featuring quotes that Jackson believed to be from Adolf Hitler.
It was discovered that those quotes actually didn't come from Hitler but were still certainly anti-Semitic in nature.
"The white Jews knows [sic] that the Negros are the real Children of Israel and to keep America's secret the Jews will blackmail America.

"[They] will extort America, their pan to world domination won't work if the Negroes know who they were.

"The white citizens of America will be terrified to know that all this time they've been mistreating and discriminating and lynching Children of Israel."

Excerpts highlighted in DeSean Jackson's Instagram post
Naturally, it didn't take long for the posts to start making the rounds on social media and DeSean Jackson quickly went into apology mode.
The three-time Pro Bowler has issued multiple apologies
On Tuesday, DeSean Jackson was back on Instagram, this time to issue an apology to those who were offended by his previous posts.
"I post a lot of things that are sent to me. I do not have hatred towards anyone. I really didn't realize what this passage was saying. Hitler has caused terrible pain to Jewish people like the pain African-Americans have suffered. We should be together fighting anti-Semitism and racism. This was a mistake to post this and I truly apologize for posting it and sorry for any hurt I have caused."

DeSean Jackson
Later on Tuesday, Jackson issued a second apology, this time taking to Twitter. He apologized to the entire Philadelphia Eagles organization, obviously including Lurie and Roseman, and then promised to educate himself moving forward. The entire tweet can be read below.
DeSean Jackson will lose millions of dollars if the Eagles choose to release him
The Philadelphia Eagles now have a decision to make. They issued a statement on DeSean Jackson's posts, calling them "offensive, harmful, and absolutely appalling," also saying that they are "continuing to evaluate the circumstances" surrounding Jackson's actions.
Naturally, many are calling for Jackson to be fined, suspended, or even released. And according to a statement made to Fox Business by prominent sports attorney Darren Heitner, there's a chance that the 33-year-old wideout may have violated the terms in his contract that could allow the Eagles to get rid of him without having to pay him the remainder of his contract.
"DeSean Jackson's contract likely includes a provision that provides a right to cause an early termination to his contract with the Philadelphia Eagles should it be determined that he engaged in conduct that could reasonably be judged to be detrimental to the NFL.

"Furthermore, the NFL's collective bargaining agreement includes language that provides the club or commissioner to impose discipline upon Jackson in the case that conduct detrimental to the club or league is found."

Sports attorney Darren Heitner on DeSean Jackson
So exactly how much does DeSean Jackson stand to lose?
Ahead of last season, the 12-year veteran returned to the Eagles following stints with the Redskins and Buccaneers and signed a three-year deal worth up to $27.9 million. $15 million of that is guaranteed but, as Adam Schefter tweeted out (which you can view above), Philadelphia may be looking for a way to get out of that. DeSean Jackson is scheduled to make $4.2 million in 2020, in addition to the $2 million roster bonus he's already received. According to Spotrac, Jackson has the ability to make $8.675 million this year and up to $9 million in 2021.
So if the Philadelphia Eagles do decide to part ways with DeSean Jackson, it cost him a boatload of money. He played in just three games last year due to injury.