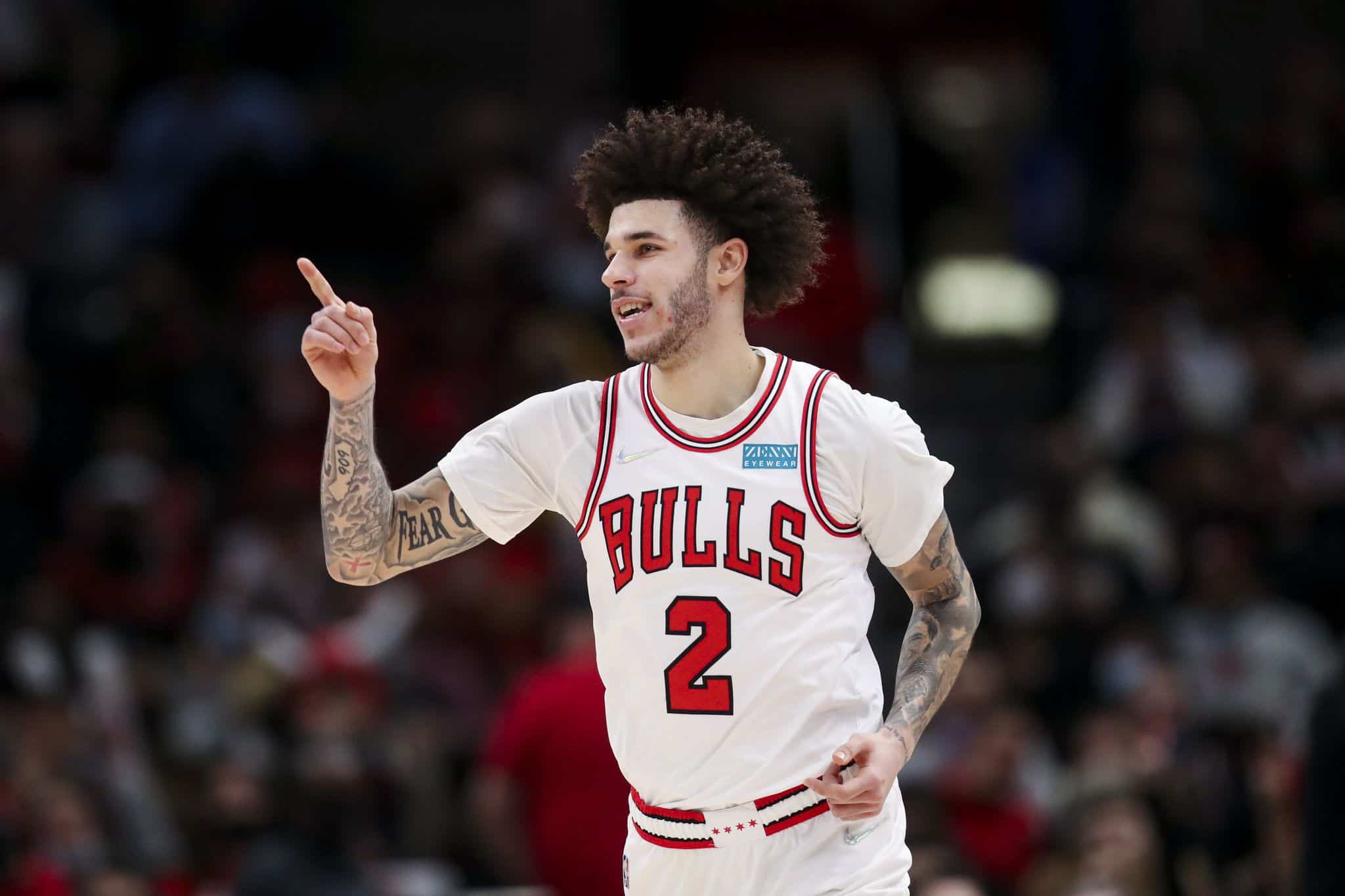 Despite Devastating News, Lonzo Ball Remains Optimistic and Uses Words of Wisdom From LeBron James
Will Lonzo Ball ever be able to get back on the court after cartilage transplant surgery?
Chicago Bulls guard Lonzo Ball can't catch a break. Ball underwent his third surgery on his left knee in March and confirmed this week that he'll miss the entire 2023-24 NBA season. Ball missed all of the 2022-23 season after playing just 35 games the previous year.
In his first year with the Bulls during the 2021-22 season, Ball tore his meniscus and underwent surgery in January 2022. He was expected to be out six-to-eight weeks. He has since had two more surgeries and hasn't returned to the court. During a recent appearance on Trae Young's podcast, From the Point, Ball confirmed he'll miss the upcoming season. Despite the grim news, he remained upbeat and said he's able to stay optimistic by using some words of advice from his former teammate LeBron James.
Lonzo Ball staying strong during dark times
Lonzo Ball began his NBA career as a hyped-up rookie out of UCLA and was the second overall pick by the Los Angeles Lakers in 2017. With all eyes on him, he played 52 games and averaged 10.2 points, 7.2 assists, and 6.9 rebounds. He was named All-Rookie despite missing 30 games with knee and shoulder injuries.
In his second season, the Lakers brought in LeBron James, taking the spotlight off Ball. He was again bitten by the injury bug. Ankle injuries limited him to 47 games. Before the start of the 2019-2020 season, the Lakers traded Ball to the New Orleans Pelicans in a deal for Anthony Davis. In his first year in New Orleans, he played in 63 games during a season that was interrupted by COVID-19.
The Pelicans traded him to the Bulls, but he injured his knee in January 2022 and has never played again. The Bulls were the top team in the Eastern Conference during the 35 games in which he played. Three knee surgeries later, including cartilage transplant surgery five months ago, his future is in doubt. Ball, however, remained optimistic when speaking on Young's podcast.
"Just taking it day by day, bro," Ball said on From the Point. "I just had a really big surgery — hopefully, the last one I ever have to get. It's a long process. I'm already out this whole next season.
"When I first got hurt, we didn't really know what it was. I was seeing all types of different doctors and stuff. I was just kind of going up and down. That was really hard for me because I just didn't know what the next day was going to be like. At least now, I got the surgery. We got a plan moving forward. We've been on plan. I'm on track. Hopefully, everything works out. I just leave it up to God and do the best I can and live with the results."
Ball said he also uses some words of advice he got from James
These are frustrating times for Ball, but he's handling the situation well. He said he'd never felt sorry for himself. In fact, he said he felt for those who put the team together.
"For me, I felt bad for the GMs," Ball said. "I felt like they made the perfect team around me. That was the most I've ever been involved in an organization. I felt like I had the perfect team that could fit my game."
Ball is eager to return. He knows there's a rough road ahead, but he's willing to do what it takes.
"I always just love playing basketball," he said. "It's just something that basically got taken away from me, and it's going to be a whole new joy again."
Ball said he's able to keep a strong mindset and put all distractions aside because of some advice he got from James back when they were Lakers teammates.
"When I met Bron, he told me a very important thing that stuck with me," Ball told Young. "It was always, 'Keep the main thing the main thing.' So, for me, it was always just basketball. Basketball can fix everything, no matter what's going on outside. Just get better. Just get back in the gym and keep working on your craft."