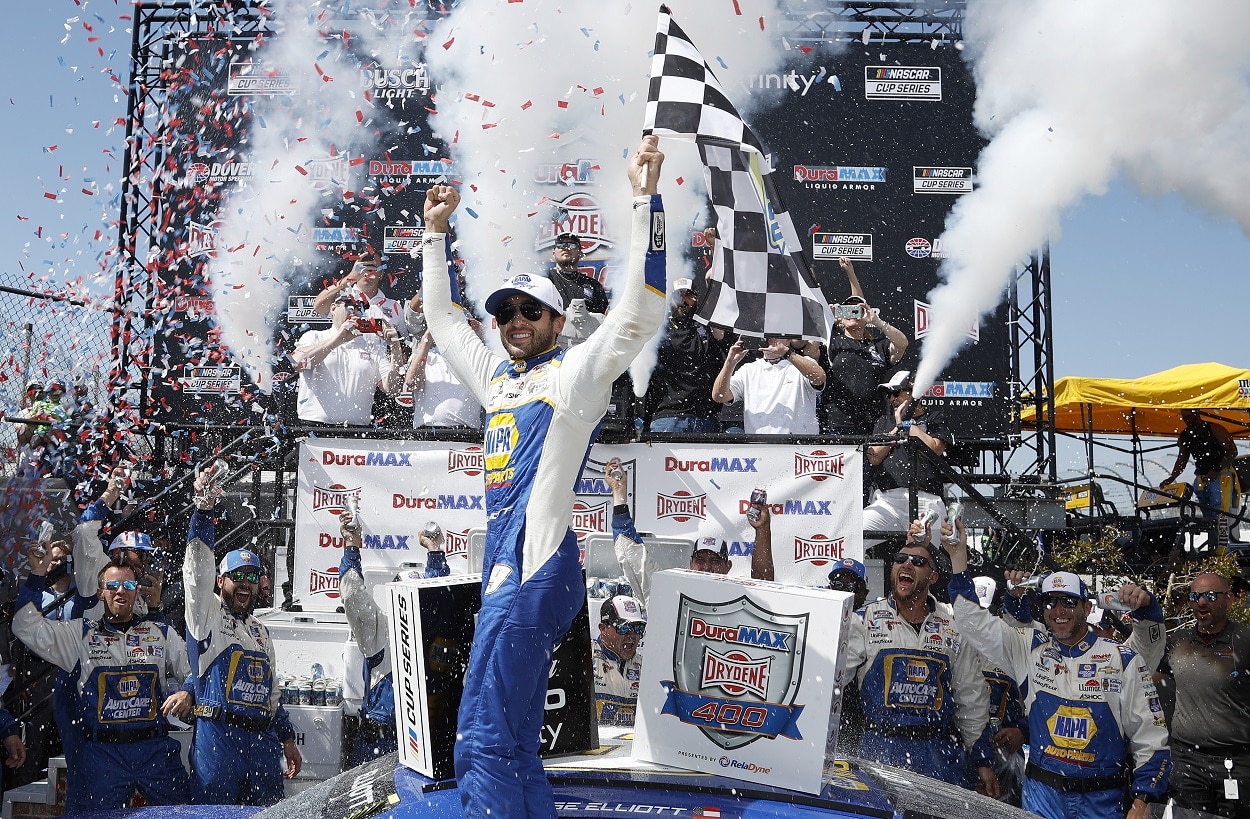 Did Chase Elliott Offer Hint Of Dover Motor Speedway's NASCAR Cup Series Future In Post-Race Celebration?
Chase Elliott essentially made a plea to keep Dover Motor Speedway on the NASCAR Cup Series schedule.
Chase Elliott crossed the finish line of a NASCAR Cup Series race as the winner for the first time in nearly a whole year, thanks in part to the location of Sunday's event, and his post-race interview may have hinted at the track's tenuous spot on the NASCAR schedule.
Elliott took control of the race Sunday at Dover Motor Speedway on a restart with 53 laps to go and methodically pulled away from challengers Ricky Stenhouse Jr. and Ross Chastain to win his 14th career Cup Series race, but only his seventh on an oval track.
Chase Elliott has been a road-course ace in the NASCAR Cup Series
Elliott entered his third full-time season winless until August 2018, when he won at the Watkins Glen International road course. He won twice more that season at Dover and Kansas Speedway in the NASCAR Playoffs and then took the checkered flag at Talladega Superspeedway in the spring of 2019.
Six of Elliott's next nine wins came at road courses, and his success on those tracks is largely what put him in position to compete for his Cup Series championship in 2020.
His only wins since the championship had been at the road course tracks of the Circuit of the Americas in Texas and Road America in Wisconsin.
Dover Motor Speedway has been Elliott's best oval track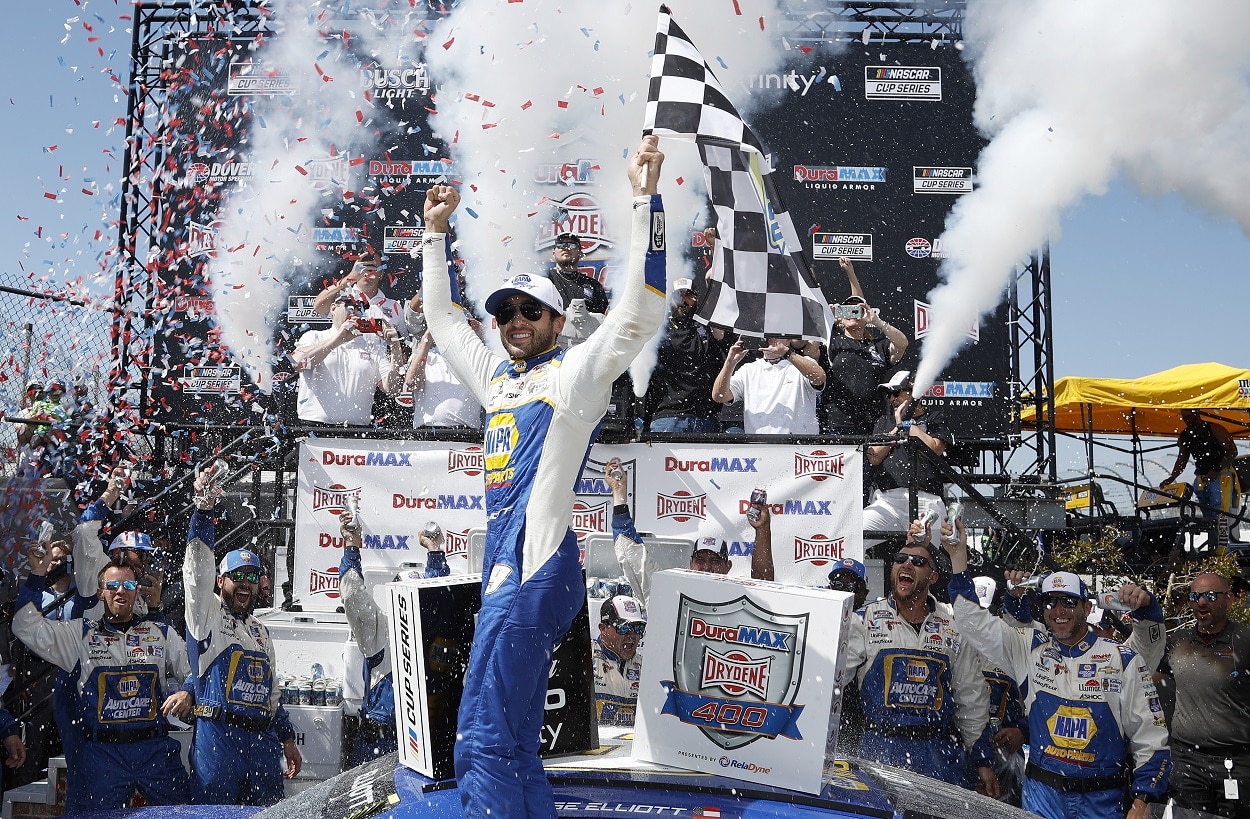 His winless drought spanned 16 races since Road America in July 2021 until the series returned Sunday to Dover, where the Hendrick Motorsports driver has had an incredible amount of success throughout his seven full-time seasons.
Elliott's two Dover wins are his most on an oval track and tied with Watkins Glen and the Charlotte Roval for his most at any track. He also has finished in the top five in 9 of his 12 starts at the Monster Mile.
Elliott has led the points standings for the past seven weeks, but he needed the stop at Dover to secure his place in the playoffs should the rest of his regular season not go as planned.
He subtly pleaded for Dover to remain on the circuit in his post-race interview.
"Thanks to all the fans for coming out; you're always awesome," Elliott told the crowd. "Hope to see this big crowd here next year. Just a huge thanks to everybody involved."
Dover might lose its lone remaining race date on the NASCAR Cup Series schedule
Dover has been on the Cup Series schedule since 1969 and held two races each year from 1971 to 2020. NASCAR then overhauled its schedule for 2021, and Dover lost its traditional playoff race while Darlington Raceway and Bristol Motor Speedway entered the playoffs.
Speedway Motorsports, Inc., which owns nine tracks currently on the Cup Series schedule, purchased Dover Motorsports, Inc. for $131.5 million in November to add Dover and Nashville Superspeedway to its portfolio.
The purchase allows SMI to work with NASCAR to easily move races among its properties. For example, Kentucky Speedway lost its race in 2021, while Atlanta Motor Speedway received a second event.
Dover now faces similar uncertainty. The track already lost its fall race and is now owned by a company with several other tracks that could fill its spot.
Still, it is far from a given that SMI will take away Dover's only surviving race date. Fans filled the stands Sunday before rain postponed the race until Monday after 78 laps.
"That was a great crowd we had yesterday," Elliott said in his post-race press conference. "Biggest crowd I have seen here personally since I've been racing, which I thought was really cool. Proud to see that."
SMI COO Mike Burch also said the track's place in NASCAR is currently secure.
"Nobody has ever looked at making changes to thriving events," Burch told the Associated Press. "If the fans want us to continue to have races here, the racing is good, the support is here, yes, absolutely."
It stands to reason Elliott is bullish on Dover as a viable race track, given his success. This is a track where HMS has won 22 times, second only to its 27 victories at Martinsville. HMS also swept the first four spots in the 2021 edition.
Dover's location also works in its favor. It is between the large markets of Washington, D.C., and Philadelphia and is a 3-hour drive from New York City.
Perhaps NASCAR and SMI will cut Dover a break with the increased attendance (NASCAR no longer officially releases attendance numbers) for Sunday and the postponement because of rain.
Even so, Dover will have to continue to provide big attendance and TV numbers to keep the Monster Mile from going silent.
All stats courtesy of DriverAverages.com and Racing Reference