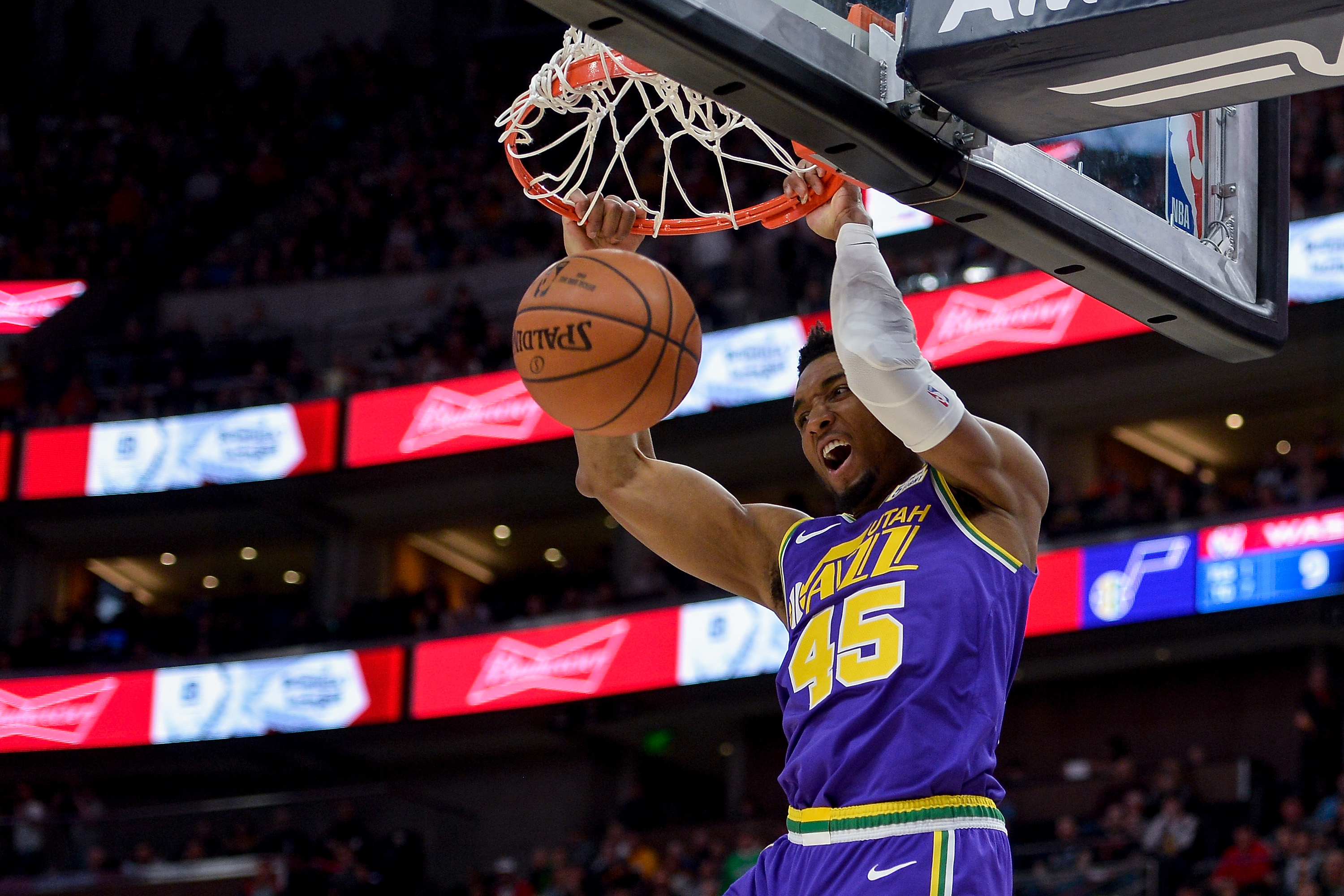 Donovan Mitchell Explains the Boring Story of His Nickname 'Spida'
Utah Jazz Slam Dunk Contest champion Donovan Mitchell explains the boring story of how he got his nickname.
For the record, it's 'Spida' with an 'A' and not an 'E-R.' Donovan Mitchell has carried the nickname for a while. It has stuck with him through his time with the Utah Jazz in the NBA. There are Spida sneakers and Spida shirts as the name has grown with him. Mitchell, however, doesn't have the most exciting story when he comes to how he acquired the name.
Donovan Mitchell's basketball career
Donovan Mitchell played two seasons of college basketball at Louisville. His career statistics certainly weren't mind-blowing, but his potential was. In his first season with the Cardinals, he started just five games and averaged 7.4 points per game. He followed that up with a 2016-17 season that saw him more than double that output with a 15.6 points-per-game average.
Mitchell was selected in the first round of the 2017 NBA draft. The Utah Jazz took a shot on the 6-foot-1 guard with the 13th overall pick. Mitchell didn't disappoint and has proven to be the steal of that draft.
In his first NBA season, Mitchell played in 79 games, starting 71, and wowed his teammates and fans by averaging 20.5 points per game. Mitchell showed his rookie season was no fluke by starting all 77 games he played and averaging 23.6 points during the 2018-19 season. This season, Mitchell was an NBA All-Star for the first time as he's putting up a career-high 21.4 points and 4.3 rebounds per game.
Slam Dunk Contest champion
As a rookie, Donovan Mitchell made a name for himself during the regular season and also during NBA All-Star Weekend. Mitchell took part in the Slam Dunk Contest and took center stage with a wide variety of impressive dunks. He won the event with a 360-degree spin dunk.
Mitchell was creative during his dunk competition. He paid tribute to former Jazz great Darrell Griffith by wearing his jersey. Griffith took part in the inaugural Slam Dunk Contest. Mitchell also paid tribute to slam-dunk star Vince Carter by donning his jersey and doing his patented 360 move that wound up giving him the title.
"Growing up, I was a big dunker," Mitchell said in The New York Times after the competition. "I wasn't much of a basketball player. I just dunked and played defense, and I watched a lot of Vince's videos. I've been seeing what he's been doing all year at his age, it's incredible. I figured at my size if I was able to get it, it would be a great dunk. It would finish it."
Mitchell talks about the boring way he got his nickname
Donovan Mitchell, also known as Spida, didn't take part in the Slam Dunk Contest in his second season, opting to focus on getting his team ready for a deep playoff run. "I loved doing the dunk contest last year and it was a ton of fun, but I also know it takes a lot of focus, practice, and preparation," Mitchell told The Deseret News in 2019. "Right now, my mind is really on helping my team make a deep run (in the) second half of the season. I'm excited, though, for the weekend, I'm going to be able to be a part of some great events."
Mitchell has always been flashy and dunking has always been a big part of his game. He said his nickname 'Spida' came from a former teammate's father. "I had long arms and I was quick to getting a lot of steals," he said in a Twitter post by the NBA. "I didn't think it would correlate to where I am now. He never called me by my first name and to this day, he still doesn't. He'll text me, 'Spida, how ya doing?' Spiderman was one of my favorites growing up and it just stuck with me. That's where it all came from."