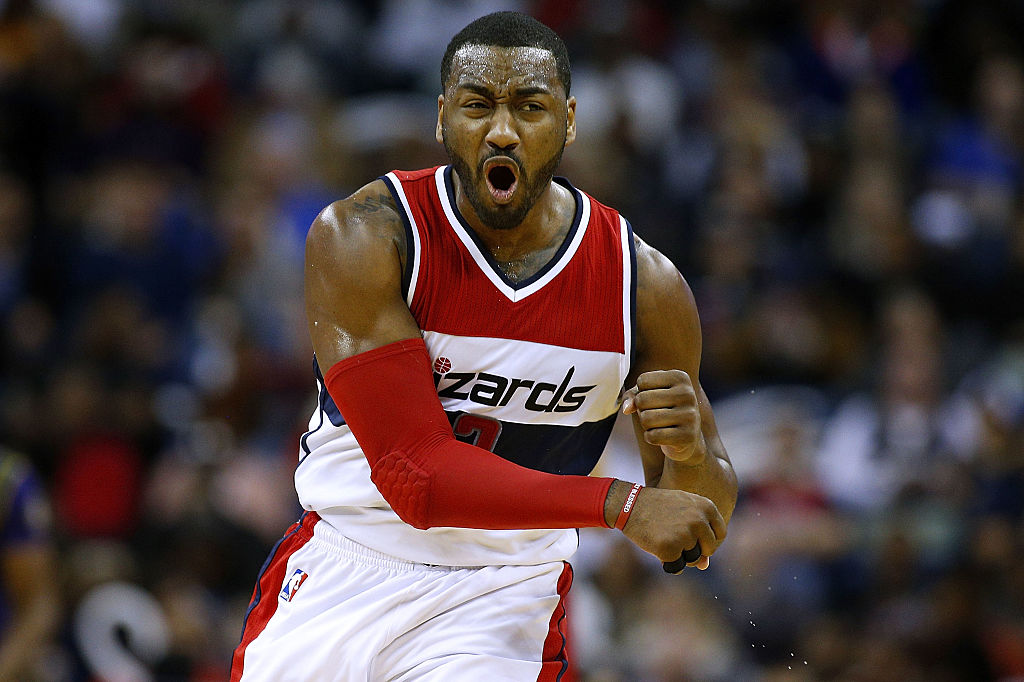 Don't Count John Wall Out Yet
When healthy, John Wall can be one of the NBA's top point guards. Why should critics think twice before proclaiming Wall is past his prime?
When healthy, John Wall can be one of the NBA's top point guards. The face of the franchise in Washington, Wall has had a rough last couple of seasons dealing with injuries.
Today we are going to look at his most recent injury. Plus, we'll explain why you shouldn't count out the dynamic guard just yet.
Achilles injury
Wall has been a five-time All-Star and also selected to the All-NBA team once. Can he be effective without as much explosiveness? For his career, Wall has averaged 19 points and nine assists per game, which is currently sixth all-time.
Wall suffered the injury in an overtime game against the Celtics, and he was originally expected to be back in roughly a year. This would put him on a timetable for a return in February, after the All-Star break. This is a major setback for Washington, as they look to grow in a revamped Eastern Conference. 
Wall's injury history has been highly scrutinized since he signed his Supermax contract, which will pay him $171 million over the next four seasons.
Guards who came back from injuries
Between the years 1988-2011, 18 NBA players suffered Achilles injuries. Seven never played again, most notably Isaiah Thomas, who ruptured it at the age of 35. Wesley Matthews stands out as the most comparable player, injuring himself at age 28. His production went from 15 points per game while shooting 49% from the field to 12 points per game and 43% from the field.
Chris Paul is also known for his injury history, but he has relatively maintained his Hall-of-Fame production following major injuries. Wall may have to adjust his play style in order to remain as effective as he once was.
When will Wall return?
NBC Sports recently reported that Wizards owner Ted Leonsis doesn't think Wall will play at all next season. The normal recovery time for the injury is roughly a year.
Would it be worth it to play during a potential rebuilding season? Even with a healthy John Wall, the only success Washington has had in the Eastern Conference playoffs has been when Paul Pierce was on the roster.
The team has never won 50 games in a season. So without Wall for a majority of it, there may not be a chance to make the playoffs.
Washington is expected to offer Bradley Beal a three-year $111 million contract, but the team isn't sure if he will sign it quickly or wait to see how the season plays out.
If Wall does sit out next season the 2020-21 season will give him 20 months of rehab. We think he can return and continue to be a consistent All-Star, if he can remain healthy.
Should they trade Wall or Beal?
This has been the big issue for Washington the last few seasons. Beal and Wall have never really got along on the basketball court, even though they are two of the game's most prolific scorers. Beal's contract is a lot more manageable, as Wall's supermax deal looks to be the worst contract in the NBA. 
Not only is he making $38 million next season, but he also has a 15% trade kicker if the team deals him. We don't think a team will pull the trigger on Wall unless they are looking to gather draft picks in return.
How do you think John Wall will look when he returns?
Are you expecting John Wall to completely fall out of contention as one of the best guards in the Eastern Conference? If you are looking for more news and notes from around the league be sure to check out our NBA section.