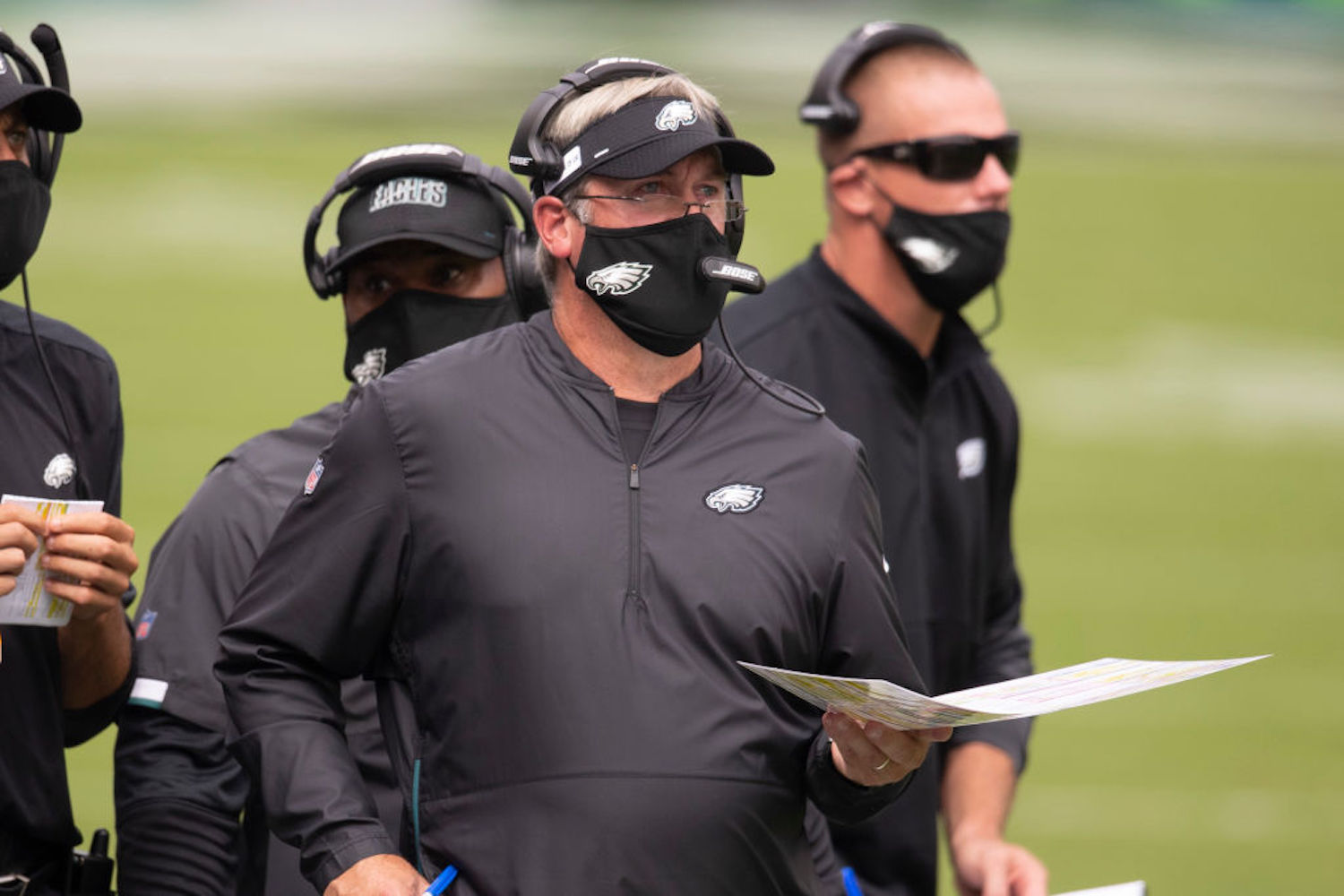 Doug Pederson, Who Wrote a Book Called 'Fearless,' Has Some Explaining to Do After Punting for a Tie
Doug Pederson rode his aggressive coaching style to a Super Bowl in 2017, but his passive blunders Sunday prove he's not the same coach.
When Doug Pederson finally got his first head coaching gig with the Philadelphia Eagles, he didn't shy away from anything. Not a fourth and short from his own territory. Not a two-point conversion to seal a game. Not even Bill Belichick in the Super Bowl.
Pederson rose to prominence by employing as aggressive an offensive approach as any head coach in the league used at the time. He rewrote the book on how plays were called in the NFL, but Pederson isn't the same coach anymore. He hit rock bottom this past Sunday in the Eagles' 23-23 tie against the Bengals, as the self-proclaimed 'Fearless' head coach has completely abandoned his once-aggressive nature.
Doug Pederson thrived as a new head coach by being aggressive
Some NFL coaches play it safe when they get a new head job, and some go all out. Pederson is one of the biggest examples of the latter in recent years.
From the moment he arrived in Philadelphia, he made it clear he was going to do things his way. He was an aggressive offensive coordinator in Kansas City, and he brought that mantra to the entire Eagles organization.
In just his second year as a head coach, Pederson led the Eagles to a 13-3 record and a Super Bowl appearance against Belichick and the mighty New England Patriots. More than a few head coaches have folded under that pressure, but Pederson thrived in it.
From the "Philly Special" play call to going for it on fourth down late in the game, Pederson stuck with his aggressive game plan all night, and it paid off. The Eagles defeated the Patriots 41-33 for their first-ever Super Bowl title.
A few months later, Pederson released his book.
Pederson wrote a book titled 'Fearless: How an Underdog Becomes a Champion'
Six months after Pederson led the Eagles to a Super Bowl title, he published his first book. The title? 'Fearless: How an Underdog Becomes a Champion.' A perfectly fitting name at the time, but Pederson hasn't continued on what he preached back in 2018.
One passage from the book is extremely relevant today.
I'm going to be the same coach I've always been. That's not going to change now, or ever. I think you have to be who you are. I'm here to do a job and I think the best way to be successful is to make sure you are prepared and relaxed and enjoying the moment. That's the big thing. Stay in the moment and be the best you can be.

Doug Pederson
After Sunday's farce against the Bengals, Pederson can't say he's the same coach he was just a few years ago.
Pederson showed a ton of fear in the Eagles' tie against the Bengals
Eagles fans fell in love with Pederson's coaching style straight from the jump. If he was going to fail, he was going to go out swinging, and Philly fans could handle that. But Pederson abandoned everything that got him a Super Bowl ring in 2018 against the Bengals on Sunday.
With the Eagles staring at a 60-plus-yard field goal late in overtime, Pederson called four straight run plays instead of airing it out to give kicker Jake Elliott some more breathing room. Those four plays gained a total of seven yards.
Then, after a false start penalty knocked the field goal attempt back to a 64-yarder, Pederson flat out quit. He could've trusted his kicker, who has the leg and the confidence to make that kick. He could've put the ball in Carson Wentz's hands to go for the win.
Instead, he sent the punt team out to ensure a tie. A tie. Super Bowl champion Doug Pederson doesn't settle for a tie. 'Fearless' Doug Pederson doesn't settle for a tie. But 0-2-1 Doug Pederson did, and that might just be who he is now.
Pederson's performance this past Sunday raises a ton of questions about the fifth-year head coach. Has he lost his fastball? Does he not trust his team and especially his quarterback anymore? Where did the fearless leader go?
Whatever the answers, Philly fans can't be happy with his approach to the young season so far.