Draymond Green's Harmless Act of Solidarity With Klay Thompson Wound Up Costing Sportsbooks Millions
No one was more excited to welcome Klay Thompson back to the court this week than his longtime Golden State Warriors teammate, Draymond Green. Despite not being able to play in Sunday's game against the Cleveland Cavaliers due to a calf injury, Green took the court in solidarity with Thompson before issuing an immediate foul and hobbling back to the bench for the rest of the night.
Green's brief appearance on the court was supposed to be a simple ode to his friend who had spent the last two and half years watching from the sidelines, but it ended up costing sportsbooks millions of dollars.
Draymond Green played just seven seconds in Klay Thompson's season debut
In the hours leading up to Thompson's highly anticipated return to the court on Sunday night, Green started feeling some tightness in his lower calf. He took the court for warmups but quickly realized he wasn't going to be able to play in the game due to his injury.
But considering all that Thompson has gone through since the 2019 NBA Finals, Green wasn't going to let a sore leg stop him from starting alongside his teammate in his first game back. So, the forward decided he would start the game and immediately head back to the bench after the tip-off.
About 10 minutes before the game got underway, the Warriors' public relations Twitter account posted Green's plan to start the game but not play the rest of the contest.
The problem? Sportsbooks around the country weren't able to pull Green's player props off the board fast enough, and savvy bettors were able to take advantage.
Green's act of solidarity put sportsbooks in a tough spot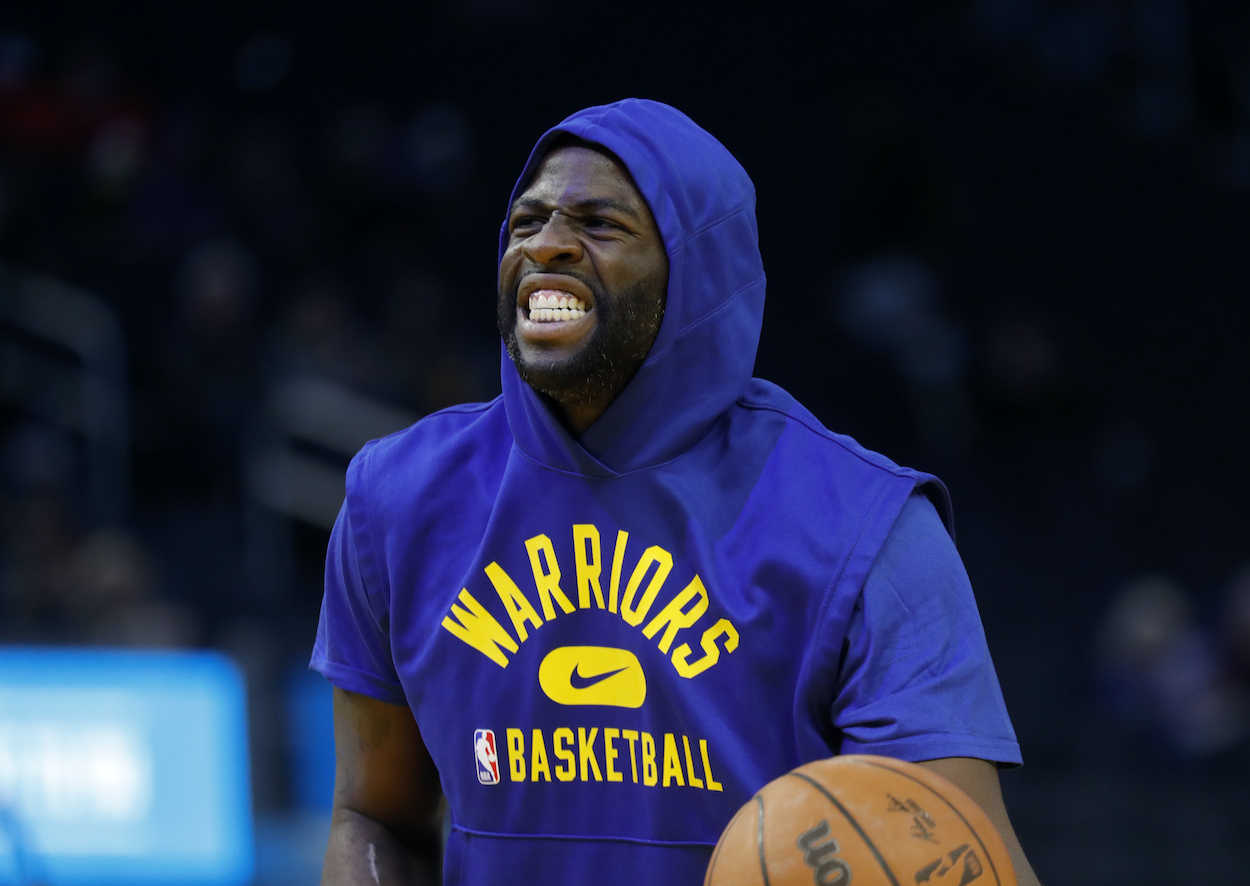 Once Green committed the early foul and walked off the court Sunday night, sports gamblers took to Twitter to post their hefty bet slips on Green's player prop unders. And it wasn't just the typical points, rebounds, and assists props. Some bettors were able to place single bets and parlays on alternate player prop unders for Green at massive odds that paid out six-figure returns.
Most sportsbooks accepted defeat and paid out the under bets as winners that night, but DraftKings held off for 24 hours before ultimately grading the under bets as winners and voiding the over bets, per David Purdum of ESPN.
If you were quick to the punch on Sunday night, you could've made a fortune on bets that had quite literally no chance of losing. And that's exactly what people did.
Costing sportsbooks millions
Sportsbooks are normally quick to pull bets off the board after a piece of breaking news hits. If Tom Brady is ruled out of Sunday's playoff game against the Philadelphia Eagles due to a freak injury, you won't be able to get a bet down before books pull the game completely.
But in this instance, they fell asleep at the wheel with the breaking news coming just 10 minutes before tip. All it took was a few extra minutes of those alternate props being available to bet for customers to cash in big time.
How big? Try millions of dollars.
"Industry sources estimated DraftKings paid out more than $1 million on the Green props, with payouts across the sports betting market believed to be in the multiple millions," Purdum reported. "The majority of the liability came from bets that were placed within the last 10 minutes before the game tipped off."
It turns out the house doesn't always win.
Like Sportscasting on Facebook. Follow us on Twitter @sportscasting19.