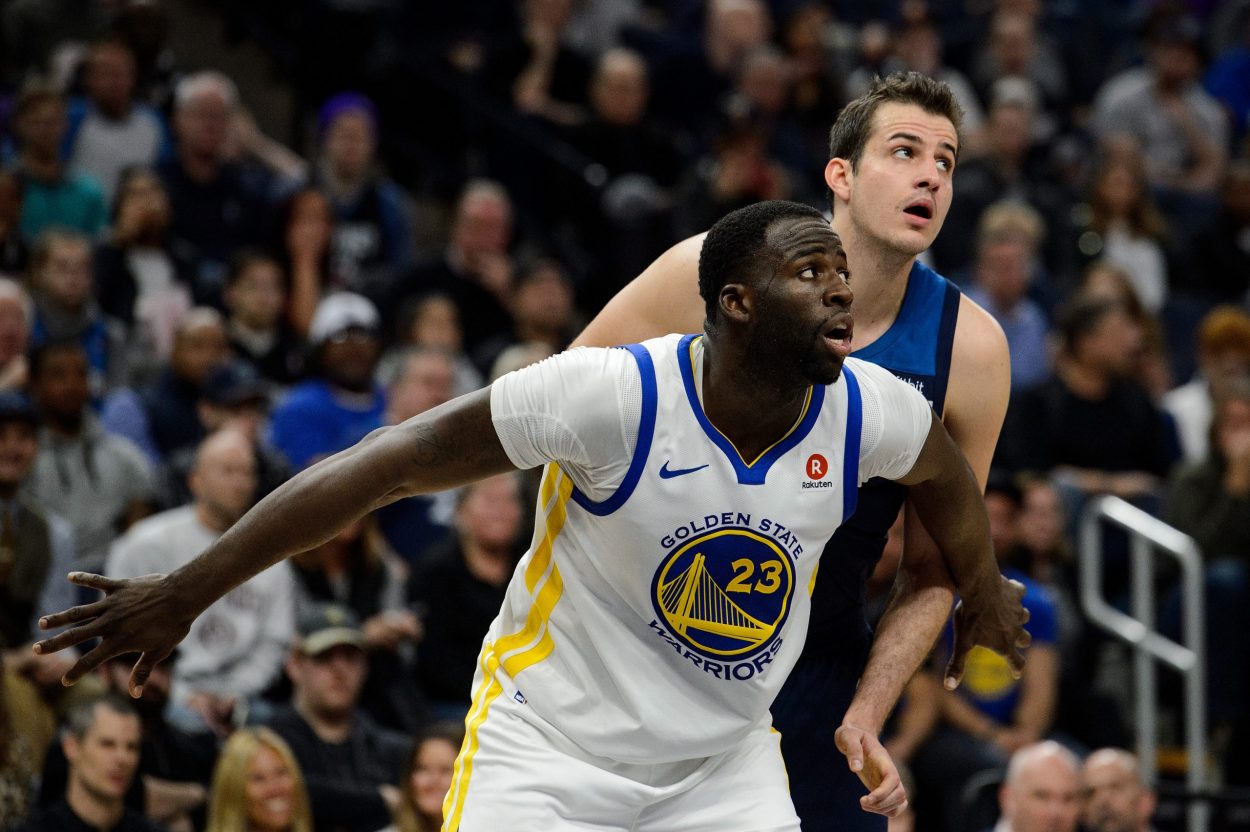 Draymond Green's Praise for His Frontcourt Mate's Unexpected Skill Should Have Warriors Fans Salivating: 'I Didn't Know Belly Could Make Plays Like That Off the Dribble'
Veteran forward Nemanja Bjelica didn't get all that much attention as one of the Golden State Warriors' offseason additions. But he has a lot to offer the Dubs as a floor-spacing big who, as Draymond Green recently discovered, is surprisingly adept as a playmaker with the ball in his hands.
Golden State Warriors forward Draymond Green is often brutally honest in his assessment of opponents and, oftentimes, his own teammates. So for Green to exhibit a sense of shock at Nemanja Bjelica's skill set speaks massive volumes about how important the veteran forward could be to the Warriors this season.
Bjelica wasn't the glitziest of offseason signings. Indeed, his arrival mostly got lost in the shuffle of Golden State's draft plans, as well as the Warriors bringing back Andre Iguodala and the response to Andrew Wiggnins' stance on vaccination. However, as Green hinted, he could well be one of the most essential Dubs players this season.
Draymond Green is astonished at Nemanja Bjelica's ability to make plays off the dribble
Nemanja Bjelica is a former Euroleague MVP. Draymond Green needed some reminding of the Serbian forward's past glories.
On Tuesday, Green told reporters (including Anthony Slater of The Athletic) that he was totally unaware of Bjelica's ability to break down defenders and be a playmaker with the ball in his hands.
Bjelica has traditionally been more of a floor-spacing big during the course of his six-year career. But he told Green that, in Europe, he was more of a total playmaker who thrived with the ball in his hands.
European bigs typically have displayed more proficiency in terms of court vision and passing ability. Denver Nuggets center and reigning MVP Nikola Jokic (also Bjelica's countryman) is a perfect example of this idea. Indeed, Bjelica's own propensity to make plays off the bounce is demonstrated by his play for Serbia in the 2019 FIBA World Cup, when he averaged 4.6 dimes per 36 minutes.
As Green went on to explain, that ability makes Bjelica all the more dangerous on a Warriors team that spreads the floor and typically plays without a "traditional" big man.
Green elaborated on Bjelica's value as a playmaking big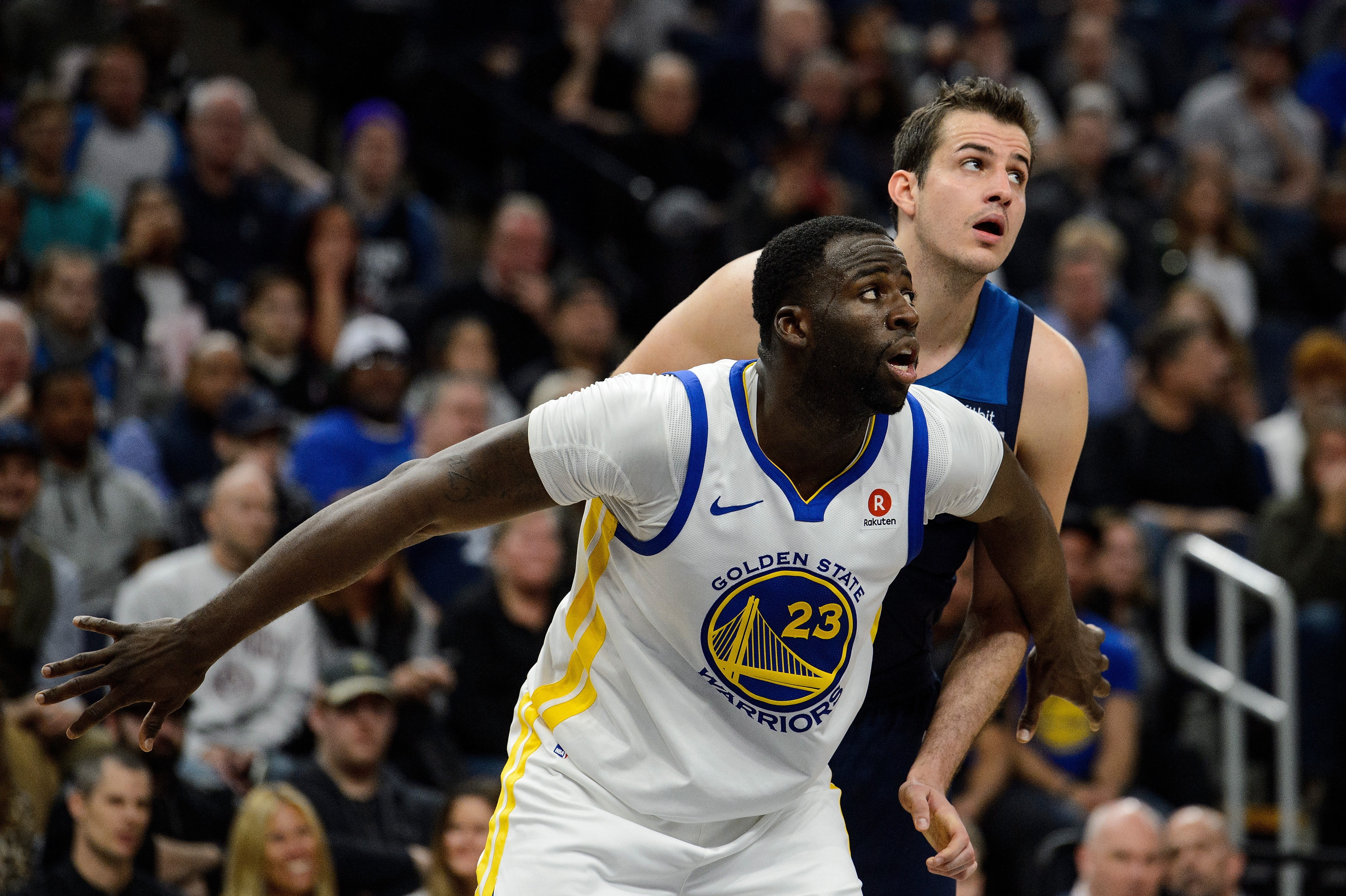 Draymond Green has one of the highest basketball IQs in the NBA. He understands just how valuable Bjelica's skill set is, especially because of how the Warriors play. Green should know. He, too, benefits from Golden State's offensive style.
While Draymond typically struggles to shoot the ball from the perimeter, his abilities as a ball-handler and screener make him an essential part of the Warriors' offensive system. The outspoken Dubs forward believes this system will suit Bjelica, as well.
Green said that Golden State's tendency to spread the floor and play without a traditional, paint-bound big should open up the lane for Bjelica to either score off the dribble or kick to open shooters on the wings and in the corners. That could be critical, seeing as Bjelica's shooting ability will force defenders to close out.
On that last point, there's a specific guy with whom Bjelica might develop a particularly strong relationship: Stephen Curry.
Bjelica's shooting and passing as a roll man could make Stephen Curry and the Warriors more dangerous
Crazy as it might seem, Stephen Curry hasn't played with too many floor-spacing bigs who can also create off the bounce. That makes the thought of Curry-Bjelica pick-and-roll actions all the more intriguing.
Opponents might not be able to hedge so hard on Curry coming off Bjelica screens because of the big man's efficiency from beyond the arc. Bjelica is shooting 38.7% from deep for his career and has shot over 40% in three separate seasons.
If Bjelica pops, Curry can swing the ball back to him for possible open triples. If the defense rotates and Bjelica rolls, his ability to make plays off the bounce could lead to buckets at the rim or kick-out opportunities for some of his other teammates. He might also have success finding baseline cutters such as Green.
Consider this: Bjelica averaged 4.2 assists per 36 minutes this past season. The passing ability he shows in international competitions translates to the NBA. He could be even more of a playmaking threat in Golden State, where the ball never sticks, and the constant danger Curry presents opens things up for all of his teammates.
Keep an eye on how Warriors head coach Steve Kerr utilizes Bjelica this season, as well as plus-minus and offensive rating when sharing the floor with the likes of Curry and Green. The 33-year-old might be the unheralded offseason signing who can help to fully maximize Golden State's offensive potential.
Stats courtesy of Basketball Reference.