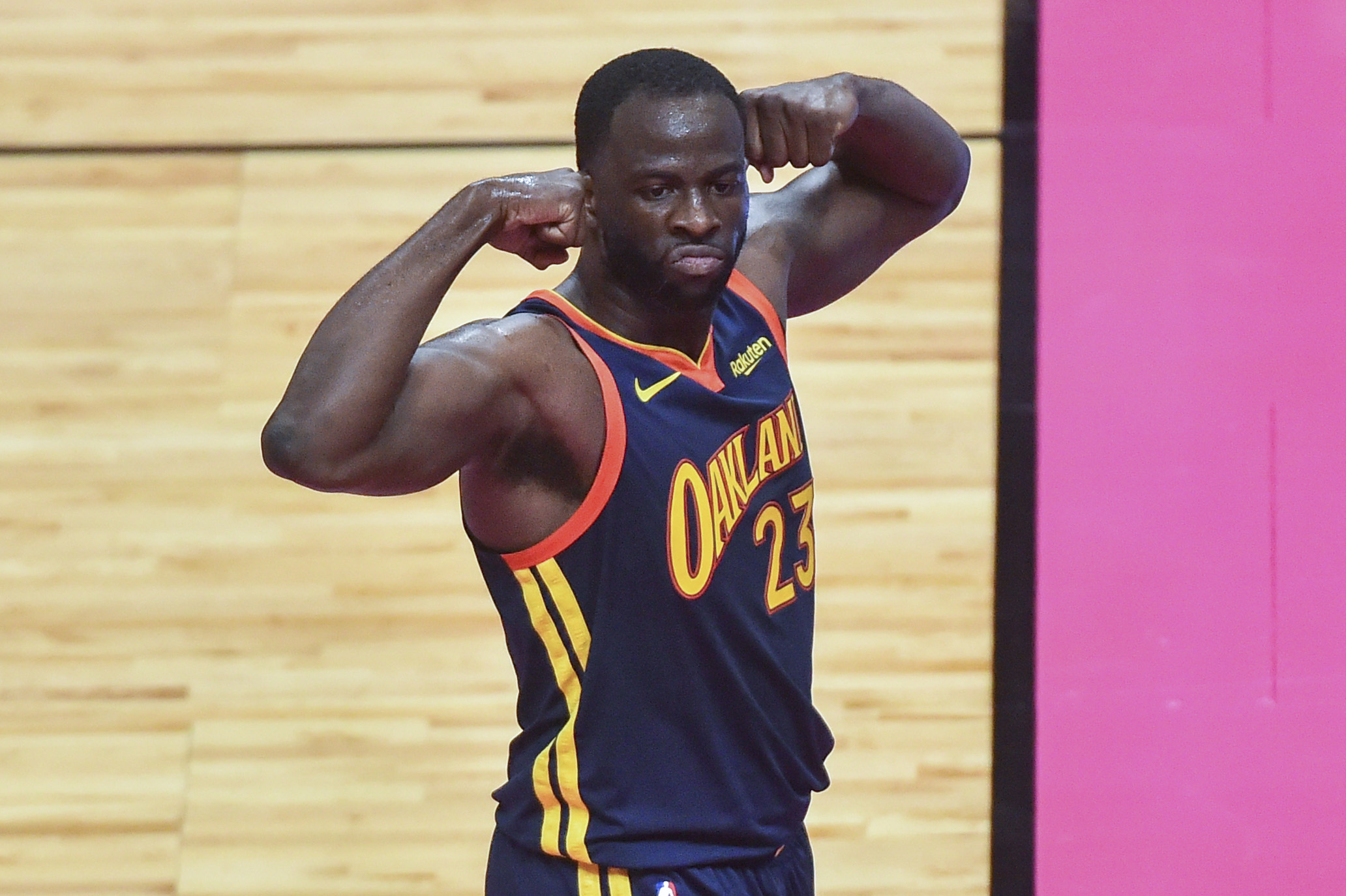 Draymond Green 'Really Tired' of WNBA Players Complaining About Pay, Then Takes Some Heat
Draymond Green took a little heat for his comments about WNBA players.
Golden State Warriors forward Draymond Green is never shy about voicing his opinion. The outspoken Green was at it again, saying he was "really tired" of hearing WNBA players complain about their pay. As usual, Green took some heat for his comments.
Draymond Green has no problem speaking his mind
On a Monday night in February, the Golden State Warriors hosted the Cleveland Cavaliers, who were playing without their big man Andre Drummond. Drummond wasn't hurt, but he was in street clothes because the Cavs were trying to trade him. The team wanted to make sure he didn't get hurt. Warriors forward Draymond Green has a problem with that NBA's double standard and he devoted much of his postgame conference to let the media know.
"I would like to talk about something that's really bothering me," Green said after the game. "And it's the treatment of players in this league. To watch Andre Drummond, before the game, sit on the sidelines, then go to the back, and to come out in street clothes because a team is going to trade him, it's bullsh*t."
Green wasn't done. "Because when James Harden asked for a trade, and essentially dogged it, no one's going to fight back that James was dogging it his last days in Houston, but he was castrated for wanting to go to a different team. Everybody destroyed that man. And yet a team can come out and say, 'Oh, we want to trade a guy,' and then that guy has to go sit, and if he doesn't stay professional, then he's a cancer."
Green was at it again, this time going after WNBA players
Draymond Green had expressed himself on Twitter regarding the pay of WNBA players. He said the players were too focused on arguing about their pay, or lack of, and weren't focusing enough on growing their game. This week, Green went even further on the topic when he spoke to reporters, saying he was "really tired" of all the complaining.
"I'm really tired of seeing them complain about the lack of pay, because they're doing themselves a disservice by just complaining," Green said to reporters. "They're not laying out steps that they can take to change that. It's coming off as a complaint because the people that can change it are just going to continue to say, 'Well, the revenue isn't there. So if you don't bring in the revenue, we can't up your pay.'
"They're going to keep using that, but the reality is, as true as that is, it's an excuse. Because everyone says, 'We support women. We support women's empowerment. We support women in the workplace. We do this for women. We do X for women. Blah, blah blah. And everyone uses it to their advantage, yet these women are not using these people who are saying these very things to their advantage."
Green gets some heat for his comments
Draymond Green's tweets and comments caught the attention of many female athletes who had something to say. Five-time WNBA All-Star Angel McCoughtry was insulted by Green's comments, according to TMZ. McCoughtry said she has dug deep herself trying to professional leagues and sponsors to spotlight women's leagues. She said Green needed to do his research before speaking.
"Draymond, have you done your research?! Have you asked us questions," she said Thursday during a USA Basketball training camp media conference. "Don't you think we've tried to do that kind of stuff? No, he hasn't done his research. That's my only thing with Draymond."
She wasn't the only female star to take exception to Green's comments. Megan Rapinoe of the US Women's Soccer Team has basically the same response. "Respectfully, do you really think we haven't been out here asking for more investment more resources more storytelling more branding and marketing dollars more youth investment more investment in coaches more TV time etc etc etc etc etc to infinity…," she wrote on Twitter.