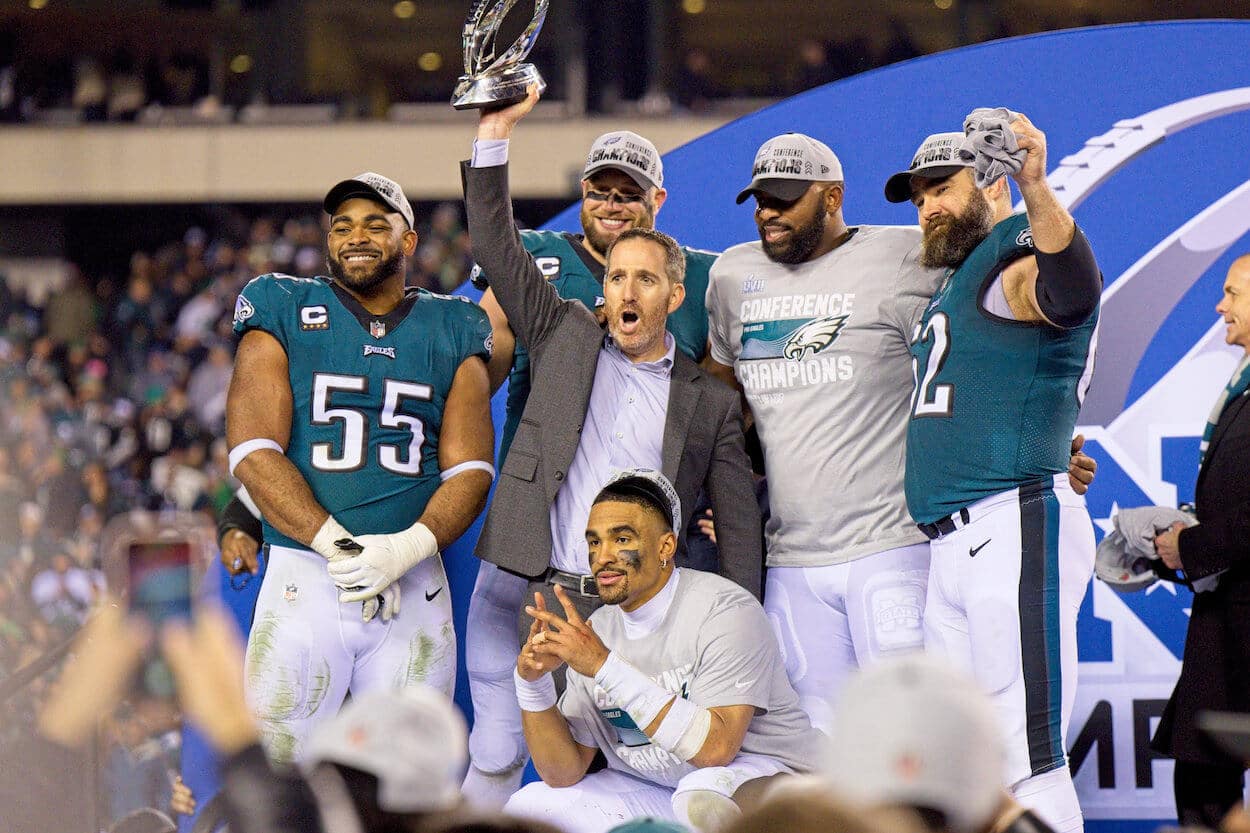 Eagles GM Howie Roseman Celebrated Jason Kelce's Major Announcement by Busting Out the Tequila
Jason Kelce is returning to the Eagles for another season, so Howie Roseman decided to celebrate.
The Philadelphia Eagles haven't gotten off to a hot start in free agency. Star defensive tackle Javon Hargrave and starting linebacker T.J. Edwards both signed elsewhere on Monday, and more free agents are sure to follow them out the door in the coming days and weeks.
The Eagles did receive some good news on the first day of free agency, though. Future Hall of Famer Jason Kelce, who's contemplated retirement for the last few years, officially announced on Monday that he'll be returning for his 13th season in Philadelphia.
Eagles general manager Howie Roseman was so thrilled to hear the news that he broke out the tequila to celebrate, and many Philly fans across the country are likely doing the same.
Jason Kelce announces his return to the Eagles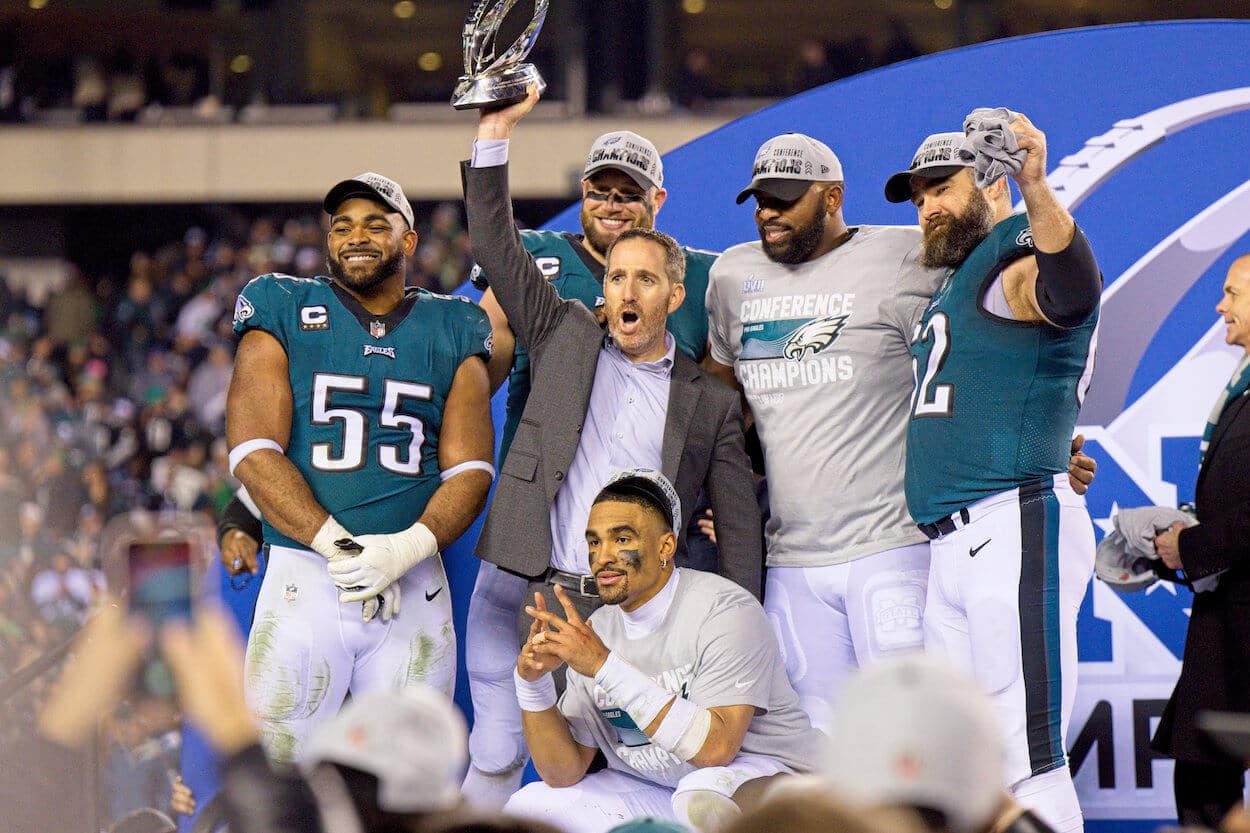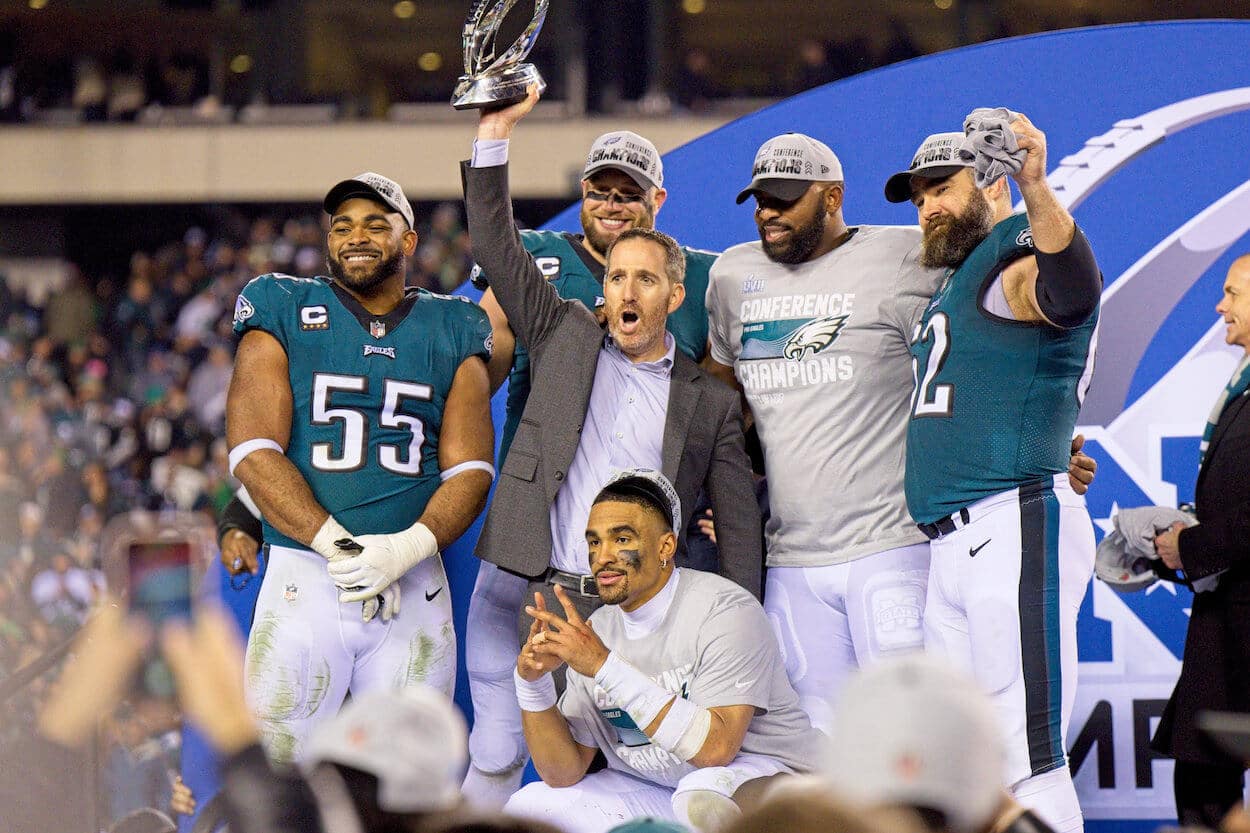 The Eagles are expected to lose at least a dozen players to free agency this offseason, so re-signing their proven veterans will be more important this summer than ever before. Philadelphia took a positive step in that regard by signing Brandon Graham to a one-year deal worth $6 million, and starting center Jason Kelce will also be returning for another season.
Kelce, who will be 36 next season, made the official announcement on Twitter Monday afternoon.
"I have put much thought into whether it makes sense to play another season. After talking it over with my wife and many other friends and family, I have decided to return for another year. Thank you to all my supporters and detractors for fueling me, I ain't f***ing done yet!" he wrote.
This is fantastic news for an Eagles offense that ranked second in the NFL in scoring last season. Kelce is the captain of the offensive line, and his ability to pull to both sides and block in open space is indispensable.
Eagles fans were thrilled to hear the news, but they weren't as excited as Howie Roseman.
Eagles GM Howie Roseman busts out the tequila for Jason Kelce's announcement
Before making his announcement official on Twitter, Kelce decided to break the news to Roseman personally. The longtime Eagles GM couldn't contain his excitement, as he jumped up and embraced the Pro Bowl center in a video posted by the team's official account.
"Let's go! Roseman exclaimed in the video. "This is awesome! Alright, let's celebrate this right now."
Roseman then proceeded to crack open a bottle of tequila and pour out two sizeable shots in celebration.
"To next year in Vegas, baby. We've got a long way to go," Roseman toasted, referencing the host city of Super Bowl 58.
The Eagles have hopes of getting back to the Super Bowl in 2024, and bringing Kelce back is a necessary start.