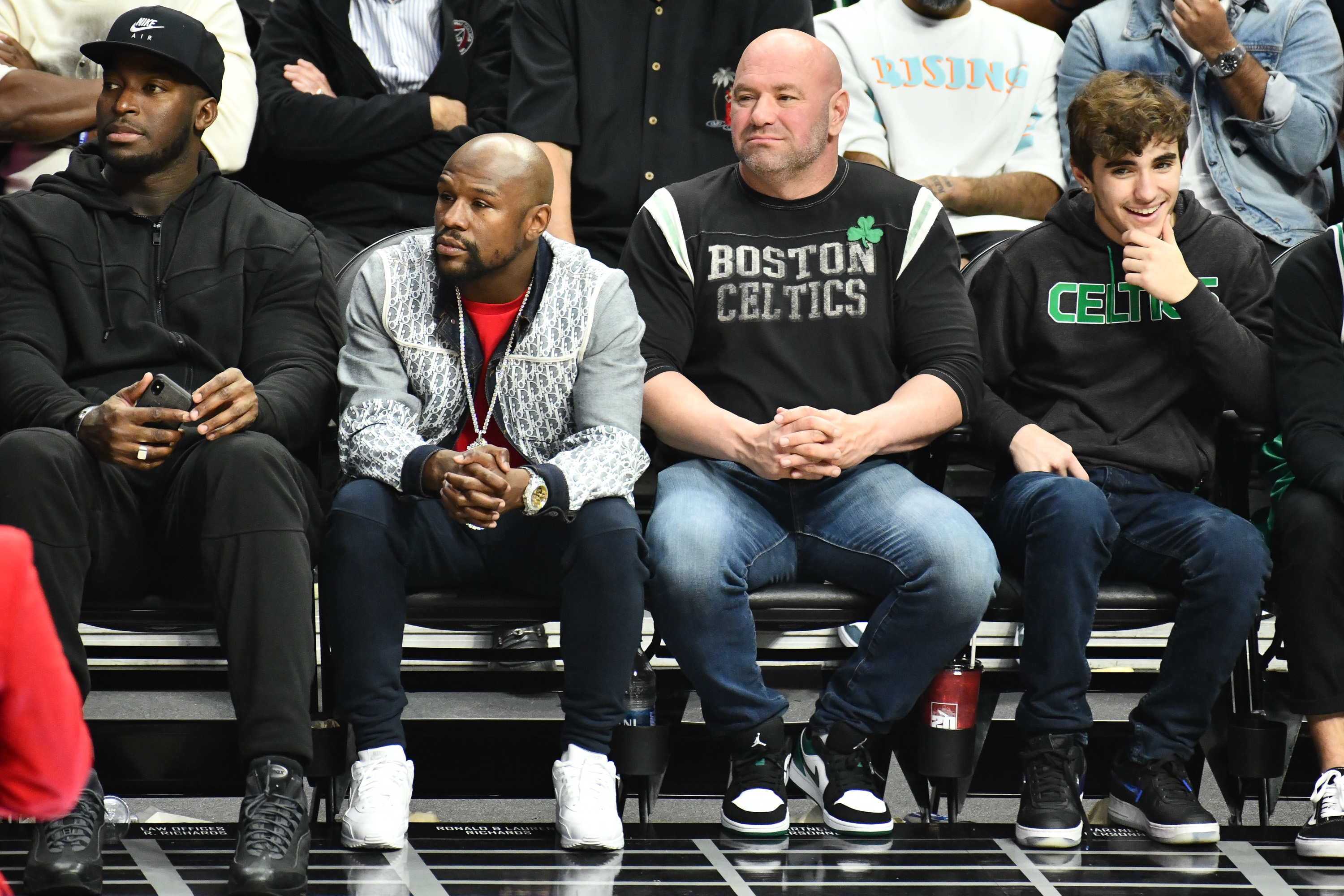 Floyd Mayweather Says He and Dana White Will 'Do Some Big Business' Soon
Floyd Mayweather recently stated that he and UFC president Dana White will "do some big business" in the near future.
Maybe Floyd Mayweather will join Mike Tyson on the comeback trail yet again. Is there a sequel to Mayweather vs. Conor McGregor on the horizon? He didn't elaborate, but Mayweather recently said he would get back in the ring with McGregor for the right price. He also said he and UFC president Dana White will "do some big business" soon.
Floyd Mayweather no stranger to comebacks
It's been the year of the comeback for boxers. Mike Tyson is stepping back into the ring at 54 years of age in November. His opponent is 51-year-old Roy Jones Jr., who is also interrupting retirement to make a return to the ring. Will Floyd Mayweather join them?
Mayweather is a smart man. He doesn't need to come back. He doesn't need to prove anything to anybody. Mayweather ended his boxing career with a 50-0 record, and more importantly, he left with very little, if any, damage to his body.
During a recent interview on the Club Shay Shay podcast, Mayweather was asked by podcast host Shannon Sharpe if he would fight Conor McGregor again. Mayweather, as he always has, had money on his mind. "If I could make an easy $300 million? Absolutely," Mayweather said.
Mayweather doesn't need boxing now, boxing needs him
Floyd Mayweather doesn't need the money. He doesn't need the fame. Boxing helped make him what he is today and he's content with that. If anything, boxing needs him. Another Mayweather vs. McGregor fight would put a jolt into the sport, but Mayweather isn't jumping right in.
He said his health is more important than the money at this point in his life. "Why would I go out there and fight these young fighters, these young lions, and risk my health?" Mayweather said. "Your health is your wealth. As far as me going out there and competing against a guy like Conor McGregor or a guy that's really inexperienced…" Sharpe interjected and asked if he would fight (UFC fighter) Khabib (Nurmagomedov).
"Absolutely," Mayweather said of a possible fight with Nurmagomedov. "Those are $300 million fights. You have to make it make sense. I need to be able to have my faculties, also."
Mayweather and Dana White to "do some big business" soon
Floyd Mayweather may be the master of boxing or the master of making money. He's also showing he's the master of suspense. He has already stated that for the right price he would step back into the ring with Conor McGregor or UFC star Khabib Nurmagomedov.
Now Mayweather is teasing boxing fans about an upcoming meeting with UFC president Dana White. Could it be to discuss an upcoming bout? "Dana White is a good guy, a good dude," Mayweather said on the Club Shay Shay podcast. "I've been doing Dana White 24 years and this year me and Dana White, or next year, me and Dana White will do some big business."
Mayweather has clearly stated he'd fight for the right price but knows his boxing era is over. "It's these young fighters' era now," he said. "But it's OK for me to go fight a Khabib or a Conor. With those two fights alone, I could pick up $600 million, so that don't hurt just to entertain."