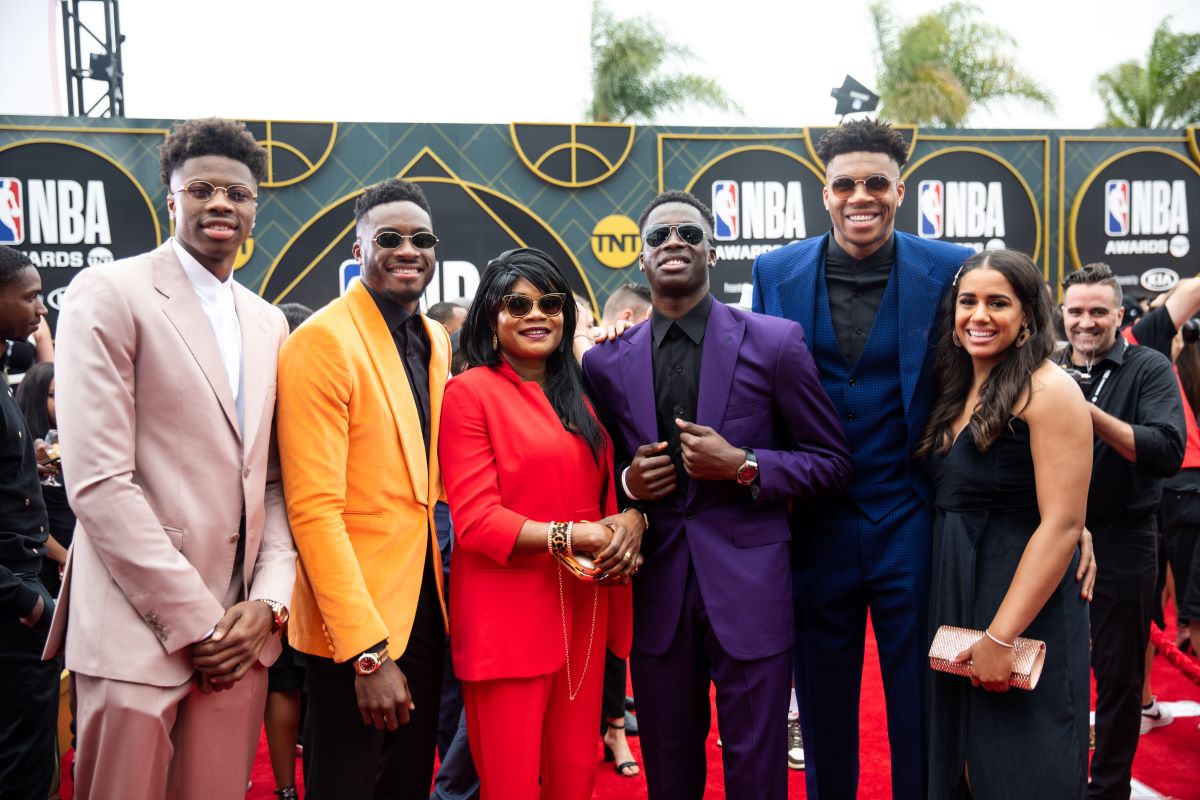 Giannis Antetokounmpo Can Thank His Mom For His $228 Million Contract
Bucks superstar Giannis Antetokounmpo's life story is one for the ages and his mom has played a big role in his success in the NBA.
Milwaukee Bucks superstar Giannis Antetokounmpo's life story is one for the ages. After growing up in poverty in Greece, the All-Star small forward now has generational money after signing the richest contract in NBA history.
Antetokounmpo signed the supermax extension with the Bucks worth $228 million. The two-time MVP would have been leaving $83 million on the table if he chose to leave Milwaukee in the offseason of 2021. Antetokounmpo's max contract would have been for four years and $145 million if he had entered unrestricted free agency after this season and left Milwaukee.
At 26 years old and a father now, Giannis Antetokounmpo is old enough to make his own decisions in life. However, the 2019-20 Defensive Player of the Year consulted one of the most important people in his life before making the life-changing decision to stay with the Bucks.
Giannis Antetokounmpo's mother is the rock of the family
Giannis Antetokounmpo has a very close relationship with his mother and that heartwarming bond was on full display during the Greek Freak's MVP speech back in 2019. The swingman became very emotional while he thanked his mom for everything she has done for him and his brothers.
Antetokounmpo's father passed away in 2017 due to a heart attack. It was a devastating moment for Giannis and his family, but it brought the star forward closer to his mom since she was now the rock of the family. Antetokounmpo channeled his inner Derrick Rose and Kevin Durant by dedicating his first MVP trophy to his mother.
A mother's love is something that can't be measured. With his father no longer with him, Giannis Antetokounmpo has leaned on his mother's guidance even more.
Giannis Antetokounmpo consulted his mom during supermax negotiations
During his supermax negotiations with the Bucks, Giannis Antetokounmpo talked to his mother about what he should do. Veronica Antetokounmpo told her son she enjoyed living in Milwaukee, which was enough for Giannis to make his decision.
"I talked to my mother, asked her, did she want to move? She said, 'No.' So I said, 'OK, cool. I'm just going to sign the deal then.' But, no, this is the place I want to be," Antetokounmpo said, via Eric Woodyard of ESPN. "This is my home. This is my city. I want to represent Milwaukee, and I want to do this for the next five years."
Moms know best, so Antetokounmpo knew he was making the right decision to re-sign with the Bucks once his mother said she didn't want to leave Milwaukee. Unlike other global stars in the NBA, Antetokounmpo doesn't mind living in a small market city since he's able to have privacy when he goes out with his family.
During the COVID-19 hiatus after the 2019-20 season was suspended in March, Antetokounmpo participated in a few protests in Milwaukee after George Floyd was killed by a police officer. The 2016-17 Most Improved Player of the Year said he wanted to create significant change in his city so that his son could grow up in a safe environment.
Thanks to Veronica Antetokounmpo, Giannis Antetokounmpo is comfortable living in Milwaukee and continuing his NBA career with the Bucks.
Bucks are under pressure to keep their franchise player happy
Bucks general manager Jon Horst can sleep a little easier at night knowing that Giannis Antetokounmpo is with the team for the long-haul. However, Milwaukee's front office is still under pressure to keep its franchise player happy.
Over the past couple of seasons, several players have requested trades from their teams despite being under contract for more than one year. Paul George, Jimmy Butler, Anthony Davis, Russell Westbrook, and James Harden have requested trades since 2017 for numerous reasons. If Antetokounmpo doesn't win a title with the Bucks in the next two years, he could request a trade from Milwaukee.
With that being said, the Bucks' ownership has to continue to be aggressive on the trade market and acquire another star for Giannis Antetokounmpo. Milwaukee did a good job of trading for Jrue Holiday this past offseason, but the work is still not done for Horst and Co.