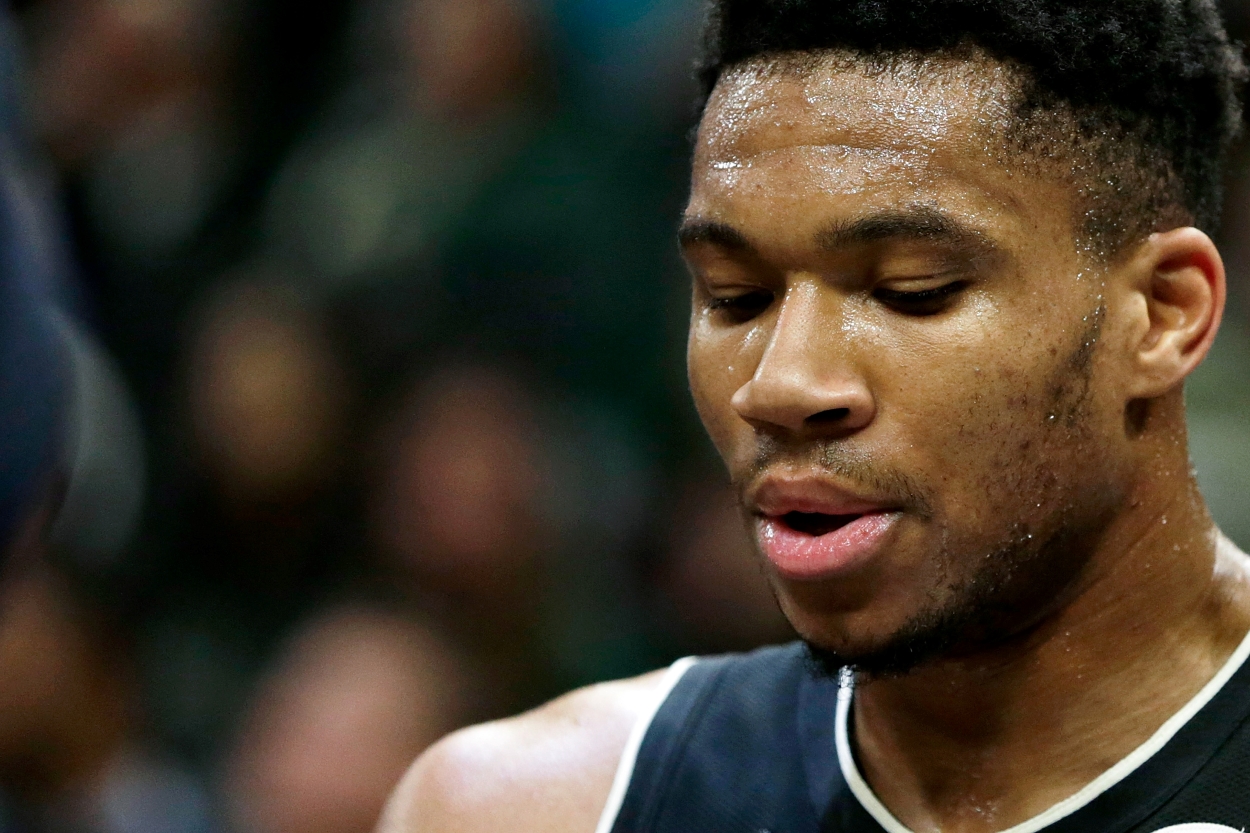 Giannis Antetokounmpo's Incredible Story About Impossible IVs and '(Throwing) up Five Times' Makes His NBA Finals Heroics Look Even More Epic
Giannis Antetokounmpo saw his legend grow with an epic NBA Finals performance. But the physical toll it took on him makes his story even more unbelievable.
Giannis Antetokounmpo didn't singlehandedly bring the Milwaukee Bucks a championship. Jrue Holiday was a defensive tone-setter. Khris Middleton made clutch shots throughout the entire postseason. But when push came to shove, it was The Greek Freak who took over, and he did so in unbelievable ways. (Not hyperbole, by the way — ways that seem actually impossible to believe.)
On the surface, that took the form of an incredible recovery block on Deandre Ayton. Or a 50-point, 14-rebound, 5-block closeout Game 6 to bring the Larry O'Brien Trophy to Milwaukee for the first time in 50 years.
Behind the scenes, though, things become even more difficult to comprehend, and the Finals MVP's performance feels even more incredible.
Michael Jordan had his flu game in 1997. Giannis had his own version in 2021.
Giannis Antetokounmpo put the Milwaukee Bucks on his back during the 2021 NBA Finals
Antetokounmpo brought the Bucks franchise its first championship in half a century when he helped Milwaukee beat the Phoenix Suns in six games in the 2021 Finals.
He was given Finals MVP in recognition of his dominance.
The 26-year-old led the series in scoring (35.2 points per game), rebounding (13.2), blocks (1.8), and field-goal percentage (61.8). That last stat only takes into account players who averaged more than 2.3 attempts per game. Giannis averaged 20.5.
Only Devin Booker (23.8) and Middleton (20.8) averaged more attempts during the series. Booker shot 45.5% and Middleton 44.8%. Again, on a similar amount of attempts, Antetokounmpo shot 61.8%.
Phoenix held a 2-0 series lead. In Game 3, the two-time MVP had 41 points, 13 rebounds, and six assists to lead the Bucks to a 20-point win. If Milwaukee lost that game — in Phoenix — and fell behind 3-0, the Suns likely end the season as NBA champions.
Instead, Antetokounmpo led the Bucks to four straight wins, won his title, and became a legend.
But pulling back the curtain on the final few games of that series reveals details that only grow the Giannis Legend even further.
The behind-the-scenes story of Antetokoumpo's physical exhaustion makes his already-historic performance even more incredible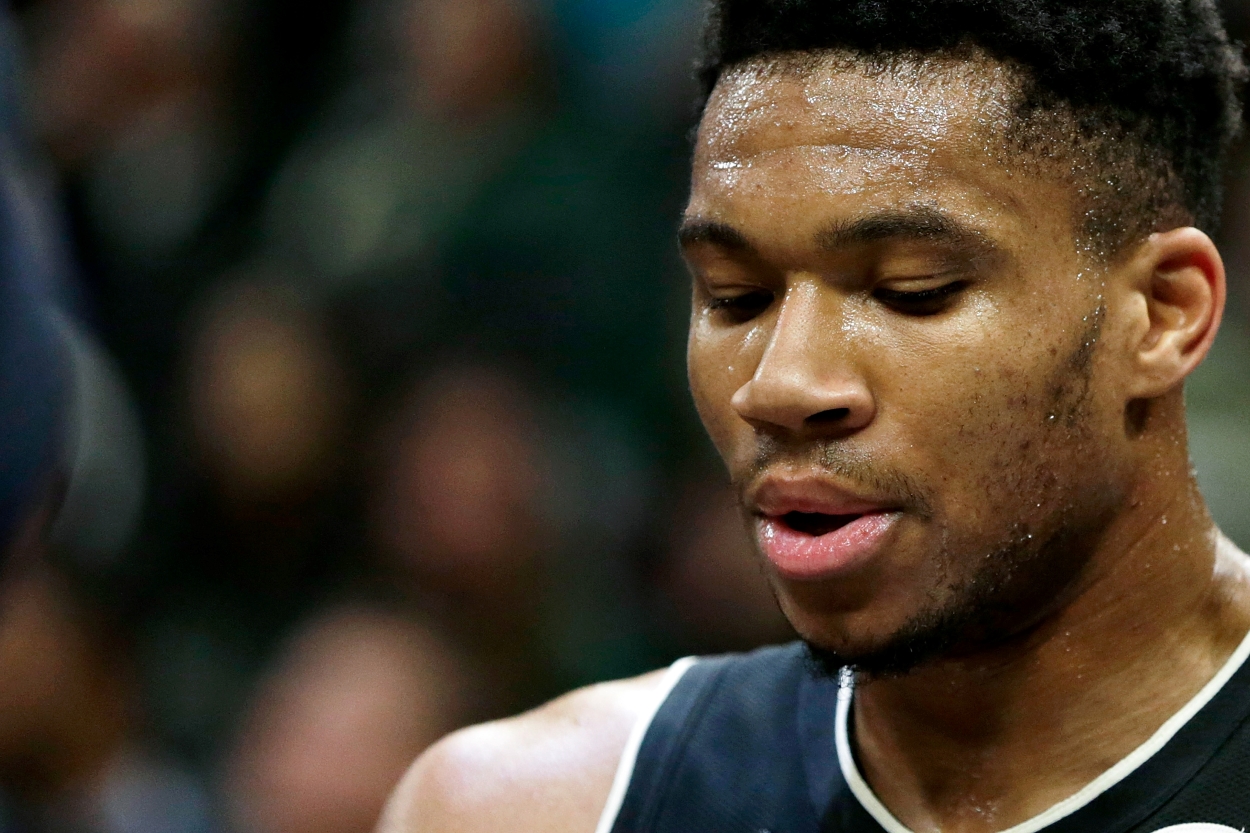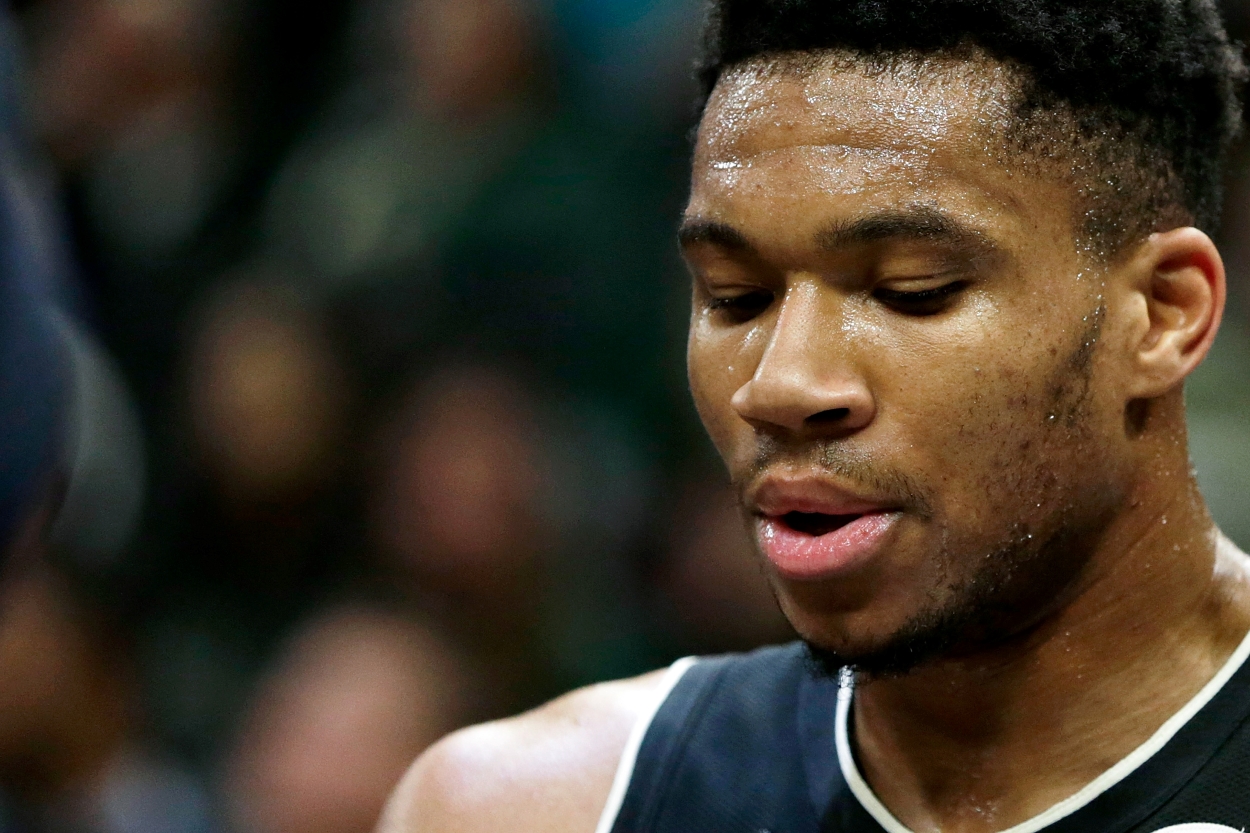 The five-time All-Star had his moment in Game 3. Middleton had his own 40-spot in Game 4, while Giannis only had 26, 14, and 8 with three steals and two blocks (including the block on Ayton — one of the most memorable plays in finals history).
Game 5 saw Antetokounmpo score 32 points to go along with nine rebounds and six assists — and another legendary play.
Holiday ripped the ball away from Booker in the final minutes and saw all 6-foot-11, 242 pounds of Giannis sprinting up the floor. The safe play was to hold onto the ball, back it out, and waste clock. Instead, his MVP teammate pointed a giant finger to the sky, so Holiday lobbed it up, and Antetokounmpo slammed it home to seal the win.
Between those two plays, the on-court hero status had already been solidified. But after Game 5 is when things got even more extraordinary.
As GQ's Zach Baron wrote:
He started cramping; his lips turned purple; his hands got white. "I'm naked, I only have my towel," lying on the trainer's table, he remembered. "I ask, 'Can you give me that trash can?' Throw up five times." They gave him an IV—he was so dehydrated it took them 45 minutes to find the vein. Then he went back to the hotel and got a second one. This happened again after Game 6, he said: that he needed an IV.

GQ's Zach Baron on Giannis Antetokounmpo during the NBA Finals
Mike's flu game is well-documented. It served to add to the Jordan Mythos. Now that we know the levels of exhaustion Giannis went to in order to win his title, it will serve the same purpose for The Greek Freak.
Antetokounmpo's drive is on the same level as the all-time greats
There are maybe a handful or two of other NBA superstars who would have exerted that level of energy. Jordan, Kobe, LeBron, Russell. A few others.
And now Giannis.
When the Bucks went down 2-0, this is what Antetokounmpo put himself through.
His stats through the final four games of the series: 37.3 points, 12.5 rebounds, 5.5 assists, 1.8 blocks, 1.0 steals in 40.9 minutes per game. On 61.1% shooting. He averaged 13.8 free throws as well during that stretch.
Antetokounmpo had struggled throughout the entirety of the playoffs from the line. He was 17-of-19 in Game 6.
The challenge now for the future Hall of Famer is to win another one.
If this serves as any indication, Giannis is going to put everything he has into it. Without question.
All statistics courtesy of Basketball Reference.