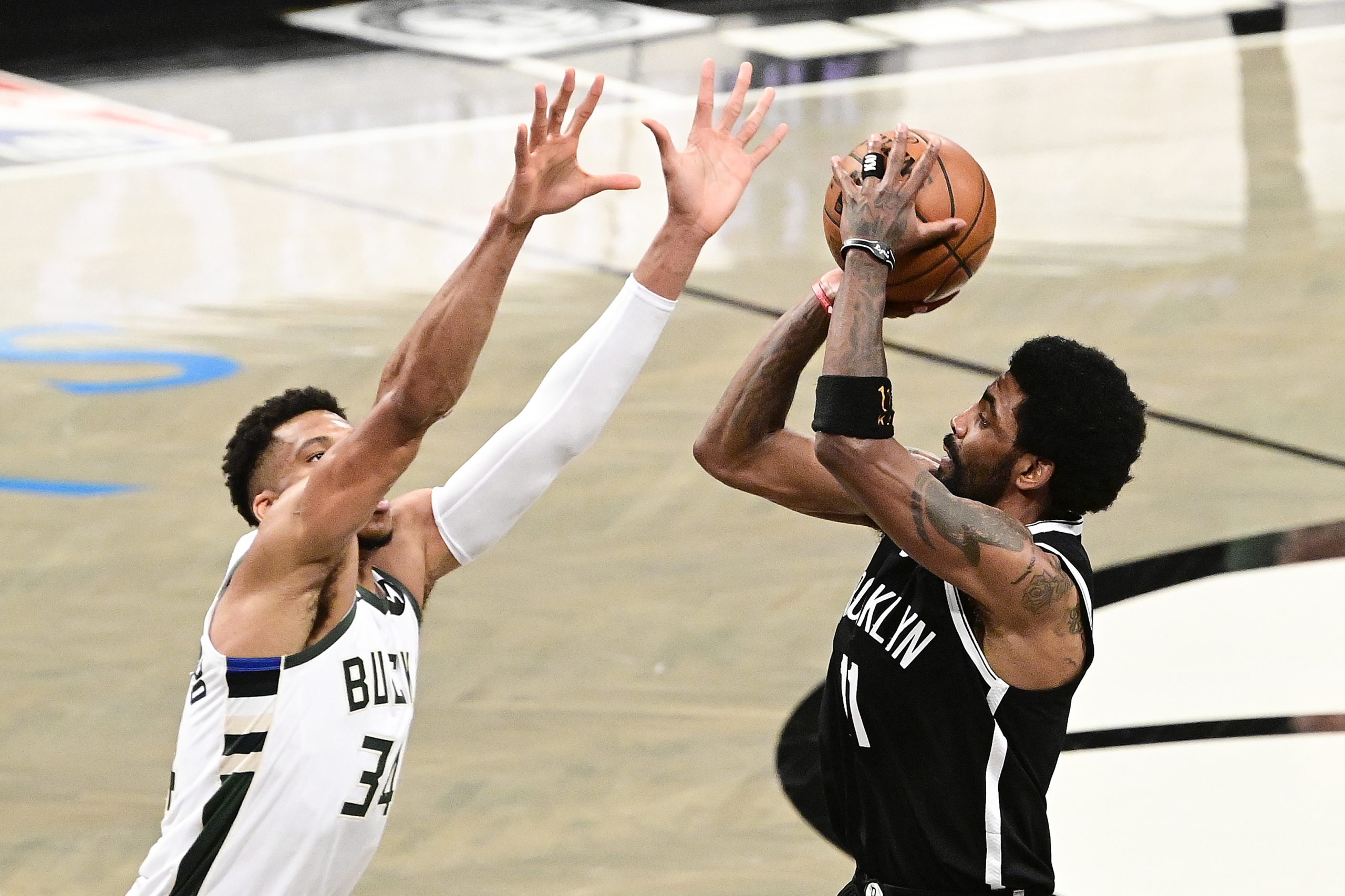 Giannis Antetokounmpo Weighs in on Kyrie Irving Situation Ahead of Season Opener
Giannis Antetokounmpo weighed in on Kyrie Irving not being allowed to play with the Brooklyn Nets.
Tuesday's NBA season opener between the Brooklyn Nets and the Milwaukee Bucks was supposed to be a star-studded affair. It still is, but the shine from those stars will be a bit dimmer. Nets guard Kyrie Irving, who was unable to play in any home games because he's unvaccinated, has now been told by the Nets that he won't participate in any game until he's vaccinated. Giannis Antetokounmpo, one of the many stars to take part Tuesday, offered his thoughts on the situation.
Giannis Antetokounmpo and the Bucks begin quest for a title repeat against the Kyrie Irving-less Nets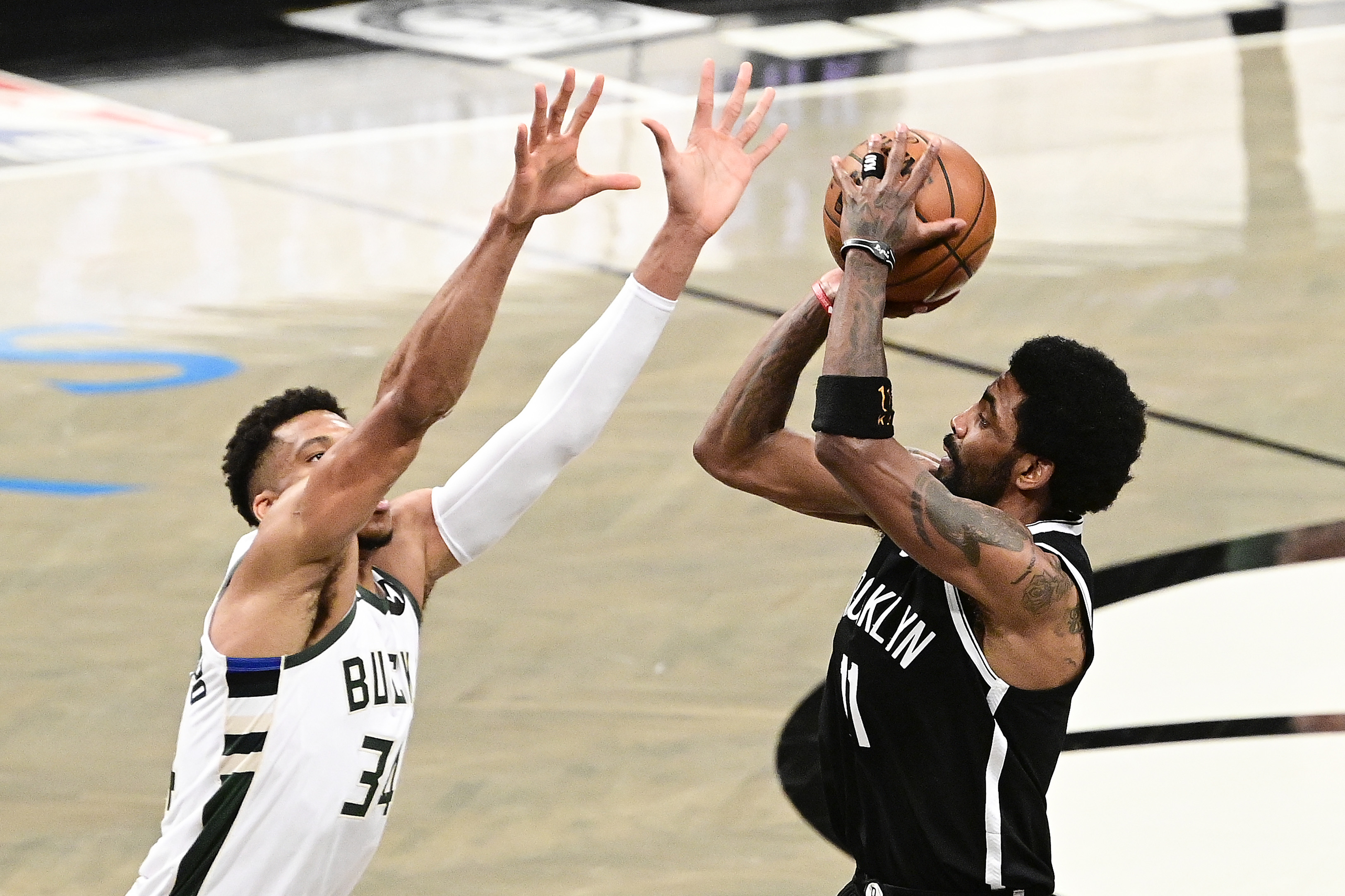 Barring some shocking turnaround, Irving won't be on the court or in Fiserv Forum when the Bucks host the Nets in the NBA season opener Tuesday. The Bucks, who claimed their first NBA championship since 1971, begin their title defense against the high-powered Nets, featuring Kevin Durant and James Harden. Milwaukee ousted the Nets in last year's Eastern Conference Semifinals.
Initially, it appeared Irving might suit up for the opener even though he failed to comply with New York City's COVID-19 mandate. The mandate states that anyone who enters an indoor arena, including Barclay's Center and Madison Square Garden (homes of the Nets and New York Knicks), needs at least one vaccination shot. Irving could have participated in road games, but the Nets put a halt to that Tuesday.
According to ESPN, the Nets released a statement early Tuesday, saying Irving wouldn't have "part-time availability." Nets GM Sean Marks said the team had no choice to make this decision.
"He has a choice to make, and he made his choice," Marks said of Irving's decision to remain unvaccinated. "Again, my job here is to make what we deem as the best decision and best choices for the organization moving ahead as a whole. They're not always ones that are going to be met with open arms and a thumbs-up. These are hard decisions. Just like I'm sure it wasn't easy for Kyrie either to have to make that (decision) to not be around his teammates."
Giannis Antetokounmpo offers his thoughts on the Kyrie Irving situation
The Bucks still face a significant challenge against the Nets and their star-studded squad. Clearly, the team isn't the same without Irving, but the Bucks understand it's a tough situation the Nets are going through.
"The Brooklyn Nets as an organization and Kyrie individually, they've got to work through something that's complicated and sensitive on both sides, on each party," Bucks head coach Mike Budenholzer said Tuesday, according to the Milwaukee Journal Sentinel. "I haven't put enough time and thought into it to say anything more than respect it's a difficult thing for them."
Antetokounmpo also weighed in on the Irving situation.
"Probably the team took the best decision for them to keep the players as locked in as possible and not take that outside noise to affect the team," he said. "They're going for a championship run. They have a great team. Do I know if it's right or wrong? I don't know. I've gotta think about it. But at the end of the day, I think everybody's entitled to their own opinion."
Antetokounmpo then smirked.
"But, Kyrie's a great player. Great friggin' player" he said, "but him not participating in Game 1, you know, I'm not going to say I'm really sad about it.
"But I wish him the best, and if he decides to play or he decides not to play the NBA is a brotherhood so we are right behind him."
The Bucks are not 100 percent vaccinated
Irving wouldn't have been the only unvaccinated participant in the season opener. According to the Journal Sentinal, Budehnolzer said his team isn't 100 percent vaccinated.
"I would say every day you're working to get there," Budenholzer said Tuesday. "I think we feel good about where we are and where our players are and the conversations."
There is no such vaccination mandate in Milwaukee or Fiserv Forum as there is in New York City, San Francisco, and Los Angeles. The Bucks can still play in those cities with a full squad since those mandates don't apply to visiting teams.
"I think generally speaking, the Bucks organization and myself are very much in favor of vaccinations and feel it's really important for our society, for our community," Budenholzer said. "The more people we have vaccinated within our organization, within our team, within our city, within our community, within our state, we feel that's really a huge positive. I think we just gotta continue to follow and work to have as many people vaccinated as possible."