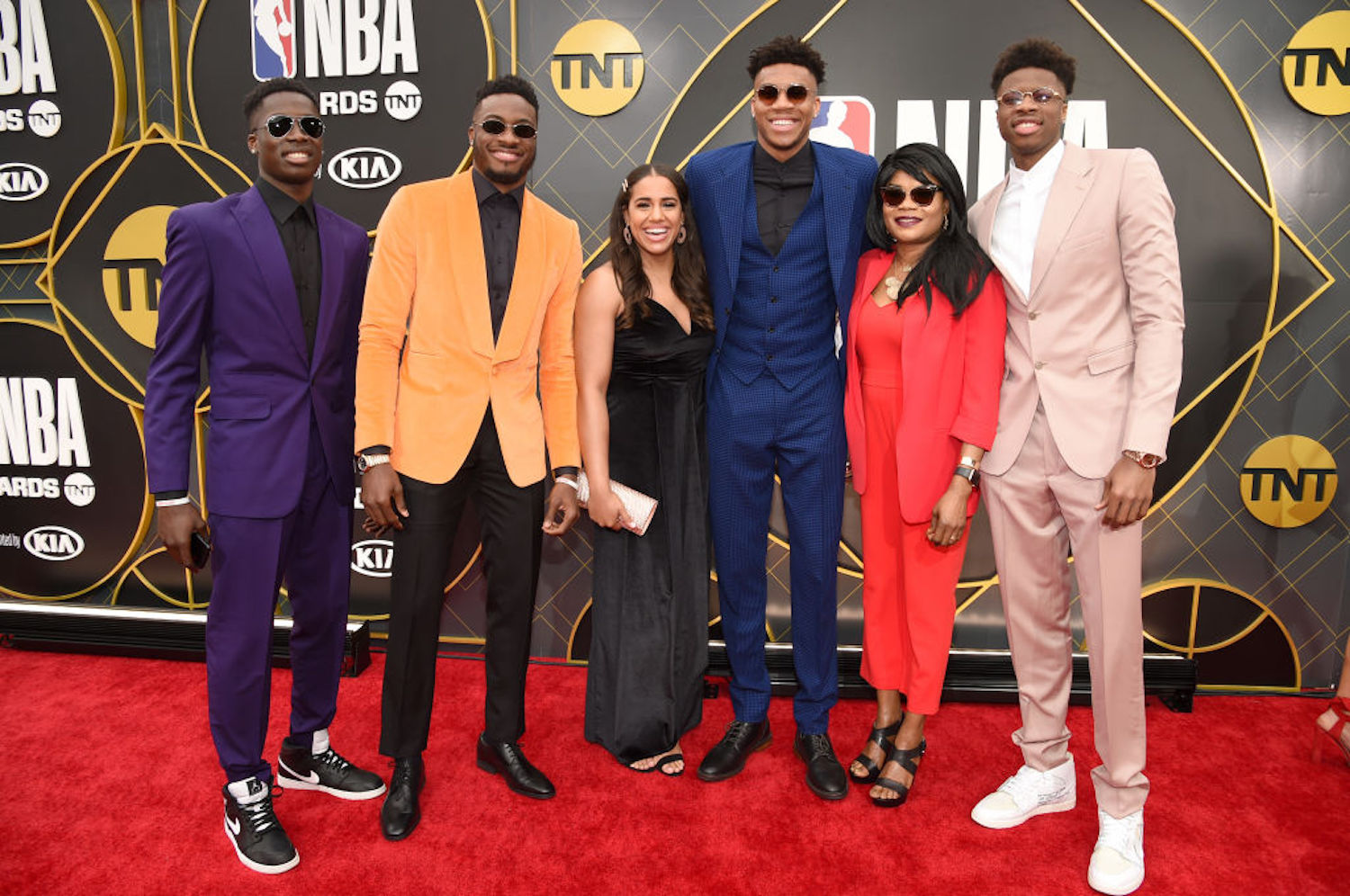 Giannis Antetokounmpo Made the Most Humble First Purchase After Signing His $228 Million Deal With the Bucks
Giannis Antetokounmpo became a very rich man last month, but his first purchase after signing his megadeal wasn't even on himself.
Giannis Antetokounmpo had a humble childhood growing up in Greece. He sold watches and DVDs on the local streets as a child to help his parents earn a little extra cash. So when Antetokounmpo earned his first life-changing paycheck in the NBA, it was only right for him to use his first purchase on his family.
Giannis Antetokounmpo was raised from humble beginnings
Nowadays, most NBA players grow up playing competitive basketball nonstop from the time they can dribble a ball to the time they leave college for the draft. Giannis Antetokounmpo's journey to the league was much different.
Antetokounmpo was born in 1994 into a family of Nigerian immigrants. He grew up in Sepolia, which is a neighborhood in the city of Athens, Greece. Because their parents didn't have steady jobs in Sepolia, Giannis and his brother, Thanasis, spent their days selling watches, DVDs, and other trinkets on the streets to help their family make ends meet.
Antetokounmpo didn't start playing basketball until he was 13 years old, but it didn't take him long to realize he had a special talent.
Antetokounmpo's journey to the NBA just paid off big time
When the Bucks drafted Antetokounmpo in 2013, Milwaukee was enthralled with his potential, but not many in the organization or around the NBA knew what he was about to become. After three mediocre seasons to start his pro career, Antetokounmpo officially put his name on the map in 2016.
Antetokounmpo earned his first All-Star nod by posting 22.9 points, 8.8 rebounds, 5.4 assists, and 1.9 blocks per game in his fourth pro season. And he's only improved from there. Antetokounmpo has increased his scoring output in each of the last three seasons since his first All-Star appearance. He's established himself as arguably the most dominant force in the NBA by winning the last two MVP awards.
In December, Antetokounmpo's long journey to the NBA paid off big time. With just a few days remaining before the deadline, Antetokounmpo signed a record-setting, $228 million supermax contract with the Bucks. The deal is the largest in NBA history.
Whereas many players would celebrate in style with an expensive shopping spree, Antetokounmpo kept his first purchase after signing his deal quite simple.
Antetokounmpo revealed his first purchase after signing megadeal
Since Antetokounmpo joined the NBA, he's started a small family of his own. The Bucks superstar welcomed his first child with long-time girlfriend Mariah Riddlesprigger last February, a son named Liam. After Antetokounmpo signed his historic contract in December, it was only right for him to use his first purchase on his son.
"Bought a lot of toys for Liam. Bought a lot of clothes for Liam," Antetokounmpo said when asked how he celebrated signing his $228 million contract in December.
Antetokounmpo is a prime example of an athlete staying true to his roots and not letting money and fame change him. Bravo, Giannis. Bravo.