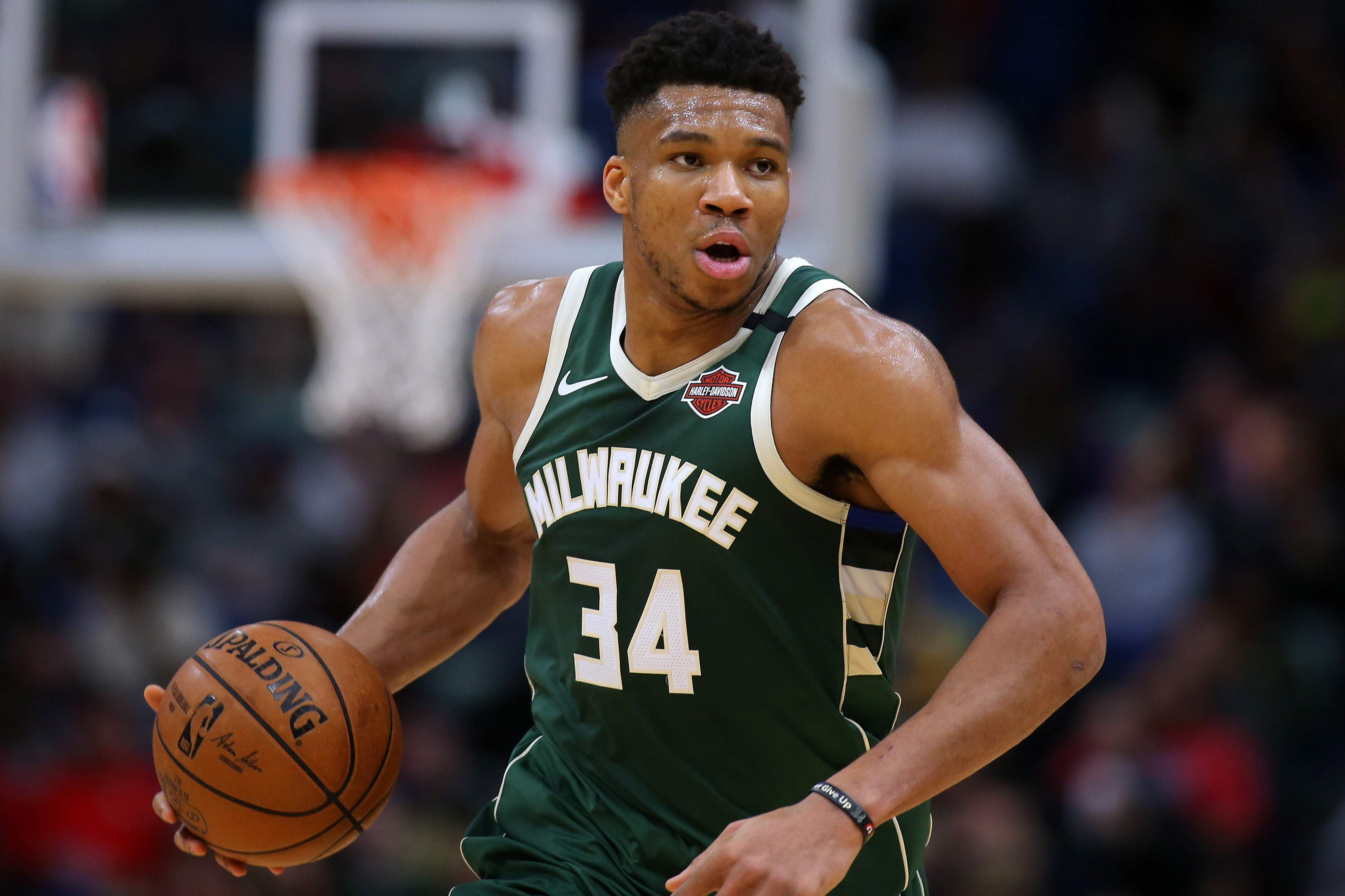 Giannis Antetokounmpo's Secret Smoothie Recipe Includes an Unexpected Ingredient: 'It Helps You Recover Faster'
Milwaukee Bucks star Giannis Antetokounmpo adds an unexpected secret ingredient to his smoothies to help aid his rest and recovery.
If you've ever watched Giannis Antetokounmpo play, you know that he's no ordinary man. The Greek Freak really does live up to his nickname; with his unique blend of size and skill, the Milwaukee Bucks star can seemingly do anything he wants on the basketball court. Away from the hardwood, though, he does enjoy a pretty accessible indulgence: smoothies.
While he only tasted his first smoothie in 2014, Giannis Antetokounmpo fell in love at first sip. His secret smoothie recipe, however, includes some ingredients that you probably wouldn't add to your own beverage.
Giannis Antetokounmpo loves his smoothies
Growing up in Greece, Giannis Antetokounmpo and his brothers couldn't always find a wealth of food in the family refrigerator. Since moving to North America, though, things have been a bit different.
Giannis, of course, joined the Milwaukee Bucks as the 15th-overall pick of the 2013 NBA draft. Less than a year later, he got his first taste of American life in the form of a smoothie. It was an immediate hit.
"I just taste for the first time a smothie, [sic]" Antetokounmpo wrote in a now-famous tweet from January 2014. "MAN GOD BLESS AMERICA"
The forward also elaborated on his initial smoothie experience during a video interview with VICE Sports.
"The first time I ever really tasted it, I thought like a smoothie gonna be like ice cream type. You know, like a milkshake," the Greek Freak explained in the 2014 video. "But when I first tasted it, it was like fruits, and I really liked it."
His secret recipe includes celery juice for recovery
One of the joys of smoothies is that you can add virtually any ingredient you want in order to create a personalized beverage. While Giannis Antetokounmpo has certainly done that, his secret recipe contains an unusual addition.
In a 2019 UNINTERRUPTED video, Giannis shared the formula for his preferred smoothie. If you ever want to drink like the Greek Freak, he told you exactly what to drop in the blender.
"The secret in a great smoothie, to make a great smoothie, is definitely to put some ice," Antetkounmpo explained. "Berries, strawberries, all kind of berries. Raspberries, all of that. You cannot forget banana because you need sugar to make the smoothie. Sweetener…I put some granola bars in there because, you know, it makes the smoothie very healthy."
While that all sounds pretty normal, you can't leave out Giannis' secret ingredient.
"And, the most important thing that I put in my smoothie," he continued, "is celery juice. A little bit of celery juice because it helps you recover faster, and it helps you sleep better."
Celery juice or not, that smoothie seems to be working for Giannis Antetokounmpo
In the world of modern pro sports, professional athletes will do whatever it takes to gain an edge; LeBron James, for example, goes to extreme lengths to take care of his body. While there's no way to know if his celery juice smoothies have made a difference, Giannis Antetokounmpo does seem to be doing something right.
During his time in Milwaukee, Antetokounmpo has developed into a legitimate star. While his jump shot may still leave something to be desired, the Greek Freak can do just about everything else on the court with ease. He's also been remarkably durable during his time in the NBA, playing 528 games through his first seven seasons in the association.
As the old cliche says, half of success is showing up. If Giannis Antetokounmpo's celery juice-infused smoothies have been helping him rest and recover in order to keep hitting the court, then they're well worth his efforts.
Stats courtesy of Basketball-Reference