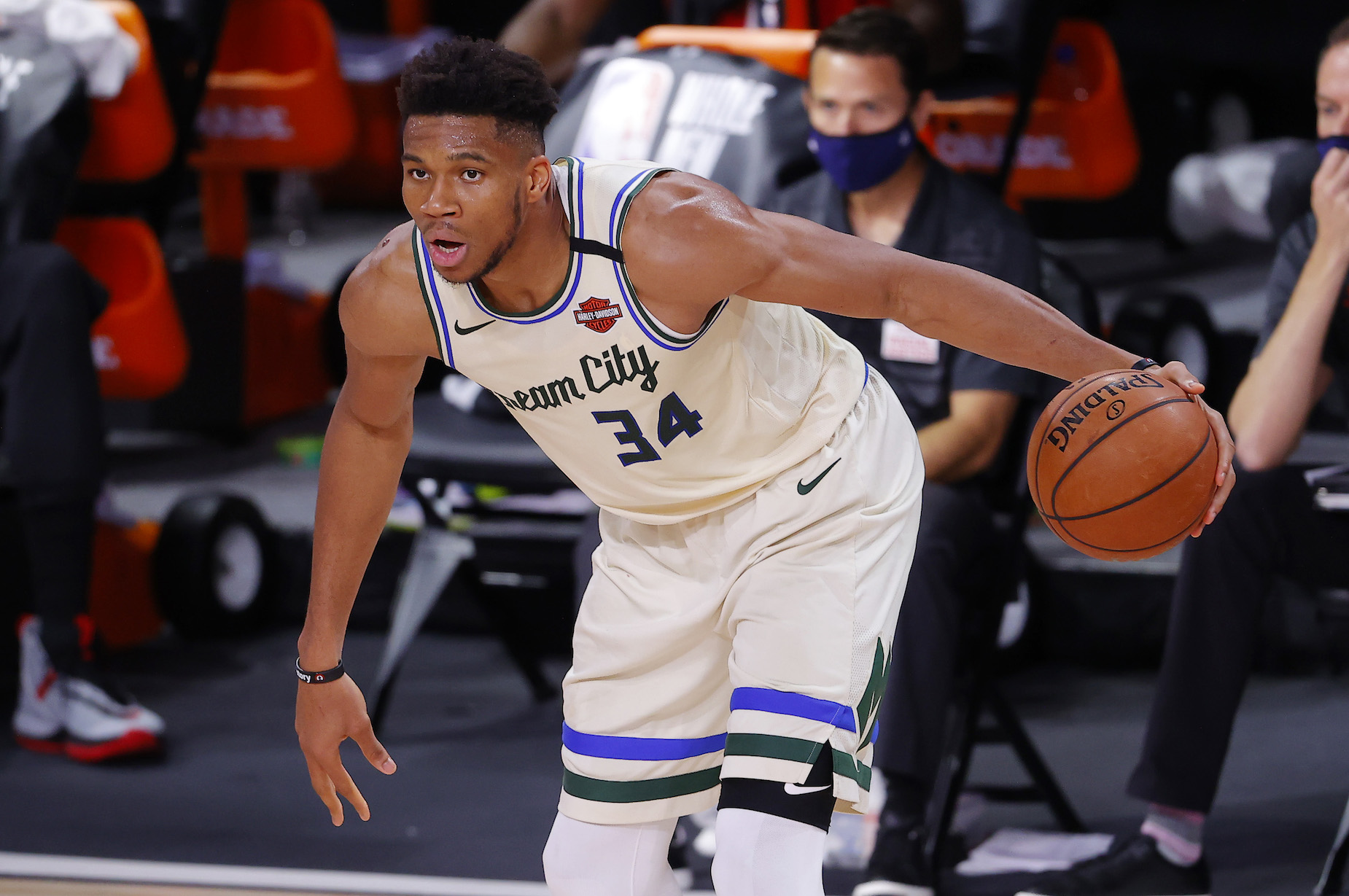 Giannis Antetokounmpo Is Worth $60 Million, but He Went to Extreme Lengths to Save Money as an NBA Rookie
While Giannis Antetokounmpo is worth $60 million today, the Bucks forward went to some extreme lengths to save money as a rookie.
In the world of pro sports, big stars make big money. During his time with the Milwaukee Bucks, Giannis Antetokounmpo has definitely grown into a star. The forward is known as the Greek Freak for a reason; when he hits the hardwood, it seems like there's nothing that he can't do.
Thanks to his incredible rise to prominence, Giannis is in a strong financial position; he's already worth $60 million, and there's a massive contract extension on the horizon. Despite that current reality, though, Antetokounmpo went to some extreme lengths to save money as an NBA rookie.
Giannis Antetokounmpo rose from humble circumstances to become a star
These days, Giannis Antetokounmpo is rich, famous, and one of the best players in basketball. His childhood, however, was quite a bit different.
As his famous nicknames would lead you to believe, Giannis grew up in Greece. As the son of Nigerian immigrants, though, life wasn't always easy. The family wasn't flush with cash, leaving the Antetokounmpo brothers to sell watches and sunglasses on the street to help make ends meet.
Beyond that work, though, the boys also shared a love of basketball. Giannis' talent, however, stood out; he joined the join the Filathlitikos organization's youth system and eventually broke into the senior squad.
In 2013, though, Antetokounmpo decided he was ready for the next level and entered into the NBA draft. The Milwaukee Bucks selected him with the 15th overall pick, in what proved to be a steal. Since then, Giannis has physically filled out and taken his game to the next level; now, he's one of basketball's brightest talents.
Saving money as an NBA rookie
Once he signed his rookie contract, Giannis Antetokounmpo's money woes were officially a thing of the past. Given his experiences growing up, though, the Greek Freak wasn't about to start throwing his cash around.
As Amos Barshad explained in a 2014 Grantland feature, the Bucks forward went to some extreme lengths to save money during his rookie season. "Brandon Knight remembers Giannis carrying free food home from the players' lounge," Brashad wrote. "You'd see him with like six or seven boxes, trying to save money—cakes, drinks, all types of stuff."
Caron Butler shared a similar story, albeit about shoes. Apparently, the NBA veteran threw away an old pair of sneakers; after sharing shoes with his brothers in Greece, though, Giannis wasn't going to let them go to waste. "He pulled the shoes out the garbage like, 'What are you doing," Butler recounted. "These good shoes!"
At one point, Antetokounmpo even inquired about the possibility of avoiding the American tax system. "Zaza Pachulia recalls the first time Giannis got his check," Brashad continued. "He saw half of the money was going to taxes. He ask me, is there any way he doesn't pay taxes?"
Giannis Antetokounmpo won't have to worry about money ever again
A great deal has changed since Giannis Antetokounmpo's rookie year, though. Not only has the Greek Freak has developed into a legitimate star, but, thanks to that improvement, he's built up a sizable fortune.
During his time in the NBA, Giannis has earned more than $81 million in salary; that number will rise to over $108 million after next season. According to CelebrityNetWorth, that earning power has helped the forward build up a $60 million fortune. That number, though, will continue to rise.
Whether he re-signs with the Bucks or chooses to hit free agency, Antetokounmpo will surely ink a massive contract extension in the near future. As his star continues to rise, he'll also receive more off-court opportunities; if Giannis already has his own signature Nike Sneaker and Disney is making a movie about his life, just imagine where he'll be five years from now.
Given Giannis Antetokounmpo's childhood, it's understandable that he'd try to save money where he could. Based on his career trajectory, though, the Greek Freak probably won't have to worry about finances ever again.
Contract information courtesy of Spotrac