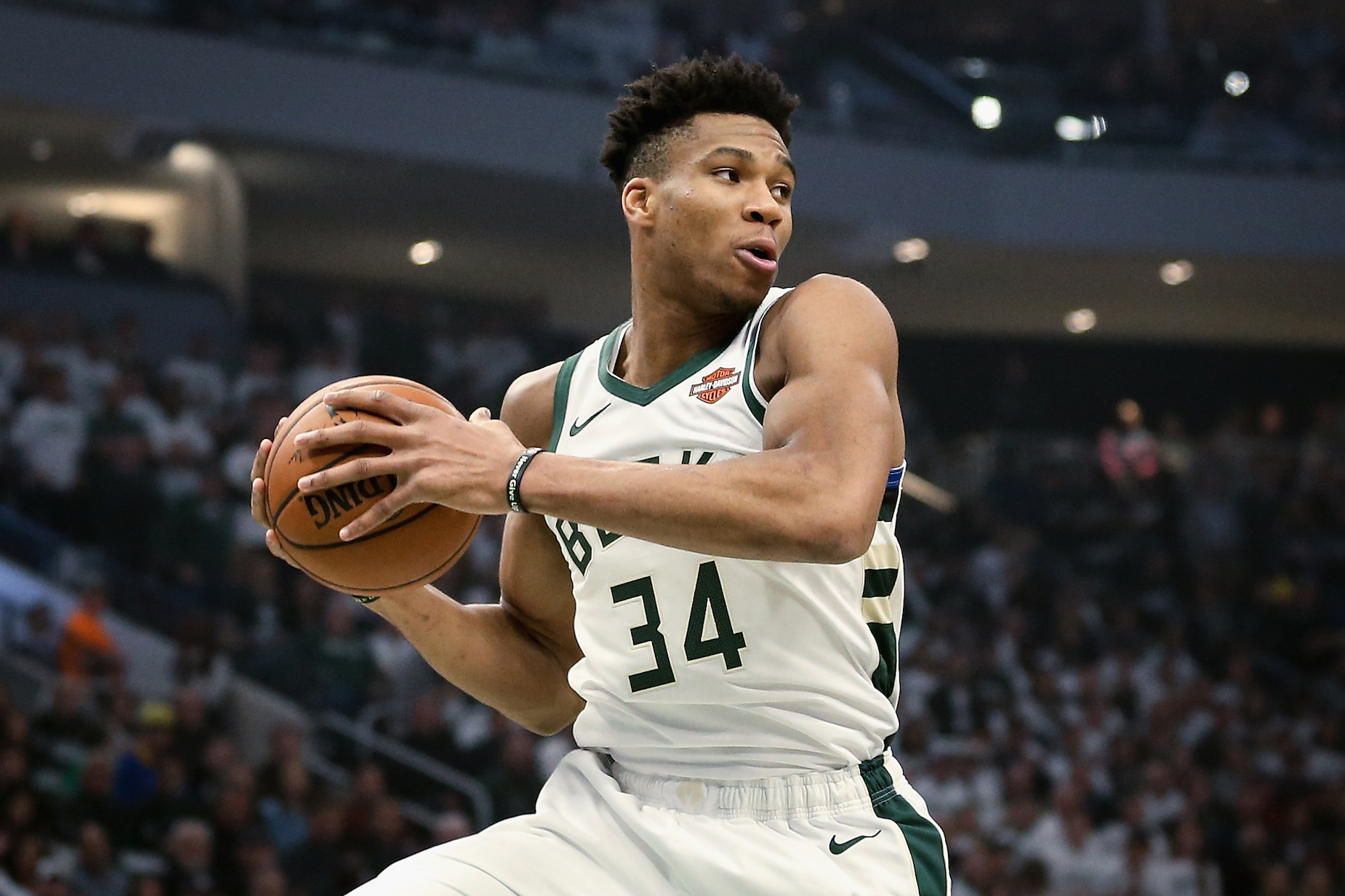 Giannis Antetokounmpo's Massive Hands Are a Key Part of His Freakish Physique
While Giannis Antetokounmpo has plenty of talent, the size of his massive hands help make the Bucks forward the Greek Freak.
Even if you can't pronounce Giannis Antetokounmpo's name, you probably know all about the Greek Freak. During his time with the Milwaukee Bucks, the forward has transformed from a lanky teenager into a legitimate star. These days, he seems to have all the talent and physical tools necessary to do virtually anything on the basketball court.
Speaking of physical tools, Giannis' hands are massive, even by NBA standards. That reality, combined with the rest of his freakish physique, has helped make him one of the NBA's top talents.
Giannis Antetokounmpo's rise to NBA stardom
These days, Giannis Antetokounmpo is one of the NBA's brightest young stars; in a way, it's scary that 25-years old. That current fame, however, belies the Greek Freak's humble beginnings.
While Giannis grew up in Greece, his parents immigrated to the Mediterranean country from Nigeria; in their new homeland, though, things weren't always easy. The family didn't always have enough money for food, leaving the Antetokounmpo brothers to sell watches and sunglasses on the street to help make ends meet.
The boys still found time to play basketball and, as we now know, were pretty good at it. Giannis showed enough talent to join the Filathlitikos organization; before long, he had graduated from the youth team to the senior squad.
In 2013, Antetokounmpo decided he was ready to make the jump to North America and entered into the NBA draft. The Milwaukee Bucks selected him with the 15th overall pick, and, from there, the rest is history.
The Greek Freak has some seriously large hands
If you've ever watched a basketball game, you know that NBA players are seriously massive men. Giannis Antetokounmpo, however, still takes things to the next level.
NBA.com officially lists Antetokounmpo as 6 feet, 11 inches, and 242 pounds; while those measurements aren't small by any means, they not eye-popping in the world of basketball. When you look at some less obvious measurements, though, the Greek Freak lives up to his name.
While most wingspans are pretty close to a person's height, Giannis takes things to another level; his arms measure 7 feet, 3 inches from tip to tip. His hands themselves are some of the biggest in modern basketball, clocking in at  9.85 inches long and 12 inches wide.
That wingspan and hand size have helped make Giannis Antetokounmpo a star
It goes without saying that Giannis Antetokounmpo is an incredibly talented basketball player. Without overlooking his on-court ability, though, his physical dimensions have also helped make the Greek Freak a star.
The benefits of Giannis' height and weight are apparent; they allow him to venture into the paint without being massively outsized or overpowered. His wingspan and length, however, may be even more important given the landscape of modern basketball.
Guys like Antetokounmpo and Kawhi Leonard are so deadly because they can play "positionless" basketball; rather than being confined to one particular role, they're able to do almost anything as needed. When a single player can run the offense like a point guard, pull up shots from the outside, and post-up in the paint, it's a matchup nightmare.
Both Giannis and Leonard are aided by similar physical dimensions. Their big hands help them control the ball and dish out passes with ease; their length allows them to defend on the perimeter and block shots in the paint. While there's still room for small guards or towering big men to succeed, versatility is key in today's NBA.
When you call Giannis Antetokounmpo the Greek Freak, it's easy to focus on his talent and on-court abilities. His physical measurements, however, are freakishly impressive, too.