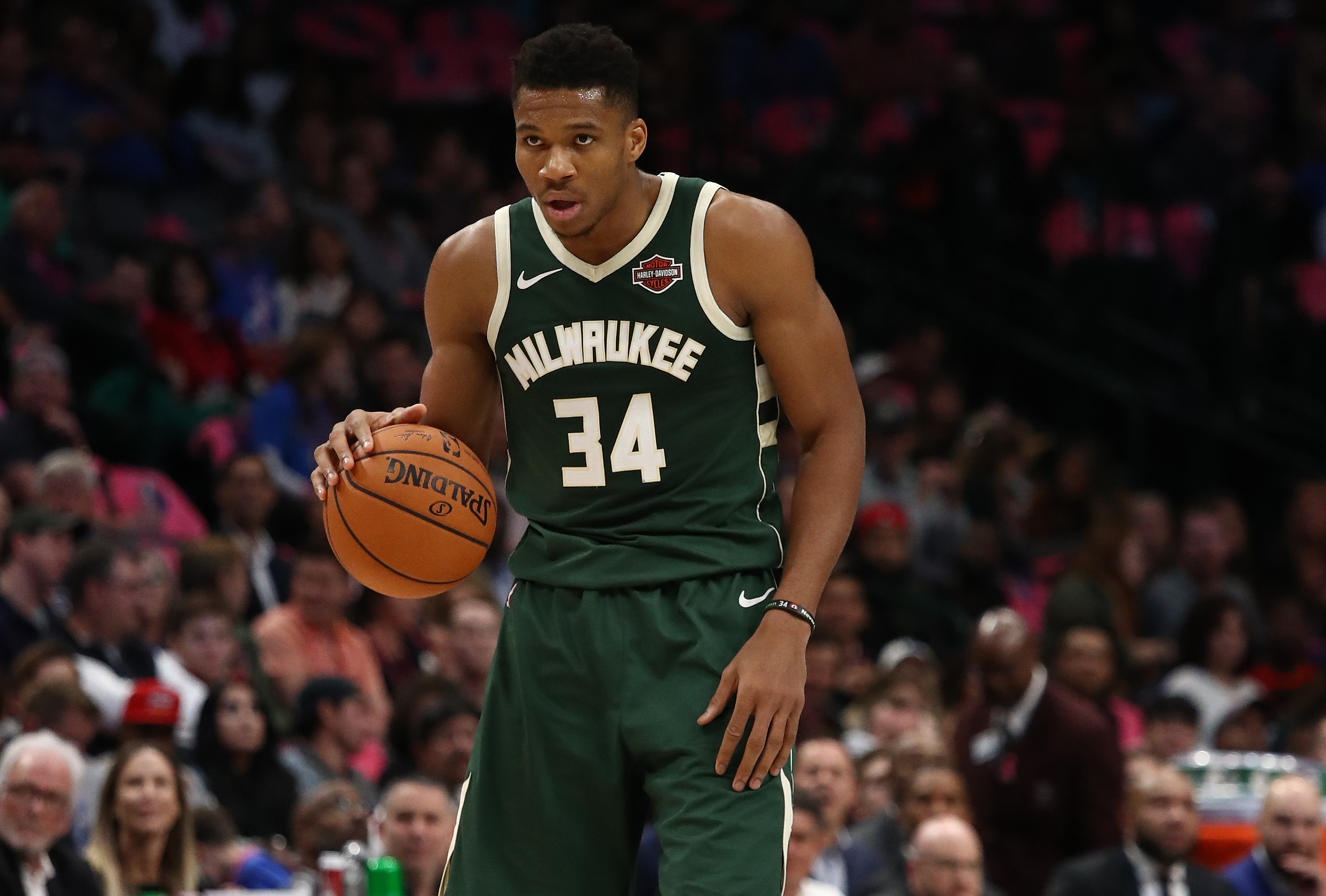 Giannis Antetokounmpo Almost Missed a Bucks Game During His Rookie Year Because of His Extreme Generosity
While Giannis Antetokounmpo has plenty of money in the bank, he almost missed a Bucks game because he gave away all of his cash.
While Giannis Antetokounmpo has grown into a legitimate NBA star, he didn't arrive in North America as the finished article. When the Greek Freak first joined the Bucks, things were much different. Beyond his statistical output, the forward simply needed to adjust to life in a new country.
During his rookie year, for example, Giannis found himself in an awkward situation. After running out of spending money, the young forward almost missed that evening's Bucks game.
Giannis Antetokounmpo's road to the NBA
These days, Giannis Antetokounmpo is a household name among NBA fans. Growing up in Greece, however, his life was much different.
As the son of Nigerian immigrants, Giannis didn't have the easiest childhood. The family didn't always have enough money for food, and, in order to pitch in, the Antetokounmpo brothers sold watches, sunglasses, and other items on the street.
Thanasis loved basketball, though, and exposed his brothers to the game. Before long, Giannis' talent was apparent. He joined Filathlitikos youth squad and, after a few seasons, made his full senior debut.
After one professional season in Greece, Antetokounmpo decided he was ready for his next challenge and entered into the 2013 NBA draft. While the forward's scouting report was mixed—it noted that he had plenty of potential, but also a few key flaws in his game—the Milwaukee Bucks decided to select him 15th overall.
Generosity almost came back to bite Giannis
For all his talent, though, Giannis Antetokounmpo rookie season was a bit of a struggle. While the lanky teenager needed some time to adjust to the NBA, he also needed to get used to life in North America.
According to Chris Mannix of Sports Illustrated, the Giannis found himself in an awkward situation during his rookie year. The forward apparently took a cab to the local Western Union in order to send some money home to Greece. Without realizing, though, he sent all of his cash across the Atlantic; that meant he couldn't afford a return trip via taxi.
The Bucks had a game that night, though, so Antetokounmpo couldn't take a leisurely stroll across Milwaukee. Instead, he started sprinting toward the Bradley Center. Fortunately for the Bucks, he only had to run about a mile; at that point, someone pulled over and offered the Greek Freak a ride to work.
These days, things would be much different for Giannis Antetokounmpo
A great deal, however, has changed since 2014. Not only is it impossible to imagine Giannis Antetokounmpo running for a mile before being recognized, but the star forward has a much larger bank account.
Speaking solely in terms of on-court production, the Greek Freak is a different player than he was as a rookie. Thanks to some physical maturation and an improved shooting touch, Giannis is living up to his nickname; he's seemingly able to do anything he wants on the court and has the stat line and MVP award to prove it.
As his performances improved, so did Giannis' status and paycheck. These days, the forward is one of the biggest names in the NBA; he probably couldn't walk a block, let alone a mile, without being recognized. According to Spotrac's numbers, Antetokounmpo's salary has also grown exponentially. After earning just under $1.8 million as a rookie, the forward made more than $25 million this year, bringing his career total to $81 million.
Based on that reality, Giannis will never have to worry about affording a cab ever again. And, even if he runs out of pocket money, there's probably no shortage of NBA fans who would jump at the chance to give the Greek Freak a ride.