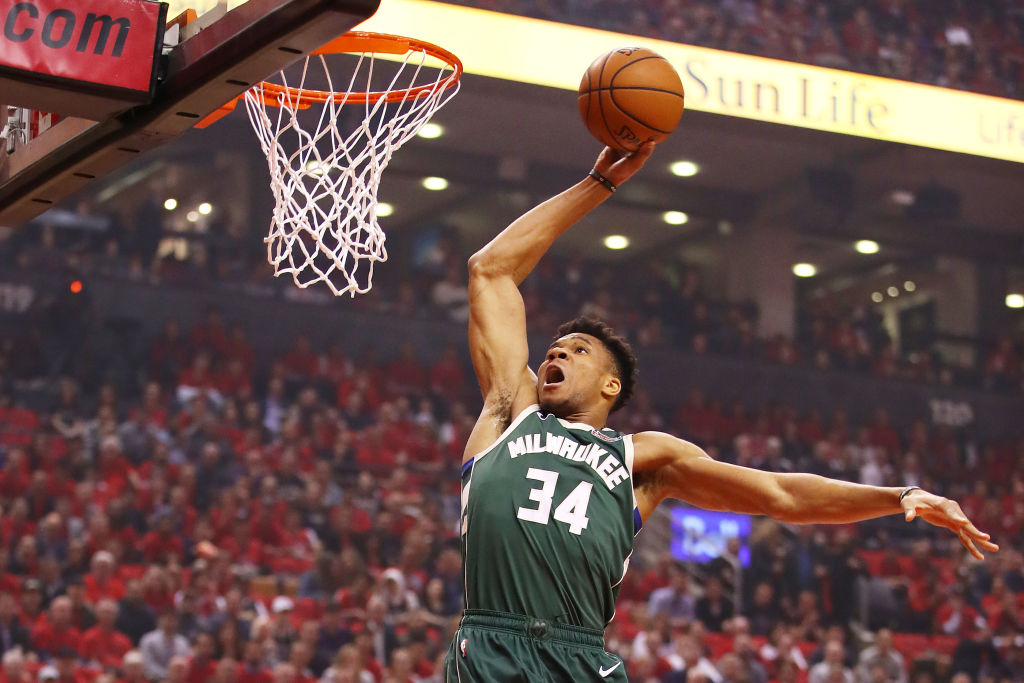 The Meaning Behind Giannis Antetokounmpo's Last Name Predicted His NBA Stardom
Giannis Antetokounmpo's last name is almost impossible to spell or pronounce, but the true meaning of the name reveals Giannis was destined for greatness.
Despite having a last name that many NBA fans can't spell, let alone say, Giannis Antetokounmpo has become one of the most popular players in the NBA. Giannis, along with his brothers Kostas and Thanasis had a different path to the NBA than many players, and their surname could be viewed by many as a sign that this was pre-ordained.
Upon looking upon their last name's meaning, however, there might not be a more fitting name for the reigning MVP and his brothers to bear. 
The Giannis Antetokounmpo's upbringing
Much has been made about Giannis and his brothers' rise to the NBA, and while Giannis gets most of the accolades thanks to his place as a superstar, all of them had to overcome major hurdles to get where they are today. The sons of Nigerian immigrants to Greece, the brothers lived their lives in poverty and felt like second-class citizens for much of their upbringing. 
Charles, the brothers' father, told the boys that they would have to work hard if they wanted to get out of the slums and make something of themselves. Both he and their mother, Veronica, helped raise the boys to understand that nothing was going to come easy. Now, Giannis' Greek heritage might be viewed as part of his brand, but on his come-up, he was on the outside looking into his own country. 
From strict napping schedules to a commitment to physical wellness, the brothers did what they needed to do, however. Giannis is now the reigning MVP who appears well on his way to securing his second-straight award.
Thanasis has a front-row seat to his younger brothers' success as a teammate on the Milwaukee Bucks. Kostas finally got his chance this year with the Los Angeles Lakers, where he was a mainstay in the G League before the leagues suspended. 
To go from poverty in Greece to international stardom, these brothers had to overcome a lot. A look at the origins of their surname, however, shows that maybe some of this was, quite literally, in a name. 
What does Antetokounmpo mean? 
Antetokounmpo might be a mouthful for those who do not know the name. Before Giannis achieved the recognition he got in the NBA, it was not uncommon to see broadcasters stumbling over the proper way to say his name, and even as the reigning MVP of the NBA, many continue those struggles to this day. 
The current spelling of Giannis and his brothers' surname, however, is a recent respelling of the one they grew up with. Up until the months leading into his drafting into the NBA, Giannis kept his parents' original spelling of Adetokunbo when he got his Greek passport as a way to phonetically say the name he had always had. 
Adetokunbo is a Nigerian surname which, according to the Yoruba people of West Africa, means "the crown has returned from overseas." It is often a name that is given to children who are born abroad. This royal origin helps tell the story of the Antetokounmpo brothers in a way that is almost as complete as any life story will. 
Giannis, in particular, has shown that these royal roots to his name are fitting thanks to all of his success, but Kostas and Thanasis are a testament, as well. All of them came from one country, like their parents, only to find success somewhere else. That is why the name is so special.
Other notable Adetokunbos
The name might not ring familiar to American ears, but several other notable people have borne Adetokunbo as either a first name or a last name. Adetokunbo Kayode was a Federal Minister of Tourism and culture in Nigeria on top of several other positions, many of them during the early part of this century. Adetokunbo Oluwole Lucas is a notable name in global health communities, too. 
A name can say a lot about where somebody comes from, and Giannis, Thanasis, and Kostas Antetokounmpo are no exception. Their last name feels like something of a self-fulfilling prophecy when putting into context, and as all of them forge their paths, their name helps put their roots back into the country where their parents met and once called home.