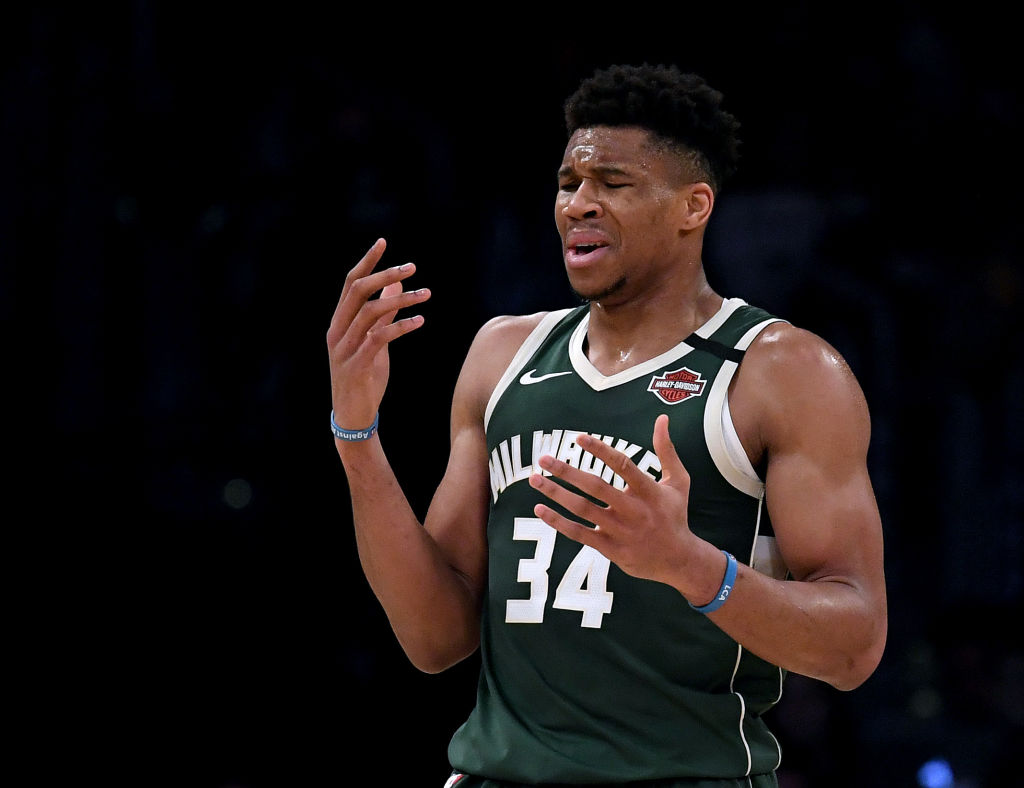 Giannis Antetokounmpo Was Pretty Scared When He Went Down With a Knee Injury
Basketball fans everywhere were concerned when Giannis Antetokounmpo went down with a knee injury. The forward was afraid, too.
While the NBA might be suspended until further notice, we'll be waiting until we can see our favorite stars back on the court. Among those stars, few players shine brighter than Giannis Antetokounmpo; in a matter of years, the Greek Freak has turned into a physical force capable of doing virtually everything on the basketball court.
With that reality in mind, it's understandable that NBA fans everywhere held their collective breath when Antetokounmpo went down with a knee injury. While we now know it wasn't anything serious, Giannis was still pretty scared at the time.
Giannis Antetokounmpo's dominant 2019-20 NBA season
In 2013, the Milwaukee Bucks snagged Giannis Antetokounmpo with the 15th overall pick in the NBA draft. While some scouts doubted the forward's shooting touch, the team couldn't ignore his potential; that move has paid incredible dividends.
Antetokounmpo arrived in North America as a lanky teenager, and his stat line reflected that reality. He only averaging 6.8 points and 4.8. rebounds per game as a rookie. With each passing season, however, he grew, both as a person and a professional; before long, he had transformed into a 'Greek Freak' capable of doing virtually anything on the floor. Now that he's added some outside shooting to his game, Giannis is pretty close to unguardable.
Last season, Antetokounmpo claimed the NBA MVP crown on the back of a 27.7 point, 12.5 rebound, 5.9 assist nightly average; this year, he was posting even better numbers. Then injury—which was followed by the suspension of league play—intervened.
Even Giannis Antetokounmpo was afraid when he went down
During a game against the Los Angeles Lakers on March 6, Giannis Antetokounmpo took an awkward fall and seemed to injure his left knee. While the Milwaukee Bucks organization was understandably concerned, basketball fans everywhere held their breath.
While the forward didn't seem too concerned after the game, his feelings were a bit different in the heat of the moment.
"Yeah. I s–t my pants," Antetokounmpo later explained. "When I was on the floor, I was thinking about, 'This is my knee."
From then on, the emotions came in waves. "I was nervous probably when I fell on the floor," Giannis continued. "When I was able to walk it off and play a few minutes, that felt better. But the next day, I was extremely sore, so I was nervous. And then, later the next day, later in the day, I was probably nervous the whole day until the MRI."
Since then, basketball has taken a backseat to bigger concerns
After his MRI only revealed a minor joint capsule sprain, it seemed like Giannis Antetokounmpo was going to return to action on Thursday, March 12. Those games, of course, never tipped off.
On Wednesday evening, the NBA suspended all on-court activity until further notice; Rudy Gobert tested positive for COVID-19 and that reality, combined with the general spread of the coronavirus, prompted the league to put public safety first.
While there are obviously bigger fish to fry in the meantime, we'll all something to look forward to when NBA action returns: a healthy Giannis Antetokounmpo who isn't dealing with any longterm knee issues.