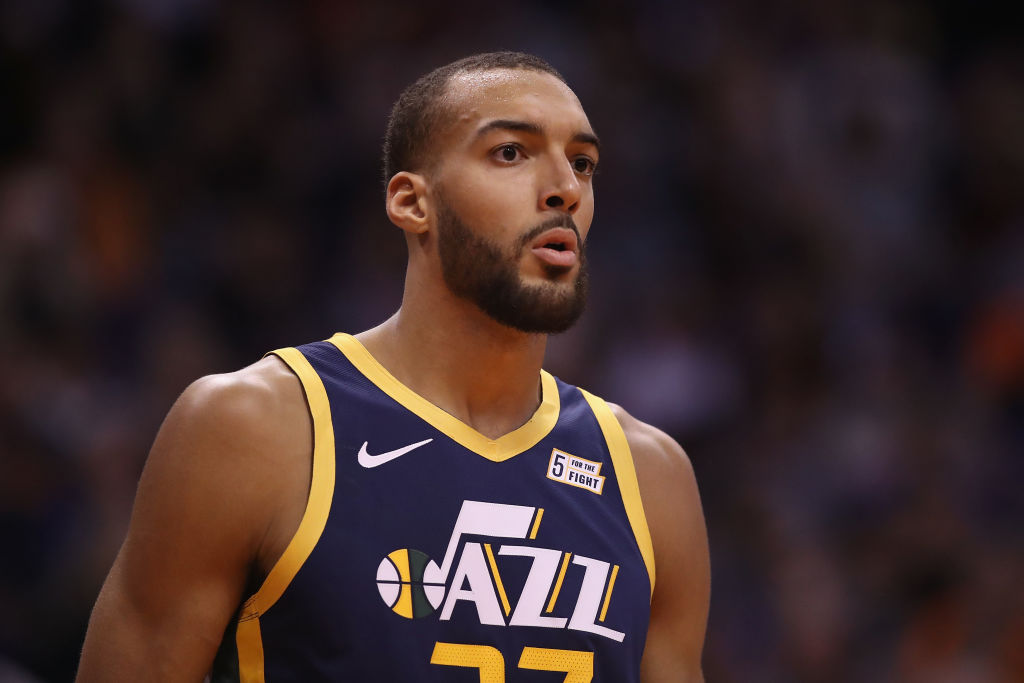 Rudy Gobert's Positive Coronavirus Test Forces Teams to Self-Quarantine
Utah Jazz center Rudy Gobert's positive coronavirus test forces players from other NBA teams to self-quarantine.
With the NBA suspending the rest of the season after Utah Jazz center Rudy Gobert tested positive for coronavirus Wednesday night, the league is also taking other measures. Prior to Gobert's diagnosis, the league had warned that NBA games could be played without fans if deemed necessary. With Gobert's positive test, the league went ahead and suspended the remaining games this year and also told players who had recently come into contact with Gobert to self-quarantine.
Players on five teams have been told to self-quarantine
The league has asked players on teams that have played the Utah Jazz over the last 10 days to self-quarantine. The Boston Celtics, Cleveland Cavaliers, New York Knicks, Detroit Pistons and Toronto Raptors have all faced the Jazz in the last week and a half and have been told to take the extra precaution.
The Boston Celtics were in Milwaukee on Wednesday for a matchup with the NBA-leading Bucks and were originally set to self-quarantine in Wisconsin. However, according to a tweet by Boston Globe Celtics reporter Adam Himmelsbach, the team was scheduled to fly back to Boston.
Boston Celtics guard Jaylen Brown has been a regular on Twitter lately, posting his thoughts on coronavirus. He, like the NBA, has urged people to take extra precautions, including staying home.
"It may not be about you but there are people who are at-risk, elderly and people fighting off other infections, etc. Please stay home if you can," he tweeted.
The NBA's quick decision to suspend the season came as a shocker
There was always the possibility of the NBA playing games in empty arenas or postponing/canceling games because of the recent spread of coronavirus, but Wednesday's quick decision came as a surprise.
The decision came right before tipoff of the Utah Jazz at Oklahoma City game when it was reported a player on the Jazz had been tested positive for the virus. That player was Rudy Gobert, who wasn't at the game.
The decision stunned many, including Dallas Mavericks owner Mark Cuban, who was seated courtside in Dallas as his Mavericks took on the Denver Nuggets on Wednesday.
Cuban said he understood the importance of the decision as safety comes before basketball.
"It's stunning, but we are where we are," Cuban said. "We have to be smart in how we respond. This is people's lives at stakes. This isn't about basketball, this isn't about the Mavericks. This isn't about when do we start, do we start? Or how do we start? This is a pandemic, a global pandemic where people's lives are at stake. I'm a lot more worried about my kids and my mom who is 82 years old — in talking to her and telling her to stay in the house — than when we play in our next game."
Was Rudy Gobert mocking the severity of coronavirus?
After the Utah Jazz team shootaround Monday, Rudy Gobert appeared to mock the overreaction to coronavirus as he went out of his way to touch every microphone and recorder in front of him after his meeting with reporters during a press conference.
Two days later, Gobert tested positive for the virus and the NBA immediately suspended.
Gobert was not at Wednesday's game against the Oklahoma City Thunder. He fell ill Tuesday and was ruled out for Wednesday's game, which eventually was postponed. He was later tested positive for the virus.