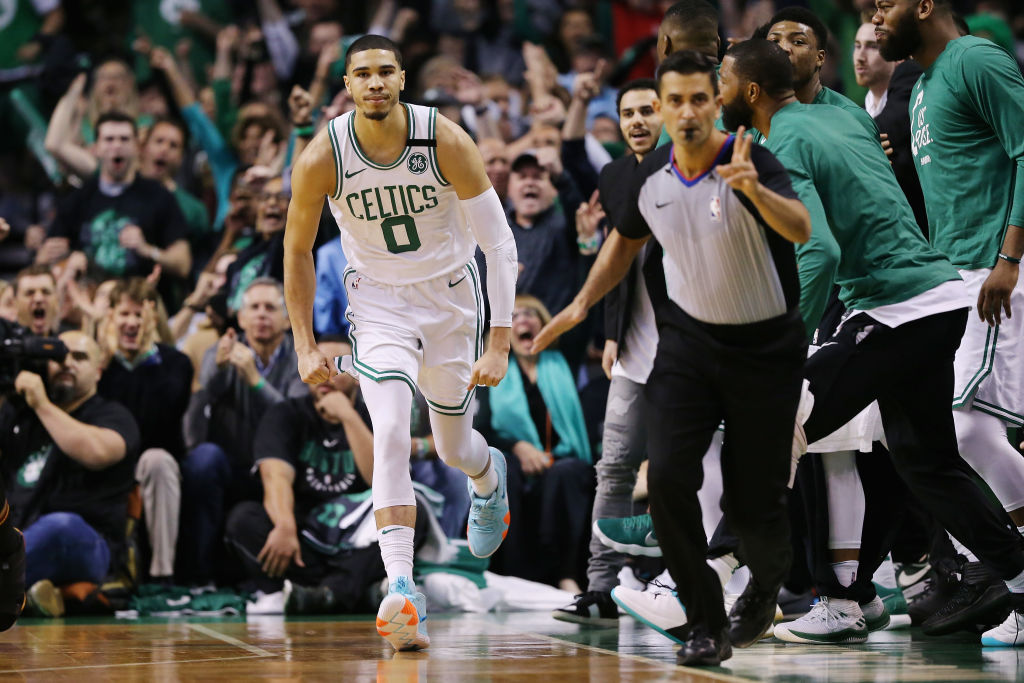 Is Boston Celtics Star Jayson Tatum a Top-10 Player in the NBA?
Is Boston Celtics guard Jayson Tatum proving himself to be a top-10 NBA player?
When you rattle off the elite players in the NBA today, names like Giannis Antetokounmpo, LeBron James, Anthony Davis, Kawhi Leonard usually come to the forefront without much hesitation. Those names are usually followed by the likes of James Harden, Joel Embiid, Russell Westbrook, Damian Lillard, among others. One 'among others' candidate who is rapidly climbing the charts is Jayson Tatum of the Boston Celtics.
Jayson Tatum the all-star
For the first time in his professional career, Tatum was named to the NBA All-Star team this season and his stock continues to rise. In his last 11 games, Tatum has been as good as anyone in the league. 

In February, the Celtics' red-hot Tatum has had just one game where he failed to score at least 25 points. Tatum matched a season-high 41 points in a loss to the Los Angeles Lakers (he had 41 in a win over the New Orleans Pelicans in January) and added 39 in a victory over the LA Clippers. In that game against the Lakers, Tatum's performance prompted LeBron James to call the Celtics star 'an absolute problem.' Tatum finished with 33 points and 11 rebounds in Wednesday's road victory over the Utah Jazz.
For the month, nobody has been hotter. Tatum is averaging 30.5 points per game while collecting 7.5 rebounds per contest.
The Celtics' draft-day deal with the Sixers
Tatum was a draft-day steal by Boston Celtics general manager Danny Ainge back in 2017 when Ainge traded the top overall selection to the Philadelphia 76ers for the third pick in that same draft and a future first-round pick. The 76ers selected Washington point guard Markelle Fultz, while the Celtics claimed Tatum from Duke University. The rest is history.
Fultz battled nagging injuries throughout the early part of his career, playing a total of 33 games in his first two NBA seasons. Fultz was eventually traded to the Orlando Magic, where he is averaging 11.8 points per game through 56 games.

Tatum has been both durable and steady for the Celtics, missing just five regular-season games in his first two years, while averaging 13.9 points per game in his rookie season and 15.7 ppg. a year ago. This season he has exploded to the tune of 23.1 points per game and 6.9 rebounds per contest.
Jayson Tatum taking charge
The Celtics have battled injuries throughout the season with the latest being a knee injury to point guard Kemba Walker, who hasn't played since the all-star break. Gordon Hayward and Jaylen Brown have also missed a combined 27 games for the Celtics, who have still managed to compile a 41-17 record that is good enough for third place in the Eastern Conference.

Tatum has been the Celtics' rock and model of consistency, sitting out just four games this year. In crunch time, he's been the go-to guy in just his third season as a pro and he's accepting that leadership role in Boston.

Back when the season started, it wasn't even a given that Tatum was the best player on his own team. Now he's clearly showing that he can play with the best in the league.