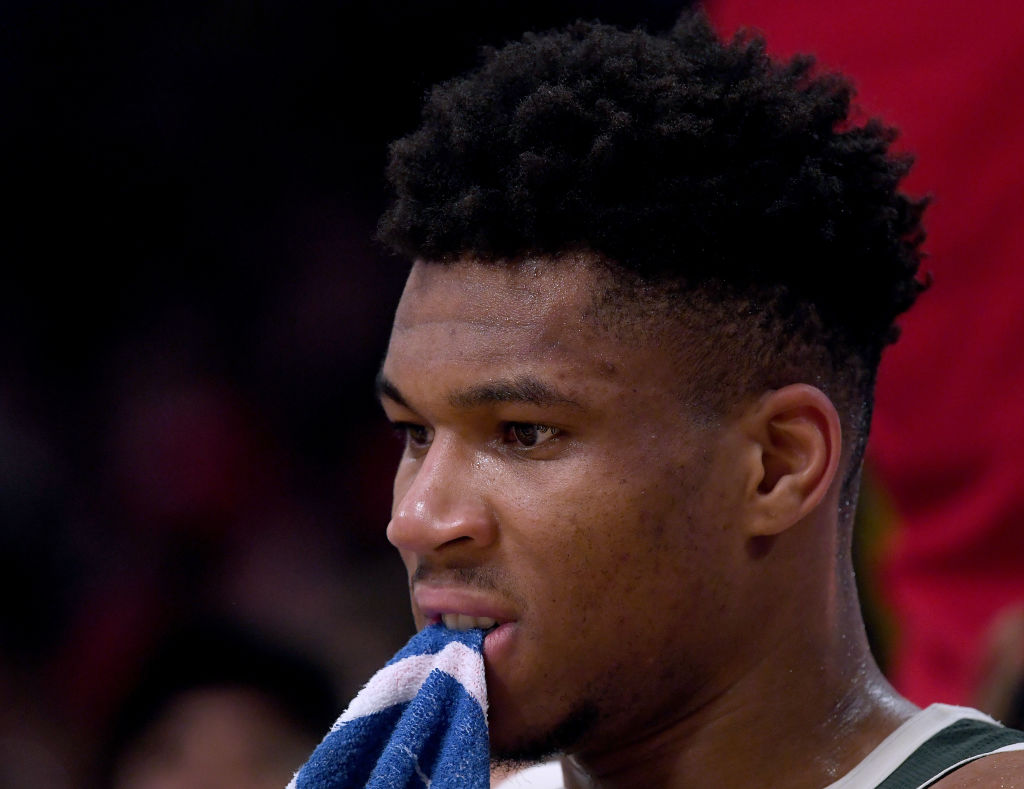 How Serious is Giannis Antetokounmpo's Knee Injury?
Giannis Antetokounmpo will miss at least two games with a knee sprain. How much should Bucks fans be concerned about their MVP?
Milwaukee Bucks superstar Giannis Antetokounmpo could be on his way to a second straight NBA MVP award, but a recent knee injury has fans on edge about the All-Star's status moving forward.
Antetokounmpo suffered a left knee sprain during last Friday's loss to the Los Angeles Lakers. He missed Sunday's game against the Phoenix Suns and will also sit out against the Denver Nuggets on Monday night, the team announced.
The Greek Freak underwent an MRI Sunday night and was diagnosed with a minor joint capsule sprain in his left knee, according to Shams Charania of The Athletic.
So, how serious is Antetokounmpo's recent injury and should Bucks fans be worried?
Giannis Antetokounmpo has a limited injury history
Antetokounmpo has been remarkably durable throughout his seven-year NBA career. He has played in at least 72 games in each of his first six seasons and he's never missed more than two games in a row.
That might change this week.
Antetokounmpo will already miss two games for the Bucks, and his status for Thursday's game against the Boston Celtics is still to be determined. Luckily for Milwaukee, the team has two consecutive off days before the Celtics come to town.
It wouldn't be a surprise if the Bucks hold Antetokounmpo out against Boston and beyond to ensure the reigning MVP is 100 percent healthy when he returns. Antetokounmpo is having another MVP-caliber season, averaging 29.6 points and 13.7 rebounds per game, so the Bucks won't jeopardize his future to rush him back too early.
How long do NBA players usually sit out with a knee sprain?
There are varying degrees of knee sprains, ranging from mild to severe. The good news for Antetokounmpo is that his sprain was diagnosed as "minor," meaning there were most likely no tears of the ligaments in his knee.
A minor sprain is associated with ligaments stretching, not tearing.
Just last season, Sacramento Kings' forward Marvin Bagley III suffered a similar knee sprain in February of 2019. He was held out for two weeks and missed five games due to the injury.
A few years prior, Rudy Gay suffered an isolated joint capsule sprain in 2015 in his knee and missed just one game.
Every knee sprain is different, but few injuries of this degree are cause for long-term concern. The biggest danger for Antetokounmpo is returning too early and reinjuring the area more severely.
The Bucks need Antetokounmpo at full strength for the playoffs
The Bucks will understandably err on the side of caution with Antetokounmpo's injury. Milwaukee has a 7.5-game cushion over the Toronto Raptors for first place in the Eastern Conference, so holding Antetokounmpo out a few games won't kill them in the standings.
The most important goal is to have their MVP at full strength for the playoffs. With a healthy Antetokounmpo, the Bucks will be the favorites in the East, but a major injury setback would throw away Milwaukee's chance at a title.
If Antetokounmpo sits for three or more games, don't be alarmed Bucks fans. It's most likely a sign of precaution.
The injury itself looked scarier than the MRI revealed. In all likelihood, Antetokounmpo will be back on the court in a week or less to put an exclamation mark on his second straight MVP season.