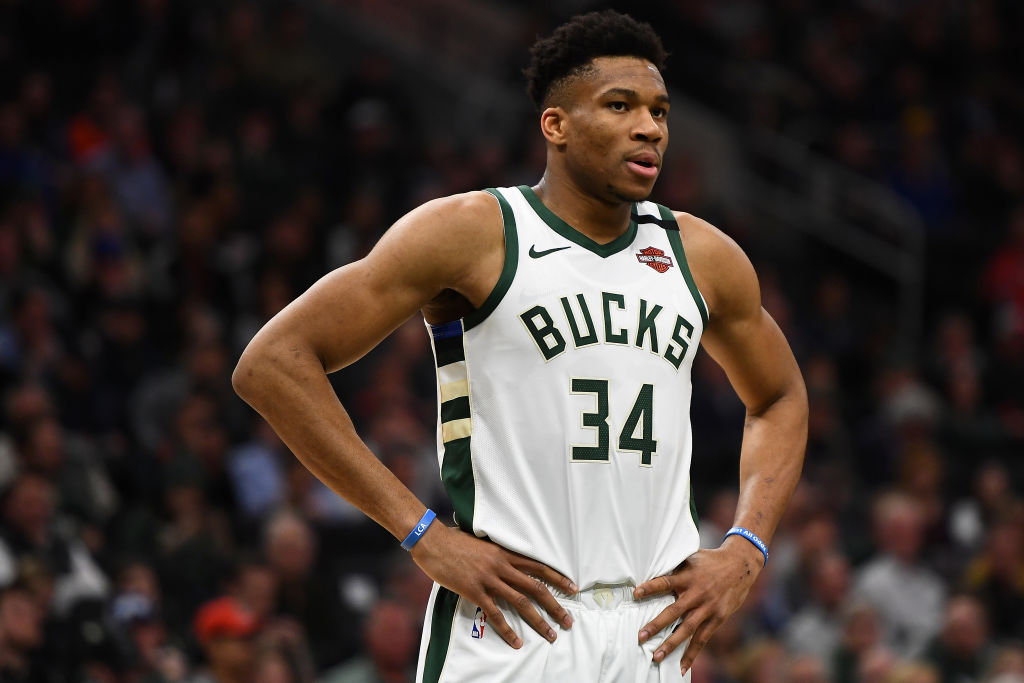 Why Giannis Antetokounmpo Doesn't Want to Stop Playing Basketball Anytime Soon
Life without basketball has reminded Giannis Antetokounmpo that he doesn't want to retire from the NBA anytime soon.
The coronavirus pandemic has affected almost everyone, including professional athletes. Spring is usually reserved for making a playoff push or preparing for the start of the season; now, everyone is at home, waiting for normal life to resume. The layoff has already confirmed one thing for Giannis Antetokounmpo, though.
Although the NBA has been suspended for less than a week, the Greek Freak has already made one realization about his life and career: he's not ready to stop playing basketball anytime soon.
The Greek Freak's impressive 2019-20 NBA campaign
In a matter of years, we've seen Giannis Antetokounmpo grown from a lanky teenager into an NBA MVP. This season, though, the Greek Freak was taking his game to the next level.
Last year, Antetokounmpo averaged 27.7 points, 12.5 rebounds, 5.9 assists en route to the MVP Award. In 2019-20, however, his stats improved across the board. Giannis also helped the Bucks clinch a playoff berth at the end of February, making them the fastest team in league history to secure a place in the postseason.
Antetokounmpo seemed like a lock for his second straight NBA MVP Award, but real life has since gotten in the way. Due to the coronavirus pandemic, NBA games are suspended until further notice; it's unclear when the league will resume and how the season will conclude.
Why Giannis Antetokounmpo won't retire anytime soon
Ever since the NBA suspended on-court operations, Giannis Antetokounmpo has been handling things the right way. While the Greek Freak has donated money to the Fiserv Forum's hourly employees and tweeted about global health taking priority over basketball, that doesn't mean he's happy staying at home.
Based on his Twitter account, Antetokounmpo has been passing the time with a variety of hobbies. The forward tweeted a photo of himself and his girlfriend playing chess; he's also apparently trying to learn to play the guitar.
This enforced break has also helped Giannis realize something about himself: he's lost without basketball. "If this is how my life is going to be after basketball I'm not retiring for a long time," he tweeted, adding two crying laughing emojis and the hashtag "25yearCareer."
How long can Giannis Antetokounmpo really play?
On the court, Giannis Antetokounmpo can do virtually anything he wants. While playing 25 seasons of NBA basketball might be borderline impossible for anyone, the Greek Freak should still have a lengthy career.
Before the season was suspended, Giannis praised LeBron James' longevity and cited the Lakers' star as an inspiration. "It's amazing. He's 35 and playing at a high level," Antetokounmpo explained. "He just leads the path for us."
"A lot of times we think that, 'OK, we're going to retire at 35,' but seeing a guy at 35 being still top-three best player in the world, that makes us want to be there," Giannis continued. "Makes me want to be there one day, so I've got to keep taking care of my body, eating the right way, being healthy, and as I said—he paved the way, and hopefully we can just follow."
While a large part of longevity comes down to luck—the forward's recent knee injury, for example, could have been career-altering, but only caused him to miss a few games—motivation and talent also play a role. If nothing else, we know that Giannis Antetokounmpo has the desire to play for as long as humanly possible.