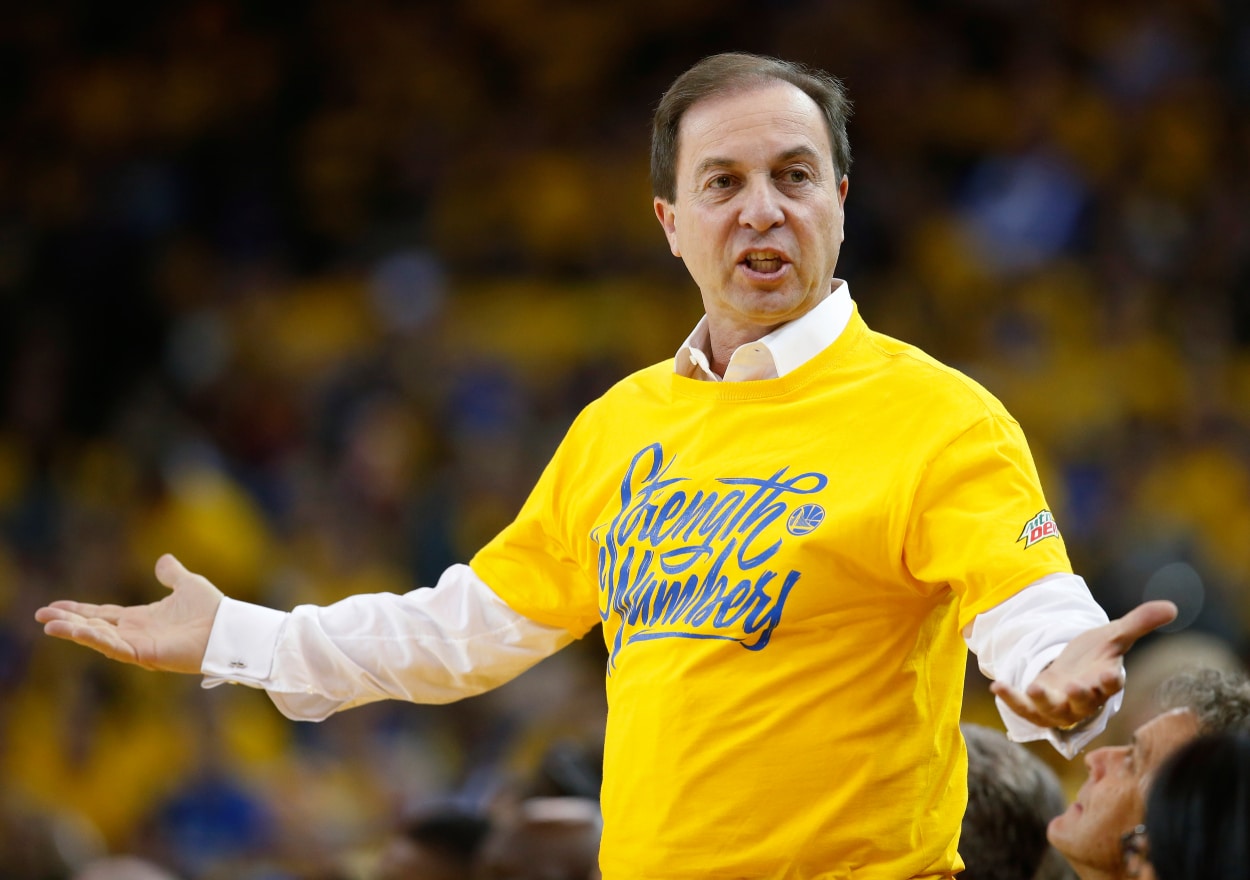 Golden State Warriors Governor Joe Lacob Fires Back at Critics Ahead of 2022 NBA Finals
The Golden State Warriors are back in the NBA Finals, and governor Joe Lacob issued a direct message for his team's critics before the series tips off.
The Golden State Warriors have prolonged their championship run. After missing the playoffs the last two seasons, the Warriors are now back in the NBA Finals for the sixth time in eight years and have a chance to clinch their fourth title of this era with a win over the Eastern Conference champion Boston Celtics.
The Warriors took an interesting path to get back to this position, and many fans/experts questioned some of the team's decisions along the way. Considering its success thus far, it appears it made the right choices, and governor Joe Lacob recently reflected on one of the more controversial moves during a press conference.
He made his message clear.
Joe Lacob addressed the Warriors' inactivity during the 2021 NBA Draft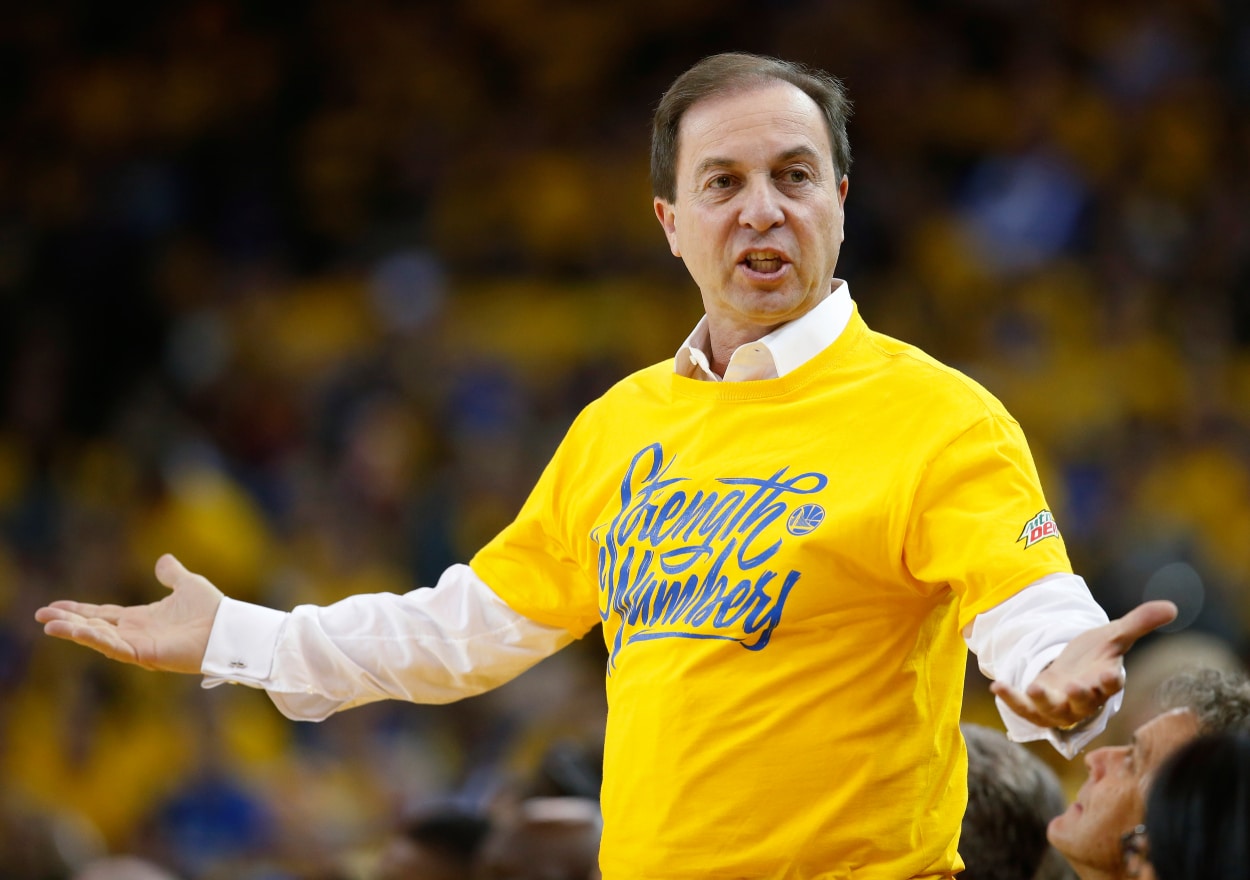 Many people, including myself, believed the Warriors should have used their two lottery picks in the 2021 NBA Draft to acquire a proven star who could have helped them this season. Perhaps they could have also included a couple of their young assets to ensure a massive return.
No one knew what the future held for the Warriors. They had missed the playoffs the two previous seasons, as Stephen Curry and Klay Thompson were both injured during the 2019-20 campaign (Steph played just five games, and Klay didn't play at all), and Thompson also missed the entire 2020-21 season.
Everyone knew a healthy Thompson would make the Warriors a Western Conference playoff team again. Adding just one more talented veteran could have potentially put them over the top.
However, Golden State didn't trade its picks. It selected Jonathan Kuminga at No. 7 and Moses Moody at No. 14.
Lacob knows the team received significant criticism for looking toward the future instead of helping its current core of Curry, Thompson, and Draymond Green. But the Warriors are playing in the 2022 NBA Finals, so can we question their process?
"The fact that we are where we are, and these guys (Kuminga and Moody) have both contributed," Lacob said (h/t 95.7 The Game), noting that 19-year-olds haven't historically played much during deep playoff runs. "… What they've done is great. … I know we took – I, [general manager] Bob (Myers), the organization – took some criticism from people that, 'We should trade all our draft choices that we had to get one more great player.' I was very adamant about it, so was Bob, that that was not the path we were going down. We want to be good for a long time. We want to be great for a long time."
Did the Warriors make the correct decision during the draft?
As mentioned above, no one can question the Warriors at this point. They are back in the Finals.
Still, that doesn't necessarily mean they made the right decision. The verdict is unknown.
Kuminga averaged 9.3 points in 16.9 minutes this season, and Moody scored 4.4 in 11.7 per night. Neither rookie is averaging more than 11 minutes in the playoffs.
Maybe, these two youngsters will become key contributors in future seasons. But had the Warriors traded those picks, they could have acquired a player who would have potentially helped them during this year's Finals; or the star would have just added another cook to the kitchen and made things more difficult.
It's hard to say which route would have been the ideal one to take.
One choice that has been 100% correct was the decision to keep their young assets. Jordan Poole has developed into a star, averaging 18.5 points this season. Golden State wouldn't be in this position without him.
Joe Lacob and the Warriors' front office received unnecessary criticism last offseason. And while a move still could have improved their team, keeping their picks definitely didn't hurt it. They now have a chance to make history and continue their run as the dynasty of this generation.
Stats courtesy of Basketball Reference