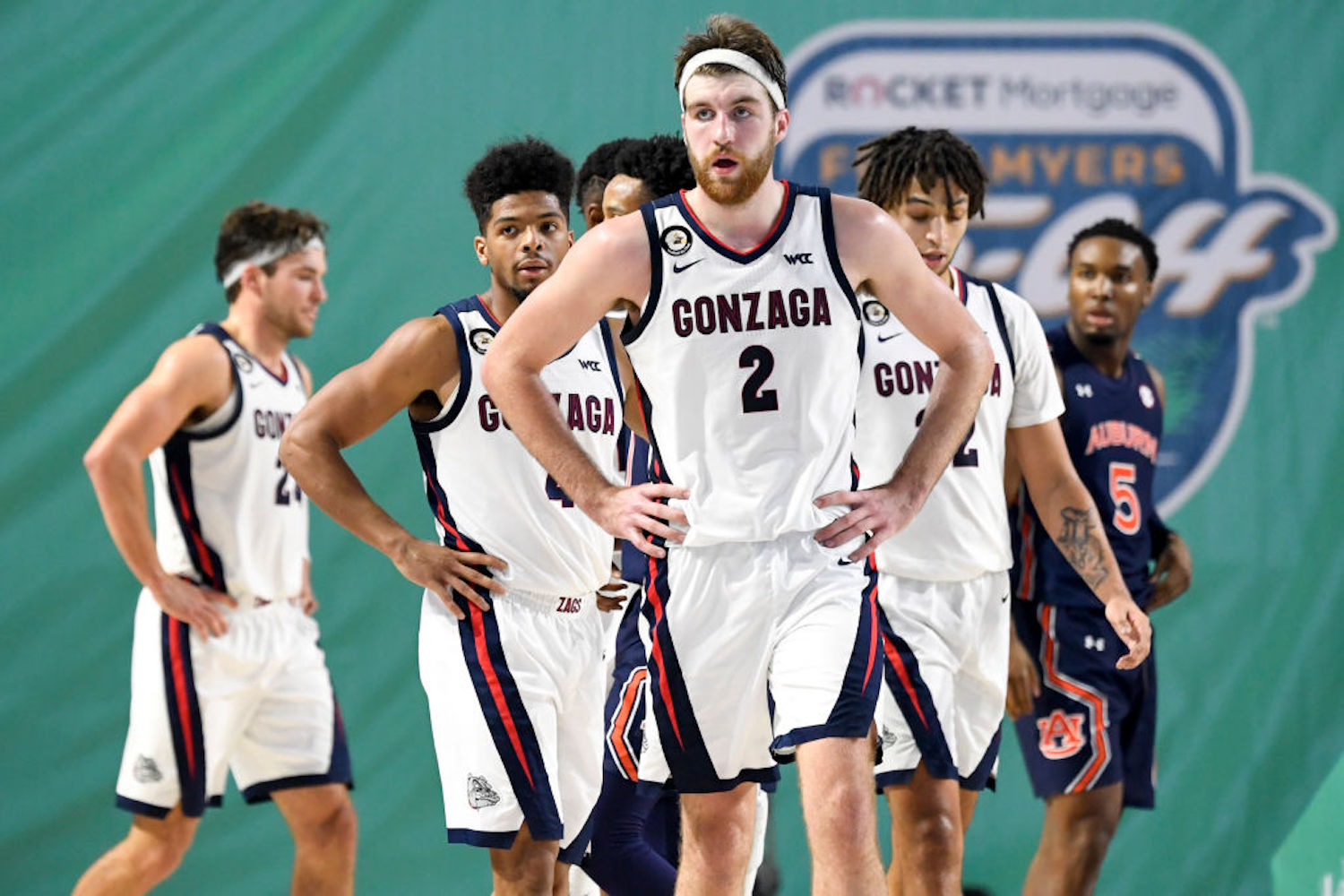 Gonzaga Has 1 Clear Challenger in Its Quest for a First-Ever National Championship
Gonzaga is the favorite to win the NCAA National Championship this year. Its biggest challenger is a deep and experienced Baylor team.
Gonzaga looks like the prohibitive favorite to cut down the nets in college basketball next March, but the Bulldogs have one clear challenger in their way that can spoil their bid for a first-ever national championship.
In a season without many dominant college basketball teams, Baylor presents Gonzaga its toughest roadblock. The Bears are a deep, experienced bunch that could be the only group who could slow down the Zags' potent offense. The two powerhouse programs will face off this Saturday afternoon in what could very well be a preview for this year's national title game.
Gonzaga is the best team in college basketball
Mark Few has consistently churned out top-10 teams at Gonzaga for two decades. The underrated head coach has led the Bulldogs to the NCAA Tournament every year since he took over the program in 1999, but he has his best roster yet in 2020.
Gonzaga has an elite mix of fundamental bigs, crafty guards, and shooters that powered them to a preseason No. 1 ranking in college basketball, and it's looked the part through the first week of the season. The Zags have started the 2020 season 3-0, which includes ranked wins against Kansas and West Virginia.
Gonzaga ranks No. 1 in the country in offensive efficiency and 17th in defensive efficiency through three games. The Bulldogs have ridden their incredibly balanced attack to an average of 93 points per game so far this season.
Through three games, five Gonzaga players are averaging more than 11 points per game. Sophomore forward Drew Timme leads the way with 23.3 points and 6.3 rebounds per game, and senior forward Corey Kispert is right behind him with 22.3 points and 5.0 rebounds per game.
Jalen Suggs, the highest-ranked high school recruit in school history, has lived up to the hype in his freshman season, and Florida transfer Andrew Nembhard has provided a much-needed boost to the backcourt.
Gonzaga's offensive firepower and elite depth make them the favorite to hoist the championship trophy come March.
Baylor is Gonzaga's biggest challenger this season
Baylor isn't normally a sexy college basketball team. They'll play stingy defense, get after it on the boards, and do just enough on offense to squeak by. But this isn't your typical Baylor team.
The 2020 Baylor Bears are a deep, ferocious bunch who can lock you down and outscore you all the same. Through three games, Baylor ranks second just behind Gonzaga in offensive efficiency and eighth in defensive efficiency. The Bears are shooting 47.3% from three this season, which ranks second in Division I out of teams who have played at least three games.
National Player of the Year candidate Jared Butler leads the way with 16.3 points per game, but any player can step up in the scoring department to take over a game. Seven Baylor players are averaging more than seven points per game so far this season.
Baylor doesn't get the publicity that Kentucky, Duke, and Villanova get at the top of the rankings, but the Bears are easily the biggest challengers to Gonzaga's throne this year.
Gonzaga and Baylor meet this weekend for a possible national title preview
Gonzaga and Baylor have separated themselves as the two most impressive teams in college basketball so far this season, and they'll face off for the No. 1 ranking this weekend.
The Zags and Bears are set to face off in Waco, Texas on Saturday, Dec. 5 at 1 p.m. ET. This matchup will go a long way to determine NCAA Tournament rankings come March, as neither program is expected to drop many games this season.
So, who ya got? Gonzaga's explosive offense and balanced attack or Baylor's stingy defense and experienced shooters?
Either way, get your popcorn ready. This is going to be fun.
All stats courtesy of Sports Reference