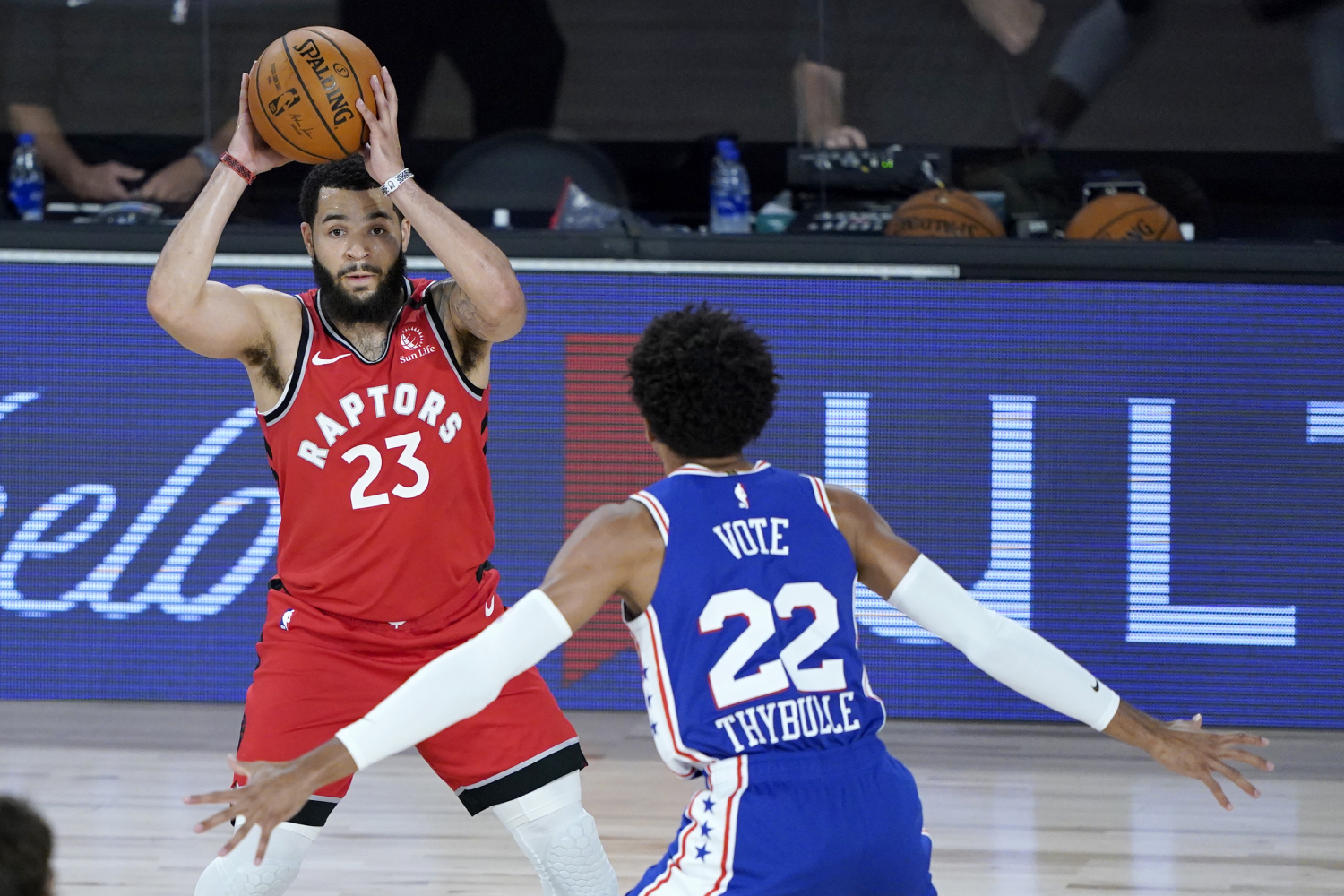 Has Fred VanVleet Reached Star Status Yet?
Has Toronto Raptors guard Fred VanVleet reached star status yet? If the playoffs are any indication, he certainly has.
He's not a household name, but basketball fans are definitely taking notice. Toronto Raptors guard Fred VanVleet might not have that big name quite yet, but he's been clutch, especially in the NBA playoffs. If VanVleet isn't considered a star just yet, he's well on his way.
Fred VanVleet's college basketball career
Fred VanVleet played four years of college basketball at Wichita State. After a lackluster freshman season, he came into his own as a sophomore when he averaged 11.6 points and 5.4 assists per game. VanVleet was the floor general of the Shockers, who went 31-0 in the regular season that season. He was named the Missouri Valley Conference Player of the Year.
As a junior, he had his best scoring year, averaging 13.6 points per game. He showed he was a strong all-around player by averaging 5.2 assists and 4.5 rebounds per game. In the season opener, he tied a school record with seven steals against New Mexico State. He had the first triple-double by a Wichita State player in 43 years when he had 10 points, 10 rebounds, and 11 assists against Missouri State.
As a senior, VanVleet came in with a lot of hype but battled nagging injuries that hampered him early in the season. He averaged 12.2 points and a career-high 5.5 assists per game. He left the school as Wichita State's all-time steals leader. VanVleet is the school's all-time leader in assists.
VanVleet making a name for himself in the NBA
After a stellar college career that saw him establish himself as Wichita State's best-ever point guard, Fred VanVleet went undrafted in 2016. The 6-foot-1, 195-pound point guard hooked on with the Toronto Raptors as an undrafted free agent and made the team. He played sparingly in his rookie year, averaging less than eight minutes per game and scoring 2.9 points per contest.
VanVleet never started a game in his first two seasons in the NBA. In his second season, he upped his minutes to 20 per game and his scoring averaged increased to 8.6 points per game. He played in 76 games and was nominated for the NBA Sixth Man Award.
VanVleet really made a name for himself during the 2018-19 playoff run. After starting in 28 regular-season games, he came off the bench in the postseason and lit it up in Game 5 of the Eastern Conference Finals against the Milwaukee Bucks. With the series tied 2-2, VanVleet scored all 21 of his points on seven 3-pointers as the Raptors took a 3-2 series lead. In Game 6 of the NBA Finals, VanVleet scored his career-high in the playoffs with 22 points as the Raptors closed out the series to win the title.
VanVleet an emerging star if he isn't one already
This season, Fred VanVleet burst onto the scene, playing 54 regular-season games and averaging 17.6 points per game. This year was the first season in the NBA when VanVleet became a full-time starter, starting all 54 games. But where the Raptors guard shines the most is during the playoffs.
In Game 1 of Toronto's playoff series with the Brooklyn Nets this year, VanVleet erupted for 30 points and dished out 11 assists. He made eight of 10 3-point shots. In Game 2, VanVleet collected 24 points and added 10 assists as the Raptors took a 2-0 series lead. Friday, he scored 22 points with five assists and five rebounds.
According to Raptors beat reporter Josh Lewenburg, in VanVleet's last 12 playoff games, he is shooting 53 percent from 3-point land, making 47 of 88 shots. He is averaging 17.3 points during that stretch and the Raptors are cruising once again.